New York Jets Report Card: Week 5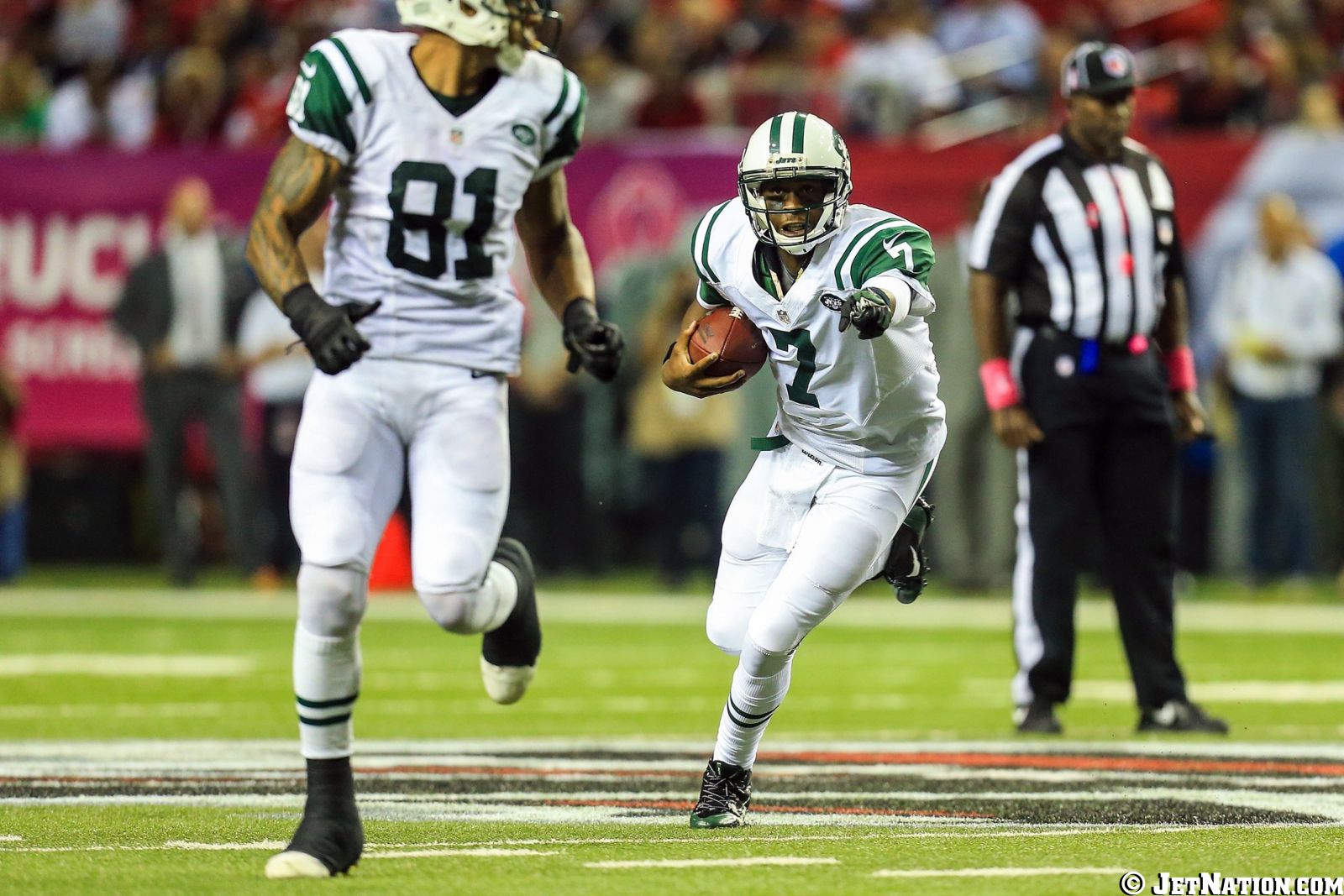 New York Jets @ New England Patriots
Week 5: October 9th, 2011
Quarterback: C-
Sanchez: 16/26, 166, 2 TD
Sanchez didn't cough up the ball a single time. Granted, that was with better protection against a struggling defense, but it's progress. He likely would have put up more than 2 touchdowns and a heap of extra yards if not for some dropped passes. This won't shock anyone: the offense needs to get rolling earlier, and definitely has to get more consistent. Of particular concern was the woeful third down conversion rate.
Running Backs: C+
Greene: 21/83/1
Tomlinson: 2/13
A very nice day on the ground for Greene, and Tomlinson threw a crucial (if poor-looking) block on a touchdown strike.
Wide Receivers/Tight Ends: D
Holmes: 4/60/1
Burress: 3/42/0
Kerley: 3/35/1
Holmes threw an excellent head fake to grab a score. Rookie Jeremy Kerley got some playing time and a touchdown of his own, replacing Derrick Mason (for reasons undisclosed: Mason was active for the game). Keller had a quiet game. The receivers dropped a number of crucial passes that would have made Sanchez' stat line look a little better.
Offensive Line: C+
Rust aside, the return of center Mangold made a big difference. He missed an assignment or two, but that's to be expected when you're coming back from an injury as serious as a high ankle sprain. Though some may doubt it, I expect the unit will continue to improve into the bye and beyond. Pass protection was solid enough and improved in the 4th quarter.
Defensive Line: C
The Patriots running game simply couldn't be stopped towards the end of the game. The defensive line needs to provide a better push and occupy more blockers in those late-game situations, but the presence of Tom Brady and the multitude of weapons that the Patriots possess forces mismatches, and with extra defensive backs on the field so often, it wasn't hard for Green-Ellis to rack up so many yards.
Linebackers: B
A nice game for David Harris, and Jamaal Westerman stepped up in the absence of the injured Bryan Thomas with 2 sacks.
Secondary: C
It's always a tough job to shut down New England's high powered passing attack; they have more weapons than you can account for. It was disappointing to see so many receivers get a free release off the line of scrimmage, but the Jets evidently felt it was necessary to bring extra heat on the quarterback on a more consistent basis than they did in the playoff matchup last year. Kyle Wilson continues to show what he's got, and Cromartie put up a pick, though it was gift wrapped.
Special Teams: A-
One poor punt by T.J. Conley aside, it was a great day for special teams as Joe McKnight yet again broke off a big time kick return.
Coaching: C
Cue the predictable (and warranted) gripes about the inability to shut down the run and of course, offensive playcalling. Looking at the broader perspective of the season, the Jets looked a million times better in week 5 than they did in week 4. A loss is a loss, and thus the negatives will be magnified and over-analyzed, but the Jets proved that they can still compete with New England.
Videos
JetNation
4.6K
Subscribe
Blowout win for Zach and the Jets as Gang Green Drops Houston 30-6