Home Slider NY Jets Training Camp
Thoughts From #JetsCamp 08/21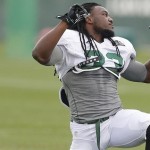 I was able to attend the New York Jets practice today in Florham Park.  Here are some thoughts on the practice today and where the Jets stand right now.
Offense
Geno Smith played with the #1 offense. Since the Jets make sure JetNation stays in the stands, note taking wasn't really possible.  So I will rely on the ever accurate Brian Costello who compiled the stats:
Forgot to tweet out QB #s earlier. Geno 15-of-16, 2 TDs today. Sanchez 10-of-14 with 3 sacks. #nyj

— Brian Costello (@BrianCoz) August 21, 2013
Not entirely sure how they compile those stats though, they are referring to the live 11 on 11 drills.  Geno is holding the ball way too long in practice.  That is fine in practice, you can't sack the guy with the red jersey.  In games though it is a different story, but the numbers I saw were slightly different.  Both quarterbacks looked good, although it seems like Geno is going to need some more time, he simply isn't ready right now.  It isn't the popular opinion but I would bet they will start Mark Sanchez and let Geno continue to mature on the sidelines; if Sanchez struggles they can make the switch at any time.
At running back it was nice to see Chris Ivory, Bilal Powell and Joe McKnight on the field.  Powell was the most impressive of this group, primarily because he had the biggest work load today.  He ran the wild cat and looked very good catching passes out of the backfield.  McKnight could really be a threat catching passes in this offense as well.  Morhinweg always seems to have a check down option for his quarterback.  Powell looked excellent today in pass protection.
I would be surprised if Tommy Bohanon wasn't the starting day full back.  He can run, block and catch.  Not sure what else the Jets need out of that position, but he looks very promising.
On the offensive line, Willie Colon is going to be a big key.  If he is healthy the Jets line should be much improved this year.  Vladimir Ducasse saw time with the starters today at Guard as Stephen Peterman was with the 2nd team at Center. Rex Ryan was asked if Vlad was with the starters primarily because Peterman was getting a look at Center.  Here is what Rex had to say…
I think it's a combination of both things. I think Vlad Ducasse, quite honestly, that was another guy that I was going to bring in for videos because he actually played left guard, right guard and right tackle in the game and did a tremendous job for us against Jacksonville, so I think he's really pushing. I don't think there's any doubt that Vlad's pushing for that, but we also want to see Stephen play center and that's something that, actually I thought Stephen today, it was a better day today for him playing center than it was even yesterday, so you see him actually improving a little bit. I feel pretty good about him there.
Braylon Edwards didn't practice and Rex Ryan indicated he wasn't worried about that.  The plan all along has been to limit Braylon in the preseason. If there is one young player to be really excited about it is Ryan Spadola from Lehigh.  He has size, speed and seems to catch everything thrown his way.  The Jets seem to have made a very smart UDFA move with the Spadola signing.  The NJ native is having an incredible camp and barring injury seems to be a lock to be part of the final roster.
Defense
Dee Milliner did not practice and Rex Ryan said he wasn't sure if he would practice tomorrow either.
The biggest play (not the best) was a hit that Antonio Cromartie put on Stephen Hill in the end zone.  It was hard to see from where I was standing but Hill and Clyde Gates both seemed to be hurt on the play.  Cromartie was pumped up but his coach was too pleased with his effort, "I was disappointed because we have to protect each other.  Stephen (Hill) was running full speed and all that.  Cro actually came off his coverage and made the hit, and again I don't think he intended to certainly hurt Stephen, but still we have got to be smarter."
It is really hard to gauge the running game or the run defense when there is no tackling.  But Demario Davis drew praise from the coaching staff from his play against the run today.
Antonio Allen seems to have regained his starting safety position.
Videos
NY Jets Phase 3 OTAs, Expectations and a Minor Calf Tweak with Greg Renoff