Featured Editorials Home Slider
JetNation.com, Speaking With the Enemy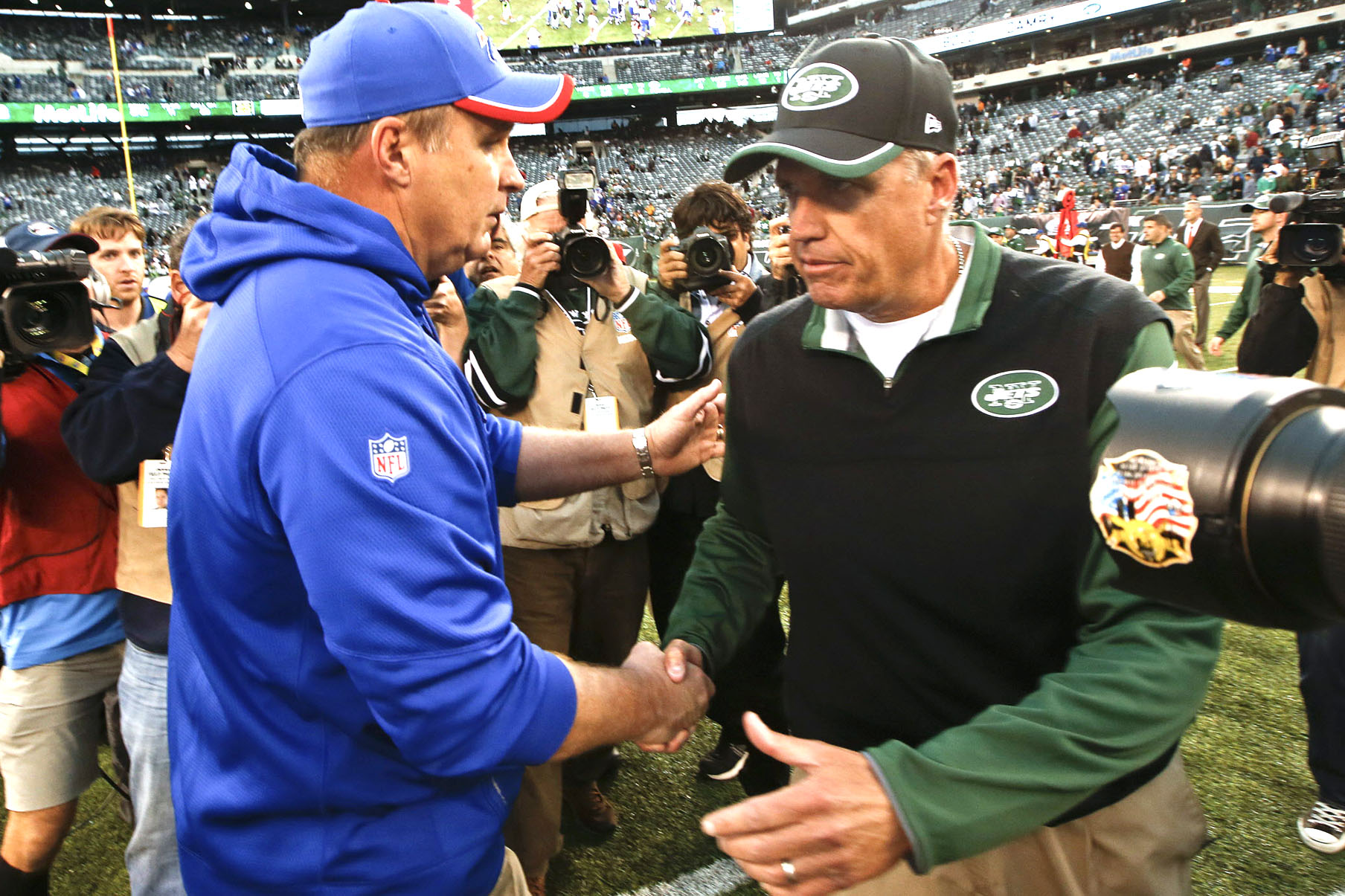 By Glenn Naughton
To say that this off-season has been an eventful yet intertwining one regarding the past, present and future of the New York Jets and their division rival Buffalo Bills would be an understatement.
Following their season finale in Miami on December 28th, Jets owner Woody Johnson announced to the fans that long-time coach Rex Ryan would not be returning for a seventh season.  Ryan was tabbed as the top available head coach by NFL.com and was indeed the first candidate to land a new job this off-season when he was hired by the Buffalo Bills.  Ryan's hiring wasn't as much of a surprise as the availability of the job itself.
Buffalo's previous coach Doug Marrone surprised Bills fans and many within the organization when he exercised an opt-out clause in his contract two days after season's end.  Speculation had Marrone landing Ryan's old job with the Jets, but as it turns out, Ryan took Marrone's  former post while the ex-Bills coach was interviewed by the 49ers and Falcons.  Neither of the interviews led to a hiring, and Marrone was  eventually brought on board in Jacksonville to take on the role of offensive line coach.
Following Ryan's departure to Buffalo and Marrone to Jacksonville, Ryan's replacement, Todd Bowles tabbed former Bills head coach Chan Gailey as his offensive coordinator.  A lot of activity in a very short time frame between the AFC East foes is likely to elevate the Jets/Bills rivalry to heights never seen before.
With this in mind, JetNation.com reached out to Buffalo sports radio mainstay Howard Simon of WGR 550 to discuss fan reaction to the Ryan hiring, Marrone opting out, and the Bills' offense under Chan Gailey during his time as head coach.  Simon has been covering sports in Buffalo since 1989 and was kind enough to take the time to shed some light on what Jets fans can expect from Gailey, and what Bills fans are expecting from Ryan, as well as a couple of words on pending Bills free agent running back CJ Spiller and the success he had under Gailey in 2012.
Glenn Naughton: Thanks for taking the time to speak with us today Howard.  I'd like to start off in order of events and cover Doug Marrone's departure.  How surprised were you, the fans and the organization by his decision to step down?
Howard Simon: I think people were pretty surprised.  Even when word came out that there was this opt-out clause and that the window had opened up, I still think most people figured he'd be back.  There was some dissatisfaction with him from the fan base but not from ownership.  They had been talking about continuity, not changing coaches every two or three years, so when he opted out I think it caught a lot of people by surprise.
GN: What was his relationship with his players like prior to the announcement and what was their reaction after the fact?
HS: The only reaction we had from guys was like the fans and looking at Twitter.  A few guys tweeted angry reactions because he was a guy who spent so much time talking about loyalty and trust and all these things, then uses the opt-out clause after going 9-7.
GN: What were you guys hearing or thinking in Buffalo with his situation and being linked to the Jets?  Was there any speculation in Buffalo that Marrone would end up with the Jets?
HS: That was pretty much it once the opt-out happened.  When the story broke, it was being portrayed as a done deal.  We were thinking that one of the reasons he opted out was that his agent got a feel from the Jets that his hiring would be a formality.
GN: With Rex Ryan coming on board to replace Marrone, what has the fan and media reaction been thus far?
HS: Well, it's been pretty positive.  Not all positive because of his last four years with the Jets, but let's face it, the Jets team that faced the Bills this year was awful.  Some of the fans who were concerned about the hiring probably were concerned because of what they saw from the team Rex fielded against the Bills this year.  I think most people were happy with that.  He's boisterous, and I think people like that swagger. I think some people were unhappy about it but other people were very happy to see Doug Marrone leave.  I think Ryan, his experience in the division, and his history against the Patriots being better than what the Bills have done is another reason why people are happy with it.
GN: Have the fans expressed any concern about the Jets' inability to field a good offense over the past several seasons?  Mark Sanchez and Geno Smith aren't much to get excited about, but consistently failing to show progress on offense may worry some people.
HS: I think that's pretty much where the Bills have been for the past ten years.  They can pretty much only go up from here because their offense has regularly been in the bottom five or ten for years.  A lot of people wanted to know who was going to run his offense.  With him, the defense will be fine so there were no worries there so really the second part of the Rex hire was "what is the plan?" and I think Greg Roman eased some of the fears or concerns people had because Rex will keep the defense at a high level.
GN: You've been in Buffalo long enough that you covered the Bills during the Chan Gailey era.  Those teams struggled on defense, but Gailey seemed to do quite a good job with the offense and developing Ryan Fitzpatrick.  What do you remember most about his time there and those teams?
HS: Well, that was the best offensive stretch they had since Drew Bledsoe was here so relatively speaking it was great.  Gailey was the opposite of Rex.  The offenses were good but the defenses were bad.  George Edwards, Dave Wannstedt, it didn't seem to matter who the coordinator was, they just didn't play well.  If you look at 2011, they started out really well at 4-1, they beat New England, Philly, they beat Oakland and were averaging over 30 points per game, but that year the offense was really good.  He had Ryan Fitzpatrick at quarterback and not a lot of other talent.  They got a lot out of Fitzpatrick, and for CJ Spiller, that was his best year and he used him well in the screen game.  I liked Gailey because he was a nice guy, he was really popular, but by the end he made some strange in-game decisions that came under fire. There were some decisions he made at the end that had people scratching their heads but I mean, he was a great guy, but it was time.
GN: That was going to be my next question.  CJ Spiller did have his best season under Gailey.  With him being a free agent, is he a player you could see coming to the Jets to play for Gailey?
HS: I think so.  For whatever reason when Chan left and Marrone came in, they weren't able to get the same production out of Spiller. Don't get me wrong, some of it is on CJ because at times he can be too tentative.  A lot of times he'll run east/west instead of north/south so a lot of it is on him.  But…when he had his big year with Gailey, he was running north/south, he was running outside getting big gains and going between the tackles, getting him out in space in the passing game.  He was ripping off big play after big play after big play.  I would assume Spiller is interested in playing for Gailey again just because they had so much success, whereas things seem to have fallen apart for him here.
GN: What about his injury history?  I feel like he's a guy we're always hearing about being banged up.
HS: I know he was hurt this year with the shoulder injury but he's not a guy who has had durability issues.  I think the problem people have with CJ was his vision on the field and would sometimes have a lot of negative yard plays.
With free agency and the draft just around the corner, JetNation.com is looking forward to see how things transpire with Spiller and other potential free agent signings.  Once again, we would like to thank Howard Simon of WGR 550 for taking the time to speak with us today.
Videos
New York Jets OTA Presser Takeaways, Aaron Rodgers' Impact and Summer Delusion