Weapons Check: Charone Peake – Preseason Week 1
We continue along with our series of film breakdowns from the preseason, with rookie wide receiver Charone Peake out Clemson University.   Peake displays an excellent size/speed combination, and he was a much heralded prospect coming out of high school.  Injuries sidelined him in college, but he has very good potential, and was considered a steal by the Jets in the draft.  Let's see how he did in his first preseason game against the Jacksonville Jaguars.
1) 
The first play here is also the first catch of the preseason.  He lines up outside on the left side of the formation, facing man coverage.   The first thing you notice is the space that he is allowed to have in man coverage.  Notice the coverage up top (on whom I believe is Bilal Powell, but I can't confirm) and how close his defender is to the player.  Notice the extra 2 yards of so afforded to Peake, which is a sign of respect for his speed as well as his size.  This is a pretty easy route because the defender is trying to run with him, instead of backpedaling until Peake is near him.  There has been a lot of mention about Dee Milliner on this subject, because Alabama doesn't like the CB to backpedal quite as much.  In this slow motion, you can see why this is a problem in the NFL with quicker players, because when Peake makes his stop, the CB is facing the other way with his hip turned, thus has to do a 180 degree turn to come back for the ball.   Notice the coverage on Powell, the defender is jamming him from the line, at which point he can run stride for stride.   However, this is dangerous with speed guys that have size (because the catching radius is higher, the angle of the throw would be different than just pure speed guys) and causes the defense to play conservatively on this play.  Not to evoke nightmares, but Sammy Watkins ran very similar routes last year in the last game, albeit he is much more talented and against a great CB.  Peake executes this play well, and Geno Smith throws the ball on the money.  In Jalin Marshall's films, there is clear evidence of an innate ability to make the first defender miss, however Peake possesses no such skill at this point.   He gets tackled short of the first down, and eventually the Jets punt after failing to convert.  Why the officials picked up the personal foul on Jack is befuddling, as Peake was targeted with a diving tackle as he was wrapped up and down.
2)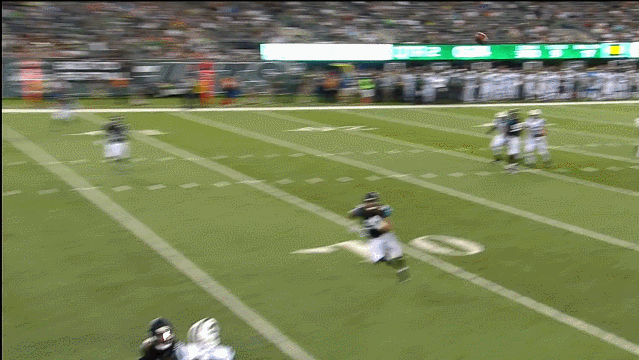 This is the TD caught by Peake from the side angle.  At the onset of this play, Geno and Peake realize that he is matched up one on one with the CB, and they combine for a back shoulder pass.  Peake does a good job using his body to shield the defender away from the ball, although he could have done a better job at trying to catching the ball with his hands, instead of relying on a body catch for the most part, allowing the defender extra time to put his arm in the way.  Peake does an amazing job keeping his feet in the end zone as he's securing the catch.   This is also very good concentration to make this catch with the defender draped all over him.  The CB does have his hand on the jersey of Peake as he's trying to get the ball, so there could have been a case made for pass interference on this play.   Great throw and catch on this play.
3)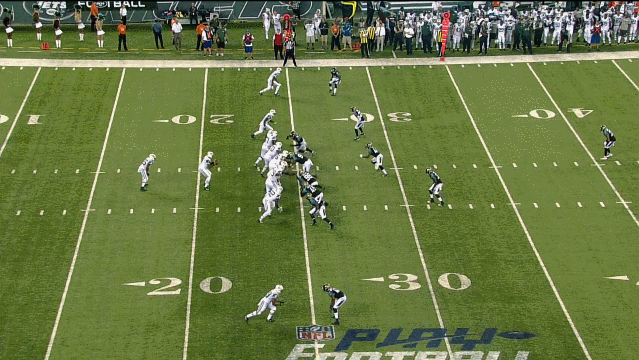 During his college days, Peake showed a lackadaisical approach to run blocking.  There were times where he would destroy his assignment, and times where he looked like he just wanted to avoid contact.  It could have been one of the reasons why he slid in the draft, because of a perceived lack of physicality when it came to blocking at times.  This play is an example of him engaging his assignment and blocking him out of the play.  It's not a highlight film block, but he accomplishes the goal.
4)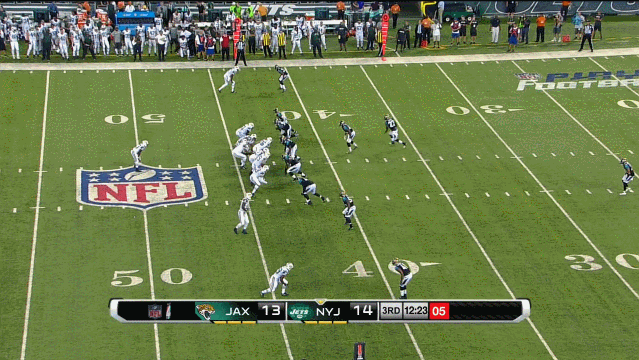 Peake is not the target on this play, but he wins his individual match up for a slant route in this case.  He is matched up one on one in man coverage with the CB, stutter steps out of the stance, and beats him inside.  While he doesn't break his ankle, there is about a yard to two yard cushion between him and the defender.  If this was a quick pass to Peake, it should have been successful (albeit, they got a larger play out of this) and shows how dangerous Peake can be as a one on one match up.  The Jets for years lacked one on one weapons, because players didn't have the physical ability to beat their man, allowing defenses to be more aggressive in the running game, or taking more chances with defenders.  Going back to the first play, if a defense had no respect for the WR's deep speed, they would play bump and run, at which point, a comeback route is much harder to accomplish.  Mike Maccagnan has done an exceptional job with filling the roster with players that are a nightmare to defend one on one, forcing defenses to commit to certain types of plays before the snap.
5)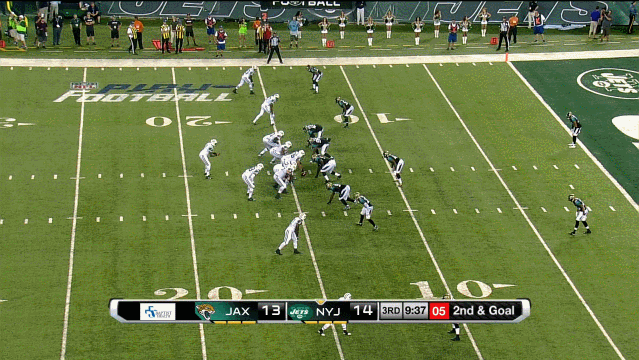 This is another play where Peake wasn't involved, but he creates very good separation from his defender in an one on one match up.  The call seems to be a screen play on this play, but the hot read in this case is Jeremy Ross, but the timing is off with the route, and Geno improvises to try and complete the screen pass to Amaro.  If the play is completed, it would be a good pass, but under pressure, the pass is under-thrown.  Peake is on the left side of the play in the slot matched up with an OLB.  He runs right at the LB, and then leaves him in the dust on the quick out route.  If the play was designed to go to the left side, this is an easy completion for a first down, if not more.  Notice that right before he heads outside, Peake fakes out the LB as if he was going inside, forcing the guy to take a step back, creating even more separation, showing off a good route running skill.
6)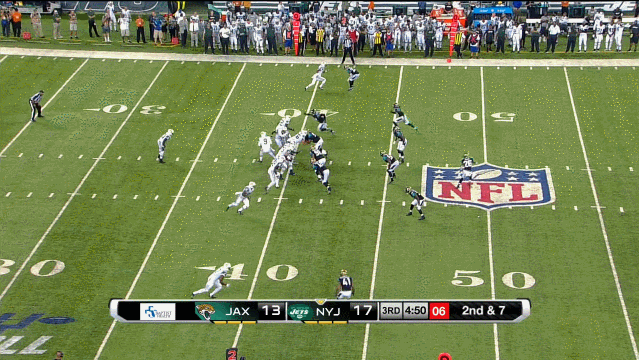 This is almost a carbon copy of the first play, only on a larger scale.  First of all, notice the spacing at the start of the play, which again shows respect for his speed and size.  If you look on the other end, you'll see the defender is much closer to the receiver again.   Furthermore, the defender also starts running with his hips turned to Peake, which allows this to be a high percentage completion.  Petty makes a good throw, and Peake runs a good comeback route, and makes a good catch.  Peake gains roughly six yards after contact as well.  As mentioned in the Jalin Marshall article, the unsung hero in this play is the running back, who makes a great diving block to protect Petty.  This is another reason why teams always tend to buy into size/speed combinations in the draft, because just the mere threat alters a defense.  In this game, we see two clear situations where the defense was all but willing to give up easy completions because they were worried about deep speed.  Teams will of course try to jam Peake at the line more in the future, at which point he would have to prove that he could beat the jam and get off the line.
7)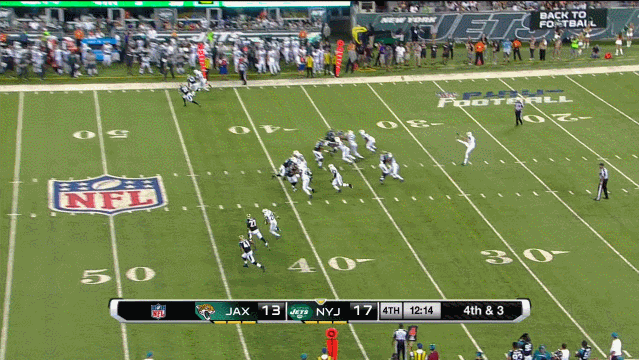 On this punt, Peake is the right side gunner.  He does a good job getting around the defenders and getting downfield, and ends up paying for it by getting hit.  It begs the question if this is an illegal hit, because it happened well after the catcher had signaled a fair catch.  Regardless, Peake does a good job with his assignment in getting down the field, albeit the angle may not have the greatest for a tackle.  It also bears to mention that this gunner position was held by Quincy Enunwa earlier in the game.
8)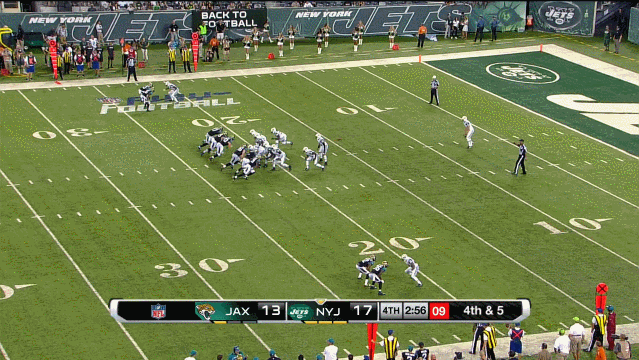 For all the good Peake did on the last punt, he absolutely gets taken out of this play.  Peake is pushed a good 4 yards out of bounds on this play, and completely taken out of it.  Peake was not a standout on special teams in college (and he missed chunks of time with various injuries) so it's expected that he would be rusty with a position he's not all that familiar with.  However, he plays right into the punt receiving team's plan here by being forced so far out of the play.  It'll be interesting to see if he remains a gunner on the team with Enunwa's emerging importance on the team.
Conclusion:  
Charone Peake certainly flashed during workouts, and he showed off his skills in the first game.  The Jaguars showed a lot of respect for his speed, and Peake made them pay with good route running.  Peake showed off impressive ability in running slants, outs, comebacks, and back shoulder passes.  Barring injury, he should be guaranteed to make the team.   The team is filled with exciting weapons for the first time in a long time.  The defensive depth chart is ridiculous when compared to past depth charts.  Brandon Marshall, Eric Decker, Quincy Enunwa, Charone Peake, Jalin Marshall (along with Devin Smith) might be one of the most talented groups in the league.
Please discuss this article and others on our forums, here
Also, please check out our previous Weapons Check series with Jalin Marshall (here) and Darron Lee (here)
Videos
New York Jets OTA Presser Takeaways, Aaron Rodgers' Impact and Summer Delusion