Breaking News Home Slider QB Film Review
Christian Hackenberg- Foot Mechanics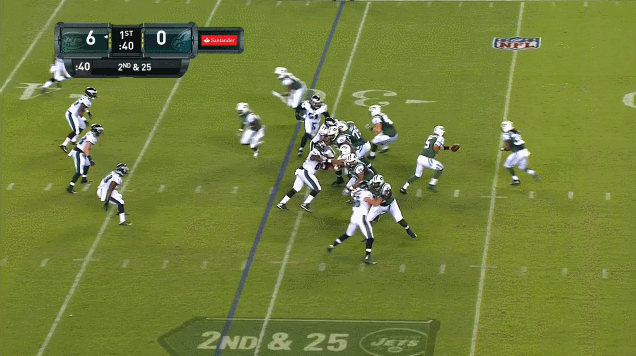 The possible rise or fall of Christian Hackenberg is possibly the biggest subplot of the 2017 season for the New York Jets.   The team does not have a franchise QB right now, and this is a make or break year for both Bryce Petty and Christian Hackenberg.  Fans are thrilled about the possibility of drafting a Sam Darnold, Josh Rosen, or Josh Allen in the 2018 NFL draft, and if the season goes according to pundits, the Jets will be in prime position to pick one of them.   However, the one big caveat in the situation is the progression of Christian Hackenberg, especially with his accuracy.  Hackenberg showed mental aptitude by picking up a pro-style offense as a freshman at Penn State University, and he's always had a strong arm.  Unfortunately, his mechanics are atrocious at times, causing too many errant throws.  If Hackenberg improves on mechanics, his accuracy will naturally improve, which should help him live up to his potential.  To understand what he might be doing right at practice this year, we first have to understand the problem at hand.  So let's examine the issues with his foot placement.
1)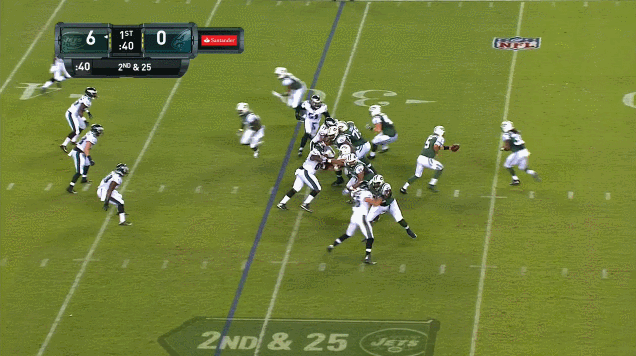 This play is from last year's pre-season finale against the Philadelphia Eagles.  Notice the foot placement of Hackenberg prior to this throw, as his it's not inline with the target at all.  He opens up his hips far too wide, which causes his body to naturally yank the ball towards where his foot is pointing towards.   The throw sails wide of the receiver, and it's an incomplete pass.
2)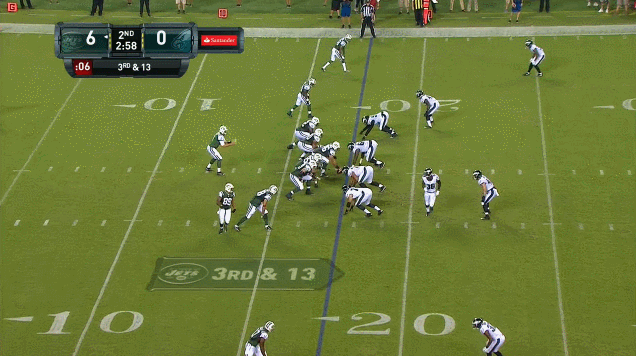 Same game, similar problem.  On this play, Hackenberg doesn't step into the throw, completely opens up his hips, which causes this ball to be an "all-arm" throw with the ball again showing tendency to move towards where his legs are pointed.  This is a bad throwing motion because it's not inducive to accuracy, nor does it allow you to achieve maximum velocity.  The ball sails wide, and is slow enough for the CB to undercut the throw, but the inaccurate pass prevents an interception.
3)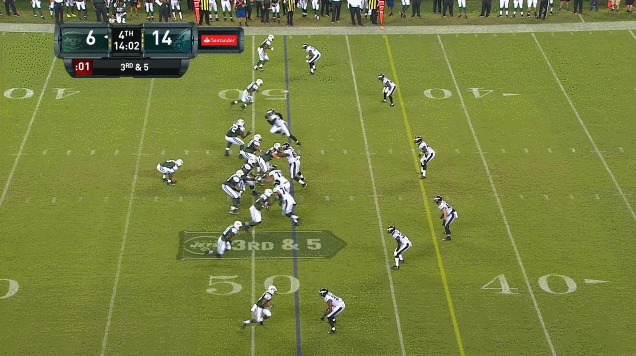 Do you see a pattern?  Same hips wide open, inaccurate pass.  On this play the ball sails too high, and goes for an incomplete pass because it's another "all-arm" throw.
4)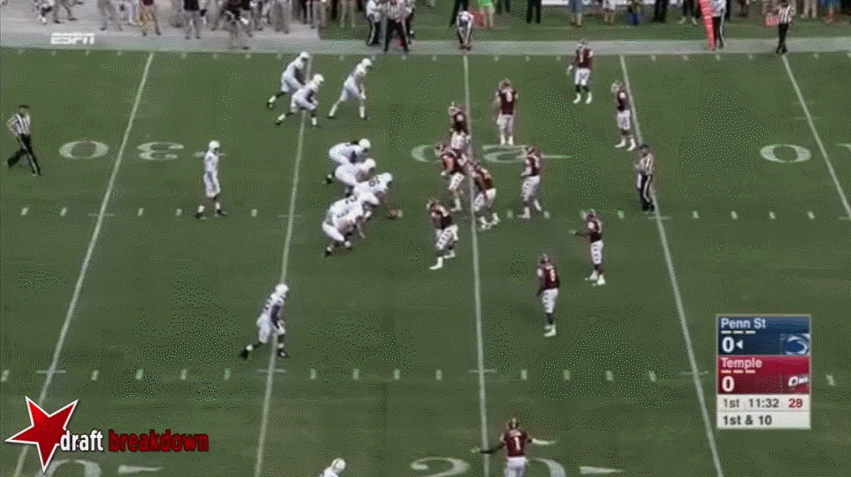 This goes back to college as well, and notice how he does not step into this throw at all, shows "lazy feet" and has the ball sail.
5)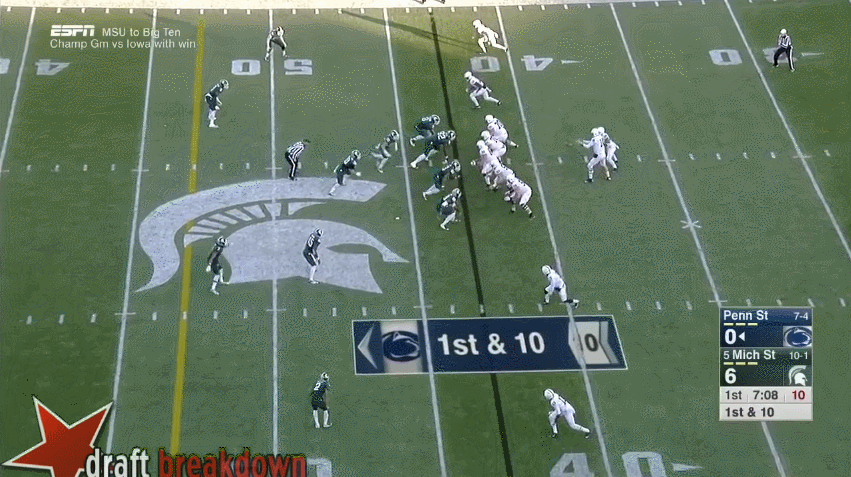 On this throw, notice where the feet is pointed, as this is the opposite of the other throws that we have seen.  He doesn't follow through with his foot, which causes his hips to be closed, which causes another "all-arm" throw.  His feet is pointed towards the sideline, and the ball sails towards the sideline.  He has a partial excuse here since the rusher is coming towards him, but the point of this exercise to show the effects of foot mechanics on ball placement.
6)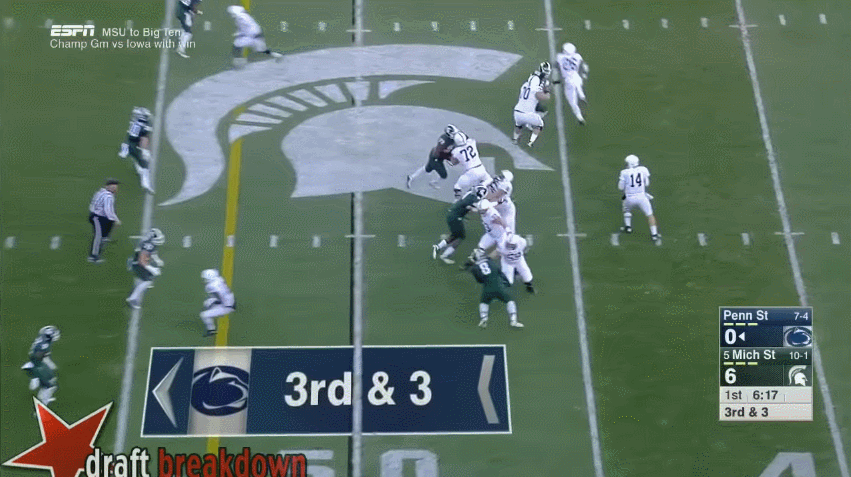 Open hips, all arm throw, and can't achieve accuracy or velocity again.  Hackenberg had time to step into this throw, but his mechanics under duress evades him, and he throws this ball with horrible foot placement.  The throw naturally is inaccurate and doesn't even reach the receiver.
7)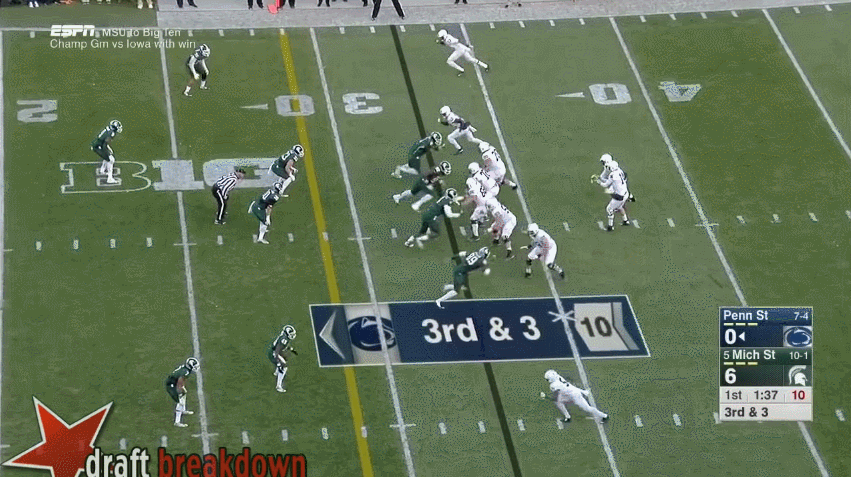 This one is a bit harder to see, but he's actually doing the throw across hips again.  The lead foot isn't pointing towards the receiver, it's towards the sideline, and the ball goes towards the sideline.
Now, that you have seen those mechanical issues, what is the solution?  When a QB throws a pass, the lead foot needs to be pointed towards the receiver (or a couple of inches to the left- if you are a right handed QB) and then let your hips be followed by your shoulder.  It's the ideal throwing motion.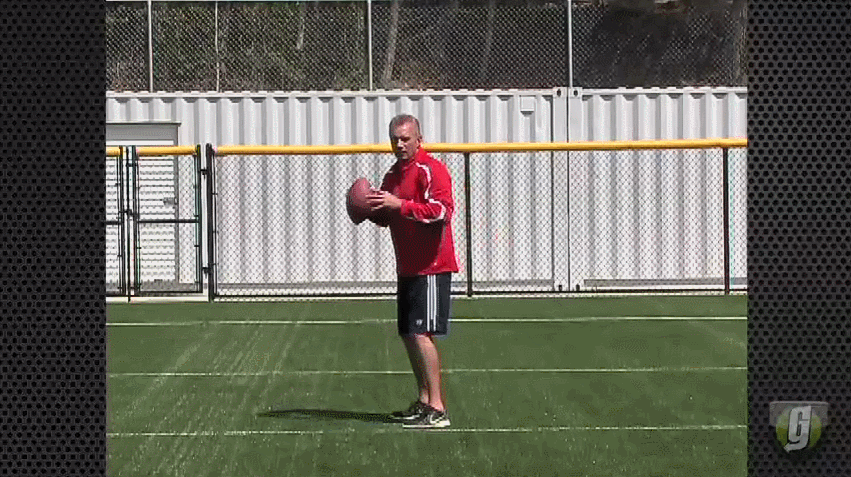 Here we have Joe Montana explain the throwing motion, with how feet needs to be pointed towards the target, and to follow through.  It's a short video, and click here for the link.   It's a short video about QB mechanics, with foot and hip movements.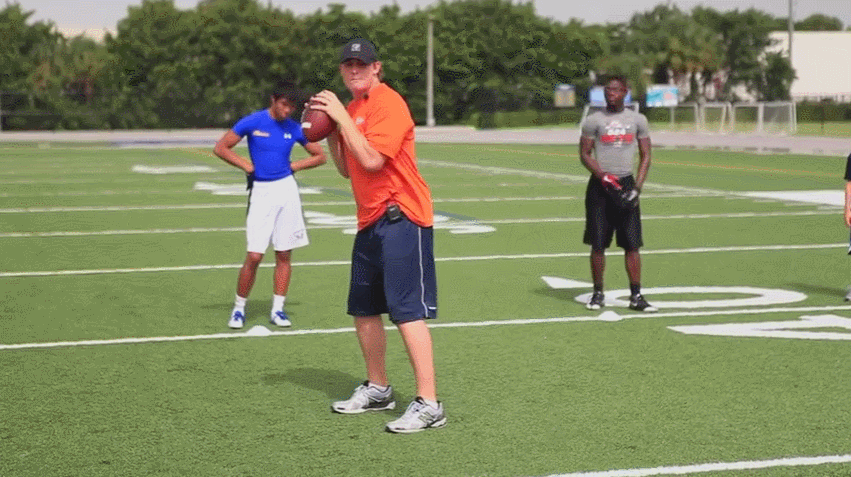 This is part of a long series of videos by Chad Pennington, where he focuses in on QB mechanics.  He mentions the same theory of pointing your foot towards your target (he allows for a couple of inches to the left) and then letting your hips be chased by your shoulder, thus taking full advantage of your potential energy.  Click here for the video.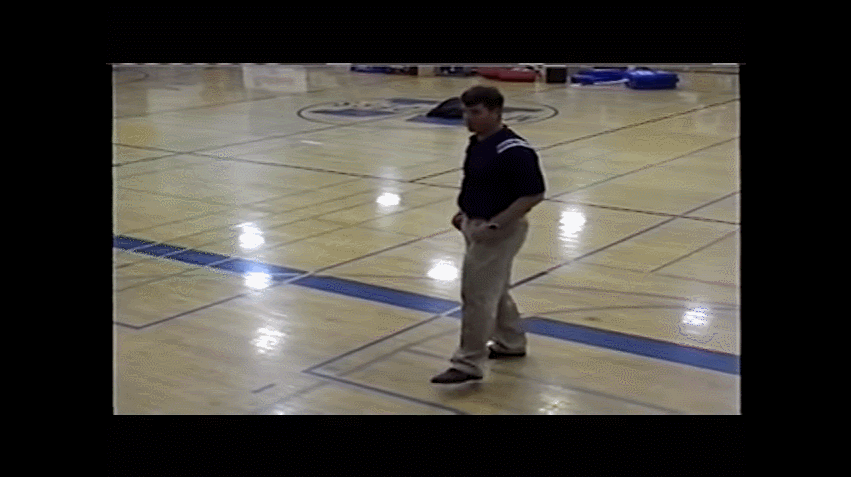 Here is a long video by Jim Harbaugh on QB mechanics and other stuff at a coaches camp.  The part about pointing your foot towards the target is near the 32 minute mark of the video, and click here for the link.  It's a good watch, although he does use a bit of NSFW language during the video.
There are countless other videos out there expressing the same idea, but these three folks are pretty famous around these parts and lauded for their attention to detail.   So how has Christian Hackenberg looked so far this year?
These two videos are from one of the best beat writers for the Jets in Connor Hughes, and his Instagram page, click here for the link.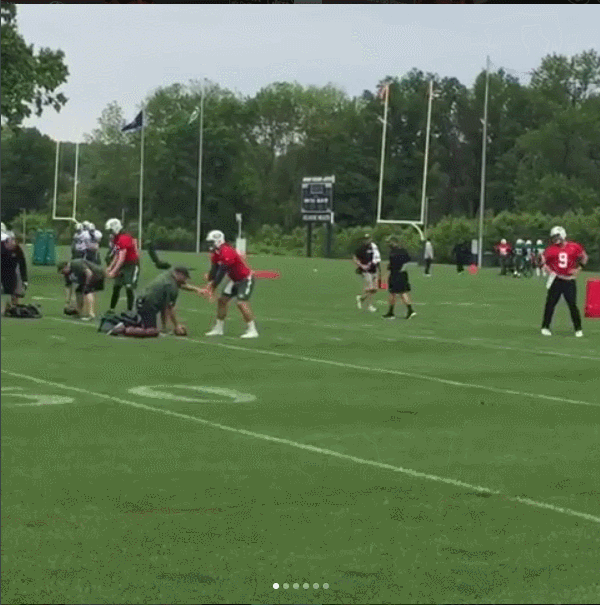 What do you notice on this play?  Foot placed directly at the receiver, the shoulders are following the hips and the throw is on point.  Hackenberg isn't letting his hips fly open on this play, and causing his arm to do all the work.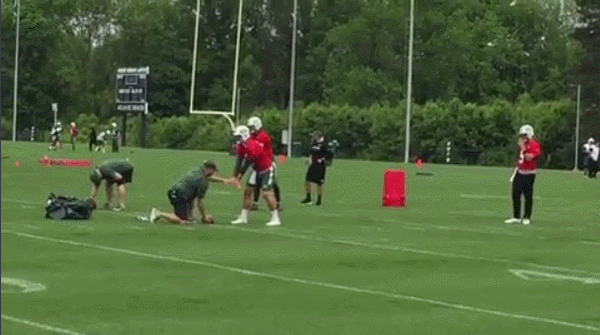 This play goes for an incomplete pass, but again Hackenberg shows improved mechanics with the foot slightly to the left of the receiver (if not directly at him) and the ball is accurate in terms of horizontal accuracy.  Unfortunately, the vertical accuracy is a bit off, although it seems as if it might have been a miscommunication about the timing of the play since it's early in training camp.
Both of these two examples seem to show improved mechanics from Hackenberg.  However, it is EXTREMELY early in the process to proclaim anything, since these are just two examples in practice.  The sample size is very much limited, so this is not concrete proof that his mechanics have improved.  However, this is the best thing to come out of these practices this year because these early practices are exceedingly hard to gauge QB performance, since QB play relies heavily on timing.   In these two examples, Hackenberg has seemed to acknowledge the issues facing his foot placement, which should help his accuracy.
While this could be construed as making excuses for Hackenberg, part of his mechanical issues stem from the fact that he had a terrible offensive line in college.  With rushers consistently in his face, it seems as if he started to rush his throws, causing inaccurate throws.  For baseball fans, it's similar to how an infielder handles a ground ball for a fast runner, rather than a slow runner.  You will see them compromise on mechanics to speed up the process, which leads to an uptick in errant throws.  It's a similar theory with Hackenberg (or any QB behind a bad offensive line), who might have felt as if he needed to hurry up his motion to avoid getting hit.
It's also important to remember that these are ideal condition mechanics.  If there is a rusher in the face of a passer, and the ball just needs to get out, it's normal to see any QB out there abandon his mechanics to avoid the sack.  Hackenberg, unfortunately, had a habit of abandoning his mechanics far too often when he had space to operate.  So it's important to see Hackenberg's mechanics in game type situations as well to see if the adjustments are sticking under pressure.
Hackenberg was widely panned during the draft process because of his accuracy issues.  If he was accurate at Penn State, then he's a first round QB easily in the draft.  Since he wasn't an accurate QB, many people predicted him to fall to the third or fourth round (if not worse).  The Jets seemed to pick him high with the belief that his issues are mechanical, and therefore can be corrected.  It's a gamble for sure, but if they can fix his accuracy issues, then fans won't be talking about the curse of the second round pick for a long time.
Hackenberg's progress is basically the story of the off-season for the Jets (be it positive or negative) so it will be interesting to see if the mechanical changes are permanent, or just the result of a short sample size.  We ask anyone covering the team with access to the practices to please cover the mechanical improvement (or stagnation) from Hackenberg and the accuracy of his passes.
Forum Questions:
A) How confident are you in the new coaching staff to preach good mechanics to Hackenberg?
B) What is your player comparison for Hackenberg as the upside or best case scenario?
Videos
JetNation
4.6K
Subscribe
Blowout win for Zach and the Jets as Gang Green Drops Houston 30-6