Concussion for Skrine; Coleman to I.R.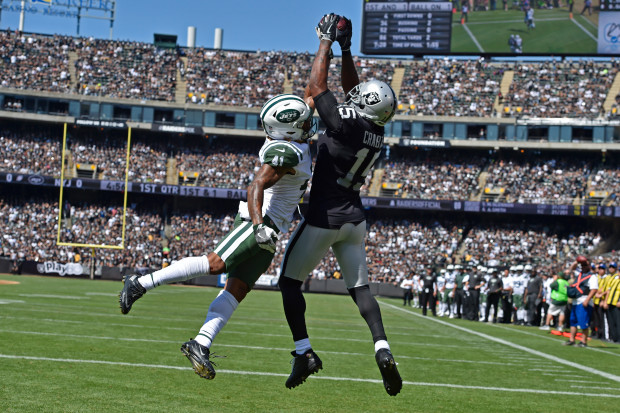 When you lose a game after having a  14 point lead and Matt Moore carves up your secondary, you can usually expect changes. The Jets are making changes in the secondary, but this time they are injury related.
Buster Skrine was diagnosed with a concussion on Monday. Sounds like it happened during the game, but it wasn't diagnosed until he came into the facility on Monday. So he has not practiced and when you consider his performance last week and now the concussion it seems safe to assume that he won't be on the field on Sunday.
The Jets have placed cornerback Xavier Coleman on injured reserve and have signed tight end Neal Sterling off of the Kansas City practice squad.

Coleman, signed by the Jets as an undrafted free agent out of Portland State after the April draft, was signed off the practice squad and made his pro debut against New England. He was injured playing special teams at Miami and goes to IR after having played on three defensive plays and seven special teams plays.

Sterling (6'4″, 257) was originally signed by the Jets as a free agent on Sept. 3 and played on 23 offensive plays and 18 ST plays in Games 2-4. The Jets waived Sterling on Oct. 5 and Kansas City signed him to its practice squad two days later.

Sterling, who began his NFL career as Jacksonville's seventh-round selection (220th overall) out of Monmouth in the 2015 draft, had one catch for 8 yards at Oakland this year and has 13 receptions for 118 yards for his career.
Todd Bowles told the media why the Jets added a tight end after the injury to a cornerback.
With Leggett down, we needed an extra third tight end in case something happens. He's a good option to bring back. He's been in the system. He kind of knows it. We liked a lot of the things we saw in him.
The slot cornerback position is a huge question mark at this point. Buster Skrine had a terrible game against the Dolphins. Coach Bowles was asked what they would do if Skrine can't plan on Sunday and the cornerback position in general.
On if Robert Nelson is the nickel cornerback if Skrine is out…
No. We have some gymnastics to work out, but he'll take some reps.
On if they'll shuffle some things around at nickel cornerback…
Yes.
On if they could use Juston Burris or Darryl Roberts at the nickel…
It's possible. We'll shuffle some around.
On if Skrine got concussed on Stills' touchdown play…
I'm actually not sure when it happened because he couldn't tell. I'm not sure when it happened.
On if he's frustrated with how Josh McCown is protecting the football…
No, we have to protect it better. We can't put him in those situations where he has to throw the football. At the same time, he's been playing good football. But we do have to protect the football. There's some he'd like to have back. Some are not his fault. But nevertheless, we can't turn it over.
On if Skrine's struggles against Miami were due to playing with a concussion…
I don't know. I mean I didn't know about it at the time. We just have to play better. I don't want to say that was the cause of it because I don't know when he got it.
On if Xavier Coleman's shoulder is a surgical situation…
Right now, it's not but we're going to wait and see. it could be.
On the diagnosis for Coleman's shoulder…
Labrum.
On if there's any thought to signing a cornerback…
Not at this time.
Videos
New York Jets OTA Presser Takeaways, Aaron Rodgers' Impact and Summer Delusion