Featured Editorials Home Slider
Is This Sione Po'uha's Last Season As A Jet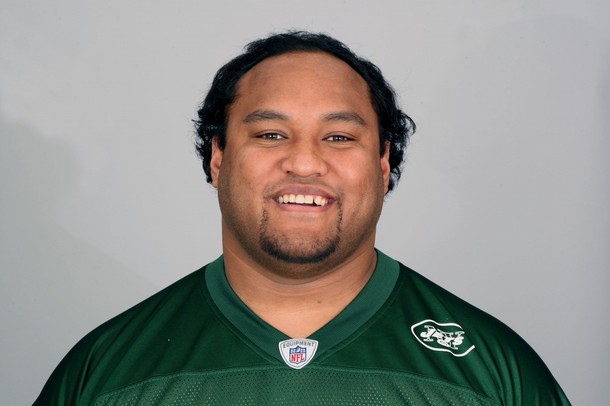 The Jets made some roster moves along the defensive line in the week leading up to the first regular season game.  They released DL Marcus Dixon and NT/DT Martin Tevaseu, picked up by the Colts, and added NT/DT Isaako Aaitui who was waived by the Miami Dolphins.  As was reveled on the HBO show Hard Knocks the Dolphins were high on Aaitui but released him in hopes he'd clear waivers and could be signed to their practice squad.  The Jets decided to claim Aaitui choosing to cut Dixon and Tevaseu.  Unfortunately Aaitui suffered a knee injury soon after his signing prompting the Jets to release him and resign Dixon.
On the surface the release of Dixon (6'4", 295) was a surprise as he was a viable reserve in 2011 recording 16 tackles and 1.5 sacks.  With starting NT/DT Sione Po'uha sidelined for most of training camp with a back injury the Jets must have believed that Aaitui's potential was greater than Tevaseu and given his size (6'4", 315) would provide more depth at the NT position than keeping Dixon.
There is an alternative explanation to the Jets decision to bring in Aaitui besides just adding some insurance.  Second year player NT/DT Kenrick Ellis has been taking a majority of the work at the NT spot during training camp, preseason and now starting opening day in place of the injured Po'uha. The emergence of Ellis, seen as Po'uha's replacement when drafted, might lead to this being Po'uha's final season as a Jet.
This offseason Po'uha (6'3", 325) signed a 3 year $15 million contract with the Jets but at 33 years of age and entering his 8th season in the league the wear and tear of being on the line is starting to show.  The Jets might have been looking at the Ellis/Aaitui combination as the future starter/backup heading into 2013 with Po'uha still available this season as Aaitui developed.
The Jets are an estimated $19 million over the 2013 salary cap and will have to make some tough decisions during the 2013 offseason.  While Po'uha did sign a three year deal an analysis of the contract shows the Jets would save $3.84 million on the 2013 salary cap if Po'uha were to be released before the third day of the 2013 league year, as long as he is not injured, but would count $2.33 million in "dead money", money which counts on the salary cap for a player not with the team.
The Jets would have the option under the NFL's Collective Bargaining Agreement (CBA) to designate Po'uha as a player who is released after June 1st even though he is actually released sooner.  The dead money hit for player's released or traded after June 1st is spread over two years caps but the CBA allows teams two exceptions for a player who is released before June 1st to be viewed as being released after June 1st.  This was done to allow players to become available on the open market quicker instead of forcing teams to wait until after June 1st to release a player for salary cap purposes.  If the Jets use this designation they will save $5 million with $1.167 million in dead money in 2013 but will have an additional dead money hit of $1.167 in 2014.
Po'uha is a fan favorite and will hopefully be able to get healthy and contribute this season but NFL player's careers are short and their abilities tend to decline rapidly.  Teams cannot base their personnel moves on sentiment but attempt to move away from players before they don't produce at the level they once did.  The question is can Kenrick Ellis give similar or better production than Sione Po'uha next season which could free up resources to be used more effectively on other positions than a 34 year old NT with back issues?  The answer to this question may decide if this is Sione Po'uha's last season as a Jet.
Videos
JetNation
4.6K
Subscribe
Broken Brains; Critics of Jets Quarterback Aaron Rodgers Begin Stirring up Conspiracy Theories