Featured Editorials Home Slider
Why The Buccaneers Should Not Trade For Revis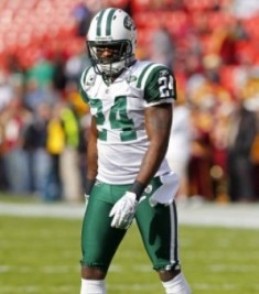 It seems not a day goes by without some new story regarding the possible trading of All-Pro New York Jets cornerback Darrelle Revis.  The latest comes via Peter King of SI.com and reiterates many past reports that the Tampa Bay Buccaneers have been in trade talks for Revis.
The Buccaneers make sense their pass defense was worst in the league last season and they have salary cap room to offer the money Revis desires.  While any team wants a healthy Darrelle Revis' production on the field resources need to be sacrificed in order to obtain him.  The question is given the current state of the Buccaneers is trading for Revis the correct move?
After a poor 4-12 record in 2011 the Buccaneers decided to spend money in free agency acquiring a number of high priced players: wide receiver Vincent Jackson (five-years $55 million, 2012 season: 72 REC – 1,384 YDS – 19.2 AVG – 8 TD), guard Carl Nicks (five-years $47.5 million), and cornerback Eric Wright (five-years $37.5 million).
They also had a very good 2012 draft: pick #7 safety Mark Barron (88 TCKL, 1 INT), #31 running back Doug Martin (319 ATT – 1,454 YDS – 4.4 AVG, 49 REC – 472 YDS – 9.6 AVG), and #58 outside linebacker Lavonte David (Led team in tackles: 139 TCKL – 2 SCK, 1 INT).
Tampa eventually finished the season with a 7-9 record but the prevailing thought is fix up the pass defense and they'll be contenders so trading for Revis makes sense.  Unfortunately there are more issues facing the Buccaneers then can be fixed by one move.
Their quarterback Josh Freeman has been inconsistent at best and his performance faded down the stretch last season.  Entering the walk year of his rookie contract, drafted in 2009 at #17 where the Jets moved up from that year to obtain Mark Sanchez, Freeman has yet to prove he's their franchise quarterback.  The organization has stated they would like to bring in competition for Freeman and will not give a new contract, if at all, until after the 2013 season.
The current rumored draft compensation, which will likely change before this article is done, for a Revis trade is the Buccaneers first and second round picks in 2014.  Opposite of this year's draft class the 2014 draft is suppose to have a vast number of top notch quarterback prospects.  So if Freeman regresses and Tampa has a poor year forget about using those two picks to obtain a new quarterback if they make a trade.  Even Revis' talent when healthy cannot make up for poor quarterback play.
The other reported driving force behind Revis to Tampa is they have "money to burn" and can afford the, depending on which made-up number you believe, $12-$15 million annually Revis wants.  Strange that a team with all this available capital who only managed 27 sacks last season allowed their top pass rusher defensive end Michael Bennett (41 TCKL, 9 SCK and 3 forced fumbles) go to Seattle on a one-year $5 million deal.
Tampa head coach Greg Schiano has mentioned defensive ends Da'Quan Bowers, who has some legal issues for having a gun in LaGuardia Airport, along with 2011 number one pick Arian Clayborn, who is coming off a torn anterior cruciate ligament like Revis, as players who need to step up in 2013.  There is concern within the organization about this position which puts a premium on getting to the oppositions quarterback.  The Buccaneers were ranked 29th in sacks last season which effected the overall rating of their pass defense.
Tampa just lost free agent cornerback E.J Biggers, who started 12 games last season, to the Washington Redskins and are considering releasing cornerback Eric Wright after a poor 2012.  The team also released starting linebacker Quincy Black due to a serious neck injury and currently lacks a starting tight end.
They have signed free agent safety Dashon Goldson to a five year-$41.25 million deal to help their secondary but it seems like they will need to obtain two or three more cornerbacks not just a currently injured Revis whose 2013 availability is still unknown.
NFL general managers have to make decisions based upon the allocation of their limited resources.  Tampa Bay's GM Mark Dominick is facing many issues and will have to decide if the resources he'd be giving up, draft as well as financial, to obtain and keep Darrelle Revis benefits the team more or less in the long run.
With the price for free agent cornerbacks dropping, the many holes they need to fill along with Tampa's recent success in the draft, does trading anything for Revis make sense?  The lost draft picks and high contract price for Revis might actually be a deterrent to the Buccaneers ability to be competitive.
Darrelle Revis is a great, yet injured, player but given the issues with the Buccaneers roster is obtaining Revis for the "reported" compensation a mistake for the organization?
Videos
JetNation
4.6K
Subscribe
Blowout win for Zach and the Jets as Gang Green Drops Houston 30-6