Featured Editorials Home Slider
Revis Does Not Lose $3 Million If Misses Voluntary Workouts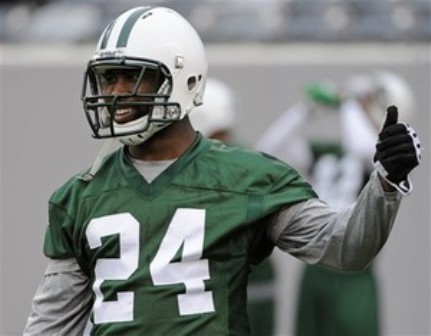 There is more drama in the Darrelle Revis saga as it is being reported the Jets want Revis to attend the team's "voluntary" offseason workout program which starts April 15th but Revis would prefer to remain in Arizona where he's been rehabilitating his surgically repaired knee. 
Revis has three separate 2013 offseason $1 million bonuses, a roster bonus (3/16), a workout bonus and a training camp reporting bonus in his current contract. 
It has been incorrectly reported that if Revis does not fulfill the required workout portion of the contract he losses the other two bonuses:
Rich Cimini of ESPN New York:
If Revis doesn't participate in approximately 80 percent of the workouts, he will forfeit not only a $1 million workout bonus, but two other bonuses — a $1 million roster bonus (triggered March 17, but payable at a later date) and a $1 million reporting bonus at the start of training camp.
Manish Mehta of the New York Daily News had something similar:
Revis will report for the start of the Jets' voluntary offseason conditioning program on April 15 due to a clause in his contract that could cost him $3 million if he doesn't show up, according to sources.
According to National Football Post and CBSsports.com contributor Joel Corry these reports don't tell the complete story:
@dennis_agapito Revis' roster bonus & reporting bonus are not tied to the workout program.

— Joel Corry (@corryjoel) April 7, 2013
@dennis_agapito The roster bonus is tied to mini-camps & training camp. The reporting bonus is tied training camp participation.

— Joel Corry (@corryjoel) April 7, 2013
Corry explains Revis needs to attend mini-camp and training camp to get $2 million of his $3 million offseason bonus.  Since Revis has clauses which adds three year onto his contract if he holds out of any mandatory workouts he's not missing mini-camp nor training camp.
Revis knows as long as he does not violate any of the anti-holdout clauses he is set to become an unrestricted free agent in 2014 not able to be tagged or restricted in any way under his current contract. 
Revis will have to attend a certain percentage of voluntary workouts along with organized team activities, voluntary practices, (OTA's) to get his additional $1 million workout bonus:
@conortorr @rapsheet Revis must complete 83% of the off-season workouts & 85% of OTAs if he wants to collect his $1M workout bonus.

— Joel Corry (@corryjoel) March 18, 2013
Listening to the mainstream New York media Revis will be traded on draft day (April 25th) to the Tampa Bay Buccaneers.  This is the latest imaginary deadlines for trading Revis.  First it was before the start of free agency, then it was before the $1 million roster bonus was due March 16th and then it was suppose to happen during or just after the recent owners meetings but Revis is still a Jet.   
Since the press is so sure Revis is getting traded why should he even show up on April 15th he's just being traded ten days later? 
UPDATE: Here's an article by Joel Corry explaining how Revis' bonuses work.
Videos
JetNation
4.6K
Subscribe
Broken Brains; Critics of Jets Quarterback Aaron Rodgers Begin Stirring up Conspiracy Theories