NY Jets Training Camp Roster Moves – Waivers, PUP & N-F/I Explained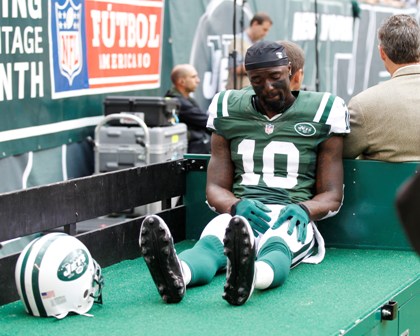 The Jets have made a few roster moves as the start of training camp approaches (July 25th):
Wide receiver Thomas Mayo was waived with an injury designation (waive/injured).  Once on waivers each team in the NFL will get an opportunity to "claim" Mayo's current contract. 
The order of who claims is determined by the inverse, worst to first, clubs record.  The Chiefs have the first chance at Mayo than the Jaguars and so on.  The waiver order changes on September 24 when the current inverse standings of teams will set the claims priority with the order being re-determined, per the records, after each week of play. 
It is highly unlikely that Mayo will get claimed so once he clears the waiver wire the Jets can put him on reserve/injured (IR) or give him an injury settlement.  As long as Mayo clears waivers he will not count on the 90-man roster during training camp if the Jets choose to put him on IR.  A player cannot be released who was injured in the course of sanctioned football activities they must be placed on IR or receive a settlement.
The team can chose an injury settlement and will pay Mayo for as long as his injury would have kept him off the field.  So if it was determined he'd miss four weeks of the season the Jets would pay him the salary equivalent to four game checks and that money counts on the teams salary cap.  Mayo will then be off the roster.
The Jets have placed: WR Santonio Holmes, DT Junior Aumavae, CB Mike Edwards, Safety Rontez Miles and DL Jake McDonugh on the active/physically unable to perform (PUP) list while placing CB Darin Walls on the active/non-football injury (N-F/I) list.
These players all failed their pre-camp physicals which is why they are on the PUP or N-F/I list.  They count on the 90-man roster and can rehabilitate along with attending meetings but cannot practice until removed from these lists, which can happen at any point during training camp.
The difference between PUP and N-F/I is that players who are unable to perform due to an injury sustained during the course of sanctioned football activities goes on PUP while those who fail the physical due to injury or illness from non-football activities go in N-F/I.
If these player remain on these list after the final roster cut-downs (August 31st) the team can place them on reserve/PUP or N-F/I which means they are out for the first six weeks of the season.  The teams are given a 21 day window after six weeks to allow the players to practice and can decide to activate them.  If the player is not activated they can remain on their respective list.
Players on PUP receive their regular season salary and count on the salary cap but according to Article 20 – Section (3) of the NFL Collective Bargaining Agreement (CBA) those on N-F/I are not entitled to compensation:
Section 3. Nonfootball Injury:


(a) A player who is placed on a Non-football Injury or Illness list ("N-F/I") will not be entitled to any compensation under his contract while on such list.
Most of the time teams will work out some sort of "split" payment for those on N-F/I where the player will receive a certain, lower, weekly salary while on N-F/I and then get their contracted weekly salary when/if they are activated.  The team is not obligated to pay, but usually do, a player on N-F/I as any salary paid counts on their cap.
Videos
Aaron Rodgers Injury Fallout & Jets/Bills Recap