The Jets Phony Quarterback Competition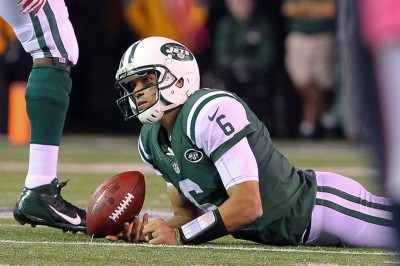 All offseason Jets fans have focused much of their attention on the teams quarterback competition.  The use of the word competition implies that all the participants actually have a chance to win it.
With rookie Geno Smith getting an opportunity to start against the Giants last Saturday his performance would be a good barometer which to measure where he was in regards to veteran Mark Sanchez.  Smith's uneven performance filled with mistakes made it appear that the much maligned Sanchez would hold on to his starting job heading into week one.
Not so fast as Sanchez was inexplicable placed into the last preseason game late behind the back-up offensive line only to get injured after taking a big hit from defensive lineman Marvin Austin, a guy fighting for a Giants roster spot.  The decision to play Sanchez at all let alone with inexperienced blockers against defensive players going all out to make a team left many wondering, why was he in the game?
Since the hiring of general manager John Idzik Sanchez has become odd-man-out of the team's plans at the quarterback position. The signing of veteran David Garrard, who was forced to retire due to a knee issue, and the drafting of rookie Geno Smith sent out a strong message the organization wanted to move on from Sanchez.  Also the large financial obligation owed to Sanchez heading into next season made finding his replacement a priority.
This so called competition was never actually one since Sanchez had no chance of winning.  Even if he somehow managed to start week one the inevitable would have occurred, Sanchez would be pulled for Smith.  The organization is looking towards the future and needs to know if Smith is a franchise quarterback this season. 
While Sanchez made the case to start the season, he did not make the case he's the quarterback moving forward, and the Jets want any reason not to play him. That is why the person who appears to be your week one starting quarterback was placed in a meaningless game late because Sanchez is regarded on the same level as Greg McElroy or Matt Simms.
The bottom line is there was never a quarterback competition, regardless of what was being said, this was simply a "facade" put up to get us to believe Sanchez actually had a chance to "win" when in reality he's already lost. 
The Jets were still looking for any reason to justify having Geno Smith their week one starter and that is why Sanchez played.  The Jets may have gotten what they wished for as Sanchez's availability for opening day is now unknown but why put forward this phony competition when the outcome was already predetermined?
Videos
JetNation
4.6K
Subscribe
Blowout win for Zach and the Jets as Gang Green Drops Houston 30-6