Home Slider Jet News NY Jets Training Camp
Jets Rookie Minicamp Recap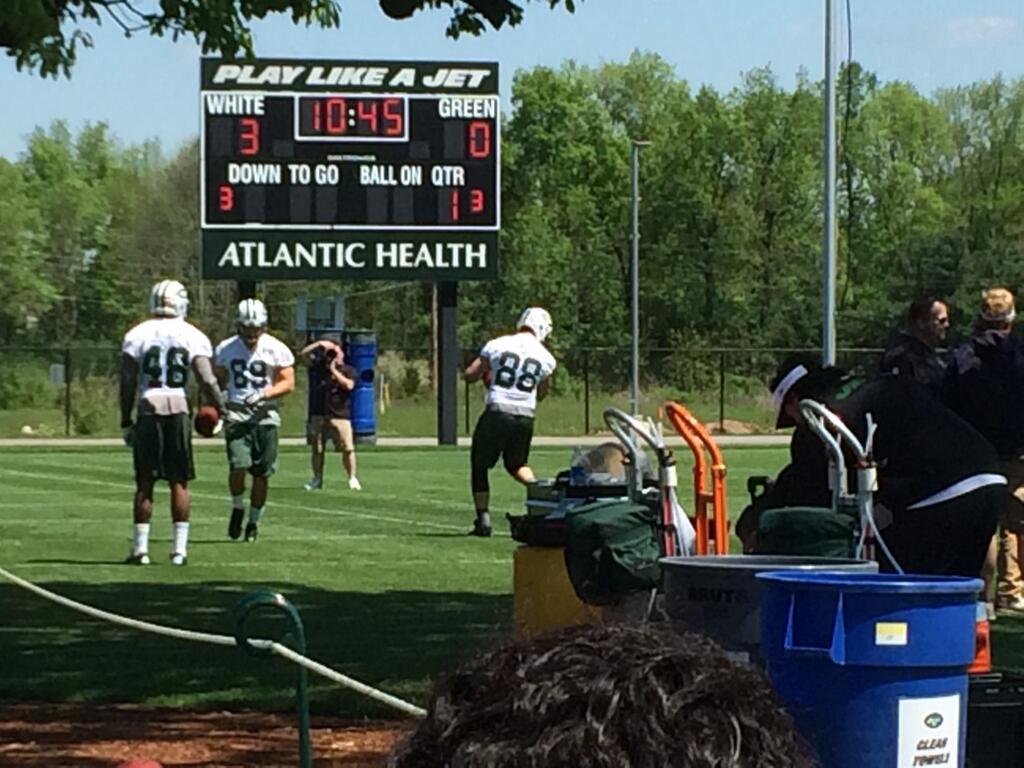 FLORHAM PARK –  The New York Jets held day two of their three day rookie minicamp on Saturday with 65 NFL hopefuls suited up trying to prove themselves worthy of a roster spot.
Draft picks Jace Amaro (R2-49) , Jalen Saunders (R4-104) and Shaq Evans (R4-115) were the offense's stand out performers, with Saunders and Evans each diving several times to make catches.
On the defensive side of the ball, the team's first pick, Calvin Pryor, was in on just about every play and showed his leadership skills right off the bat telling Quarterback Tajh Boyd not to put his receivers in positions where they could get injured.
Linebackers Trevor Reilly (R7-233) and Jeremiah George (R5-195)  both looked good and quick. Some are nervous because of Reilly's age (he is 26), but he was holding his own with the 22-year-olds.
Third round draft pick Dexter McDougle (R3-80) – considered by many to be a reach because of a history of injury – wore a red, non-contact jersey. The team says he is healthy, so this seems like a precaution heading into more Organized Team Activities in the coming weeks.
Quarterback Tahj Boyd  (R6-213), the team's sixth round pick out of Clemson, threw the ball pretty well. If the team decides to leave Boyd at his natural position, it should be an interesting competition in training camp between him and Matt Simms for the third spot on the depth chart.
Head Coach Rex Ryan and General Manager John Idzik spent the majority of the two and a half hour long practice side by side evaluating players.
Following practice the players hung out signing autographs and taking pictures with fans. All seemed to realize what a special opportunity they have been presented with and all want to make the most of it.
Rookie minicamp wraps up today. The players will return for OTAs on May 27, 28, and 30. Then again in June on the 2, 4, 5, 9, 10, 11, 12. The team's mandatory minicamp runs from June 17 to 19. Training camp – held at SUNY Cortland – will begin in late July.
There are some additional thoughts from camp in our Jet Nation forum.  You can also follow me on Twitter to hear my take on the Jets.
McDougle pic.twitter.com/ld0wlw475P

— JetNation.com (@JetNation) May 17, 2014
Videos
JetNation
4.6K
Subscribe
Broken Brains; Critics of Jets Quarterback Aaron Rodgers Begin Stirring up Conspiracy Theories