Home Slider Jet News Transactions
Jets Announce Roster Cuts; Matt Simms Released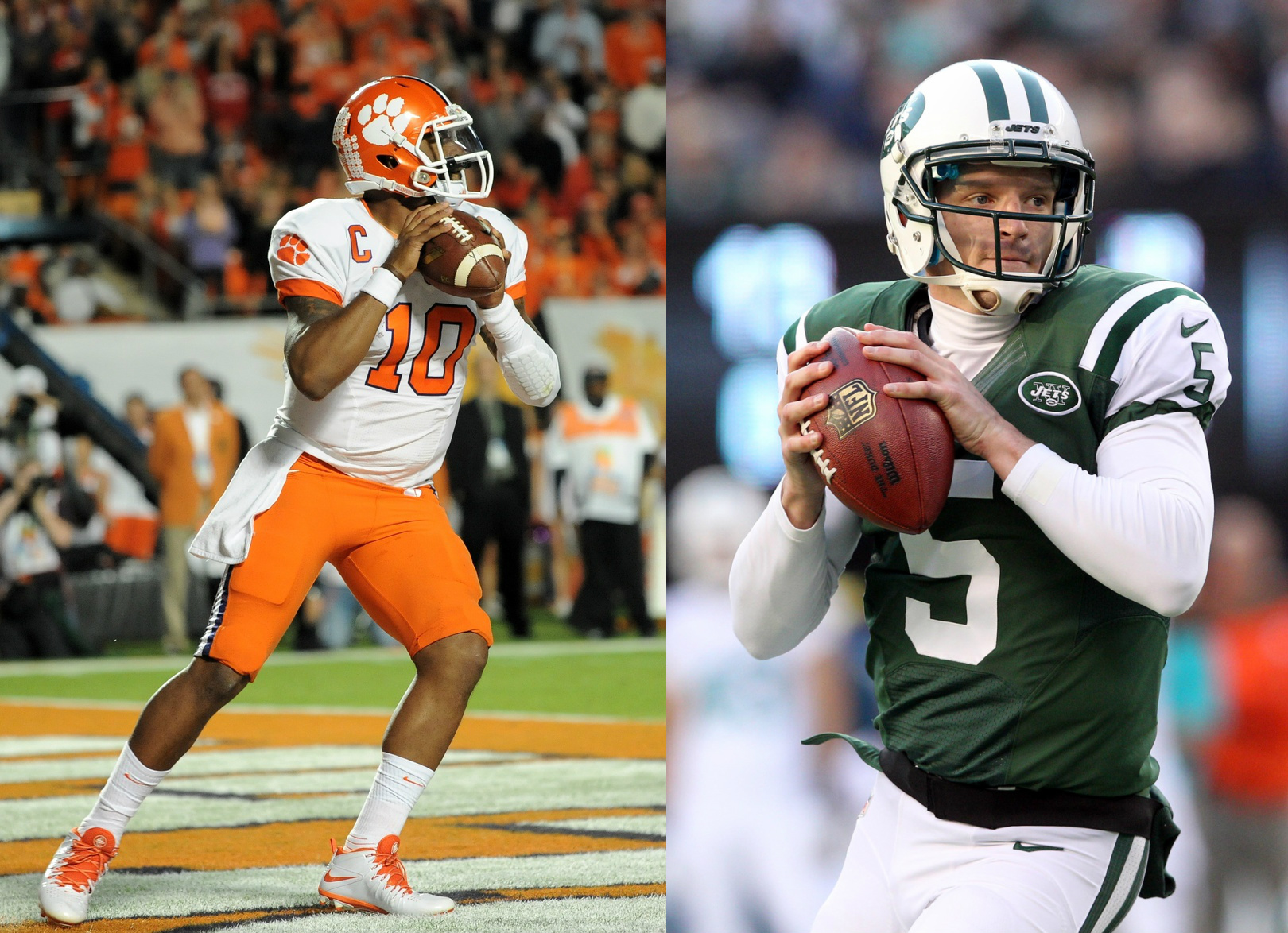 The Jets have announced their cuts in order to get the roster down to the league mandated 53 man limit. We previously mentioned a few of the cuts, including Stephen Hill. But the full list appears below.
August 30, 2014 – The New York Jets reduced their roster to 53 by releasing the players below and placing LB Antwan Barnes on the Reserve/Physically Unable to Perform (PUP) List. Clubs had to reduce their roster to a maximum of 53 players by 4:00 p.m. on Saturday, August 30.

Released

Tajh Boyd (QB/6-1/222/Clemson/Hampton, VA)

Will Campbell (G/6-4/311/Michigan/Detroit, MI)

Troy Davis (LB/6-2/251/Central Florida/Queens, NY)

Brandon Dixon (CB/5-11/203/NW Missouri State/Pompano Beach, FL)

A.J. Edds (LB/6-4/256/Iowa/Marion, IN)

Tevita Finau (DT/6-5/288/Utah/Lahaina, HI)

Clyde Gates (WR/6-0/197/Abilene Christian/Vernon, TX)

Alex Green (RB/6-2/220/Hawaii/Portland, OR)

Stephen Hill (WR/6-4/215/Georgia Tech/Lithonia, GA)

Kerry Hyder (DL/6-2/280/Texas Tech/Austin, TX)

Garrett McIntyre (LB/6-3/255/Fresno State/South Lake Tahoe, CA)

Rontez Miles (S/6-0/203/California (PA)/Braddock, PA)

Chris Pantale (TE/6-5/254/Boston College/Wayne, NJ)

Johnny Patrick (CB/5-11/190/Louisville/Deland, FL)

Dimitri Patterson (CB/6-0/200/Tuskegee/Miami, FL)

Brent Qvale (T/6-7/315/Nebraska/Williston, ND)

Jeremy Reeves (CB/5-7/176/Iowa State/Allen, TX)

Daryl Richardson (RB/5-10/196/Abilene Christian/Jacksonville, FL)

Caleb Schlauderaff (G/6-4/302/Utah/Shelton, WA)

Matt Simms (QB/6-3/210/Tennessee/Franklin Lakes, NJ)

Zach Thompson (DL/6-5/265/Wake Forest/Ashburn, VA)

Reserve/Physically Unable to Perform (PUP)

Antwan Barnes (LB/6-1/251/Florida International/Miami, FL)
With the Jets only carrying 2 QBs, Rich Cimini clarifies a question many had about the practice squad. Matt Simms is eligible according to J.P. Pelzman, so it is likely that the Jets will try to put him on the practice squad if he isn't claimed by another team.
Jets officially announce rest of cuts, which include second-year QB Matt Simms. Certainly a candidate 4 practice squad if he clears waivers

— J.P. Pelzman (@JPPelzman) August 30, 2014
The Jets will certainly try to improve the roster through the waiver wire, so the final 53 will most likely change a bit. The Jets cornerbacks can use a little help so it is possible they will make a move there.
Current 6 cornerbacks on Jets roster: Dee Milliner, Antonio Allen, Darrin Walls, Kyle Wilson, Ellis Lankster& LeQuan Lewis… Good luck #nyj

— Manish Mehta (@MMehtaNYDN) August 30, 2014
Videos
JetNation
4.6K
Subscribe
Broken Brains; Critics of Jets Quarterback Aaron Rodgers Begin Stirring up Conspiracy Theories