Draft Featured Editorials Home Slider
Maccagnan Hopes Ailing Corners Lead to Surplus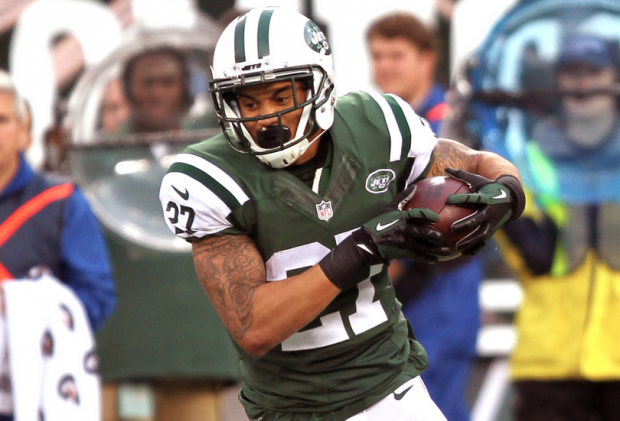 Realizing he was stating the obvious, Jets GM Mike Maccagnan prefaced his recent comments regarding the Jets secondary and their need for quality cornerbacks in making it clear that his thought process is one that permeates throughout the league. "I will say this with cornerbacks — and I don't think this is anything any other GM wouldn't say — you can never have enough good ones, so I would be very happy if we had a surplus at that position."
A surplus at a position that was the Achilles heel of the defense last season may not seem plausible on the surface, but in all reality the idea isn't all that far-fetched when taking a look at the big picture.
Maccagnan was speaking this weekend at the NFL combine according to al.com and discussing a time frame for the return of third-year cornerback Dee Milliner who missed all but three games last season as one of two young Jets cornerbacks who suffered season-ending injuries.  While still a relative unknown at the pro level,  fellow cornerback Dexter McDougle was also shelved for the duration of the 2014 season.  By all accounts, the rookie was working his way up the depth-chart prior to tearing his ACL while defending a goal line pass in training camp.
Both injuries would prove to be costly, but Milliner's was devastating.  A strong finish to his up and down rookie campaign that earned him defensive rookie of the month over the season's final four games was cause for optimism.  Entering 2014, he was slowed by a high ankle sprain suffered in training camp and didn't play in the season opener but suited up for the Jets' week two contest in Green Bay.  Milliner would play just 41 of 72 snaps, struggling before his ankle tightened up and he pulled himself out of the game.  When all was said and done it was a bad day for Milliner.  He was beaten  for 137 yards and a touchdown on five catches according to a newsday.com film breakdown.  After sitting out weeks three and four due to the ankle injury, the corner returned in San Diego and was one of the Jets' few bright spots in a 31-0 blowout loss.  A lackluster effort on defense didn't impact Milliner as he held opposing receivers to just nine yards while being credited with two passes defended.  However, a torn Achilles at home against Denver that following Sunday would bring his season to an end.
Losing Milliner, McDougle and free-agent addition Dimitri Patterson, who was released for going AWOL prior to the start of  a pre-season game, wound up being too much for the Jets defense to overcome.  In what was a virtual revolving door at the cornerback position, a pair of former undrafted free-agents, Darrin Walls and rookie Marcus Williams, turned out to be the best of the bunch and garnered the  majority of the playing time. Both will likely get the opportunity to compete again this season, but whether or not either one earns a starting role remains to be seen.  Other than Walls and Williams, safety Antonio Allen, Seahawks and Raiders cast-offs Josh Thomas and Phillip Adams, and former first round pick Kyle Wilson played sporadically throughout the season.
Should Milliner and McDougle indeed return and play at a high level, the Jets will very likely have the surplus that Maccagnan referenced.  Given the uncertainty of the situation, the GM and new head coach Todd Bowles will have import at least two starting caliber cornerbacks through the draft and free agency if there are any hopes of being competitive in 2015.
One popular target in free agency among Jets fans is Seahawks CB Byron Maxwell.  Landing the big corner may be easier said than done as his former coordinator in Seattle, Dan Quinn, is now running the show in Atlanta as their new head coach.  With that being the case, the Falcons are considered an early favorite to land Maxwell's services. However, despite a healthy cap situation with roughly $20 million to work with, the Falcons are nowhere near the Jets projected $40-$50 million in spending room.  If it comes down to dollars, which if often does, the Jets should have the ability to bring Maxwell in if he is indeed their number one choice.
If you believe what the pundits are saying, come draft day the Jets will either reach for cornerback early on, or hope to snag one after the first round if they stay at their current spot, number six overall.  CBSsports.com provided a trio of mock drafts showing no cornerbacks being selected before the sixteenth overall selection, but that could all change following Michigan State's Trae Waynes' strong showing at the combine.
Of course nobody outside of the Jets organization knows what their draft boards look like, but it may come down to the age-old debate of drafting the best player available, or the best player available who fills a need.  Along with Waynes, Washington's Marcus Peters, and Miami (Ohio) Quinten Rollins are some of the top players considered to be worthy of a first round selection.
Maccagnan and Bowles are less than three weeks away from the start of building their roster when free agency kicks off on March 10th.  The draft will then follow from Apr 30th-May 2nd.  A key free agent signing or two, paired with a strong pick at cornerback could play a big part in helping the Jets bounce back from a season in which the only place there was a surplus was the loss column.
Videos
Aaron Rodgers Injury Fallout & Jets/Bills Recap