REVIS RETURNS!!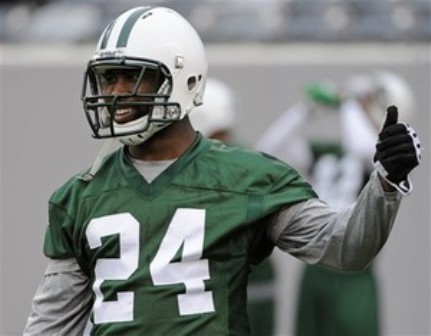 In a move that many Jets fans would have thought to be an impossibility two seasons ago when gang green traded the player who many consider to be the best to don a Jets uniform since the days of Joe Namath, cornerback Darrelle Revis is a New York Jet once again. It appears owner Woody Johnson was determined to undo the mistake he made when he allowed Revis to be dealt to the Tampa Bay Buccaneers two seasons ago.
Darrelle Revis' agents announce he has agreed to terms with the Jets.

— Adam Schefter (@AdamSchefter) March 11, 2015
Darrelle Revis was asking teams for $40 million guaranteed. Jets' deal expected to top that. North of $40M guaranteed.

— Adam Schefter (@AdamSchefter) March 11, 2015
Regardless of any ill will harbored toward Revis from Jets fans who grew tired his unprecedented negotiating tactics in an effort to continually increase the value of his contracts, this is a good day for the Jets and their fans.
With an eye toward the start of the 2015 season, Revis' arrival means a secondary revival. Earlier on Tuesday the Jets signed CB Buster Skrine from the Cleveland Browns.  Ranked among the worst units in the NFL last year, New York allowed an embarrassing 31 touchdowns through the air, good for 29th in the NFL.  With new head coach Todd Bowles on board, the need for top-notch cornerback play to accommodate a blitz-heavy defensive scheme was the one holdover from the previous coaching regime.
With plenty of talent left on the free agent market, and the addition of wide receiver Brandon Marshall, it would appear general manager Mike Maccagnan is unaware of the fact that he's supposed to be in year one of a multi-season re-building project.  The former Houston Texans personnel man has made a pair of blockbuster "win now" moves, and with roughly $30 million in cap space, there's no telling what he may do next.  It would be fair to assume however, that no move will surpass the cost or impact of Revis' return.
The Jets will now field a defense consisting of not only Revis, but a stout 3-man front consisting of Mo Wilkerson and the man the Jets drafted with the first round selection they received from Tampa in the deal for Revis, Sheldon Richardson.
Given the Jets crop of young corners currently on the roster, the Jets will undoubtedly hope for Revis to serve as a mentor to former first round pick Dee Milliner, last year's third round selection Dexter McDougle, and the surprising Marcus Williams, an undrafted rookie free agent who opened some eyes with his quality play last season.
With the size of this contract and history between Revis and the Jets, some credit should go to owner Woody Johnson.  Having limped to a 4-12 record last season,  Johnson knew that this would be a critical time for his franchise.  He started out on the right foot by utilizing the highly respected duo of Charley Casserly and Ron Wolf in his search for a new general manager and head coach.  Upon naming Maccagnan and Bowles respectively, the early consensus from multiple league sources was that he got it right.
Moving toward free agency, there was a feeling that Johnson would push his new front office to do whatever necessary to keep heading in the right direction by bringing Revis back to MetLife stadium.  The owner had to make a statement to the fan base.  They had to know that he viewed 4-12 as being just as unacceptable as his paying customers did.  That could have been accomplished by signing any number of high-profile agents on the market, but credit Johnson for swallowing his pride, and going back to the negotiating table with Revis' reps, Neil Schwartz and Jonathan Feinsod.  Johnson has publicly acknowledged the difficulties in negotiation with the duo at times, but he didn't allow it prevent a deal from being consummated and gave the go-ahead for Maccagnan to make it happen.
Here is the official welcome back Darrelle Revis thread from our forums!
Videos
Aaron Rodgers Injury Fallout & Jets/Bills Recap