Featured Editorials Home Slider
Jets Hope Carpenter Will Help Fix Chronic O-Line Issue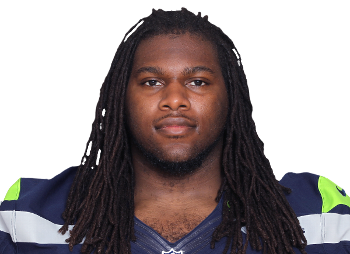 By Glenn Naughton
When New York Jets Pro-Bowl center Nick Mangold sat out the 2014 season finale against the Miami Dolphins, it marked just the third game he's missed since being drafted in 2006.  His fellow lineman, left tackle D'Brickashaw Ferguson has been even better, starting all 144 contests the Jets have played since he was drafted 4th overall, 25 spots ahead of Mangold who was chosen 29th that very same year.
Through the years, the two have played with their fair share of left guards who have been either ineffective or showed up with one foot out the door. There have been some good (Pete Kendall, Alan Faneca), some average (Matt Slauson, Oday Aboushi) and some just downright terrible (Adrien Clarke, Vlad Ducasse).  Last year's early season starter, Brian Winters has been alarmingly inconsistent, but the jury is still out on the young converted college tackle.
With the addition of high-priced free agent left guard James Carpenter (4 years, $ 19.1 million), the Jets are hoping to bring a battle-tested veteran to offer a dominant presence between Mangold and Ferguson as their careers wind down.  Winters and Aboushi manned the position in 2015 and while Aboushi was promising at times, he struggled in pass protection allowing 2 sacks, 5 QB hits and sixteen hurries in just 10 starts.
Winters, who suffered a season-ending injury in a week 6 loss to the Broncos wasn't any better.  In fewer than six full games, he surrendered 1 sack, 3 QB hits and sixteen hurries.  After getting beat for 10 sacks, 6 QB hits and 15 hurries as a rookie in 2013, the Jets had hoped for improved play from Winters, but that wasn't the case.
In all, the tandem of  Winters and Aboushi allowed 3 sacks, 8 hits and 32 quarterback hurries in 2014.  Carpenter meanwhile, allowed just 1 sack, 6 hits and 14 hurries with the Seahawks.  Carpenter's numbers would be better as his quarterback in Seattle, Russell Wilson, has far more escapability than the Jets have in Geno Smith, and Wilson also tends to get rid of the ball quicker than Smith does.  Even with that being the case, going from 3 sacks/32 hurries to 1 sack/14 hurries is a move the Jets were wise to make to finally fix the leaky pass protection at LG.
A better pass blocker than run blocker, Carpenter has the potential to continue his development with the Jets but even sustaining the level of play he established with the Seahawks, would benefit Geno Smith and newcomer Ryan Firzpatrick in making sure they spend more time upright than in seasons past.
While the futures of Winters, Aboushi and countless others are yet to be determined among what has become a very crowded Jets offensive line, Ferguson and Mangold will be in their familiar roles with an unfamiliar face hoping to remind fans more of Pete Kendall and Alan Faneca, than Clarke and Ducasse.  Not only as a quick-fix, but as a long term answer to what has been an ongoing problem.
Videos
Aaron Rodgers Injury Fallout & Jets/Bills Recap