Featured Editorials Home Slider
Is Jarvis Harrison Perfect Pick for Bowles, Gang Green?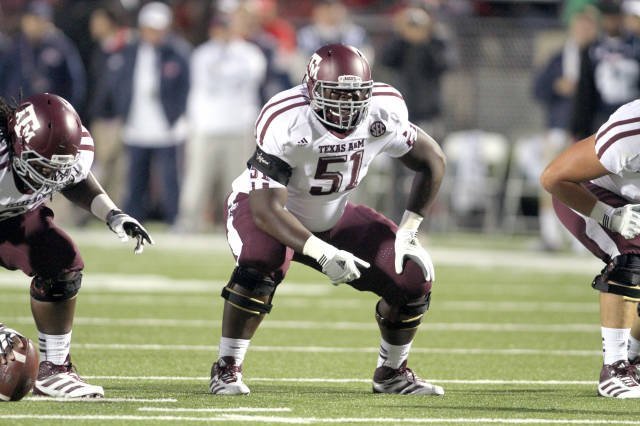 By Glenn Naughton
For the casual NFL fan, there are fewer positions on the football field that generate less interest than the offensive line. The likes of Nick Mangold and D'Brickashaw Ferguson don't often make the highlight reels, but they're the types of players who make the highlight reel plays possible.
Jets fans who watched Gang Green pull off consecutive deep post-season playoff runs in 2009 and 2010 despite terrible quarterback play due to an outstanding O-line (and a stout defense) fully understand the importance of  being able to dominate up front and control the line of scrimmage.
With that in mind, JetNation.com takes a look at the selection of Texas A&M offensive lineman Jarvis Harrison, whose on-field performance and reputation could make him perfect pairing with rookie head coach Todd Bowles.
Viewed by many as a player with the potential to perform at a high level, Harrison would have likely been taken much earlier in the draft if not for lingering concerns regarding his work ethic.  According to NFL.com, one AFC scouting director had this to say about Harrison:
"I believe he has Pro Bowl caliber talent, but his work ethic is a major concern for me. I know he loves basketball, but not sure if he feels the same about football. The talent? That's a given. He's really, really talented."
Offensive line coach Steve Marshall will be tasked with overseeing the day-to-day progress of the 6′ 4" 330 pounder, but Bowles, who has been described as part-time mentor, part-time disciplinarian could be the key to getting the most out of Harrison, and his body of work suggests that under the right conditions he'll have plenty to give.
Primarily a left guard at A&M, Harrison was kicked outside to the left tackle position when the Aggies offensive line was bit by the injury bug late in the season.
Being asked to slide from guard to left tackle is a difficult enough chore on its own as Harrison would now be asked to cover more ground to the outside, but his two-game stint would include a match-up against arguably the top pass-rusher in the nation in Denver Broncos first-round selection (23rd overall), Shane Ray of Missouri.
Ray led the SEC in sacks with 14.5 and had a banner outing-against one of the top-rated offensive tackles in this year's draft class when he squared off against Florida's D.J. Humphries who went to the Cardinals one pick after the Missouri pass rusher.  Ray was able to use his outstanding quickness to harass Florida QB Jeff Driskel on a regular basis and managed to apply heavy pressure while tallying two of sacks in one of his best performances of the season.
Against the far less heralded Harrison, Ray did notch one sack, but other than that, Harrison held his own against an elite rusher in  just his second game at the position.
Harrison's performance against a player of Ray's caliber may have gone a long way in opening some eyes around the league as some teams (including the Jets) would have likely seen his work against a pass-rusher who was seen as a potential top-ten pick before his stock tumbled following a run-in with the law.
With so many options along the offensive line , Harrison will have to fight to earn any playing time in 2015, but his versatility leads to some interesting questions.
Could he be the heir apparent to Ferguson with a bit of seasoning, or is he a viable option to play inside at the right guard position in a division that's loaded with talent along the defensive line, especially given the addition of Ndamukong Suh in Miami.
Wherever the Jets envision Harrison, Bowles' honest post-draft assessment of the lineman in which he publicly acknowledged inconsistency regarding his on-field effort could be the first step in converting Harrison from a questionable mid-round pick, to a perfect choice for the Jets in working towards dominating the trenches on both sides of the ball down the road.
Videos
Aaron Rodgers Injury Fallout & Jets/Bills Recap