Featured Editorials Home Slider Player interviews
Dakota Dozier, "He's a Special Person and a Special Player"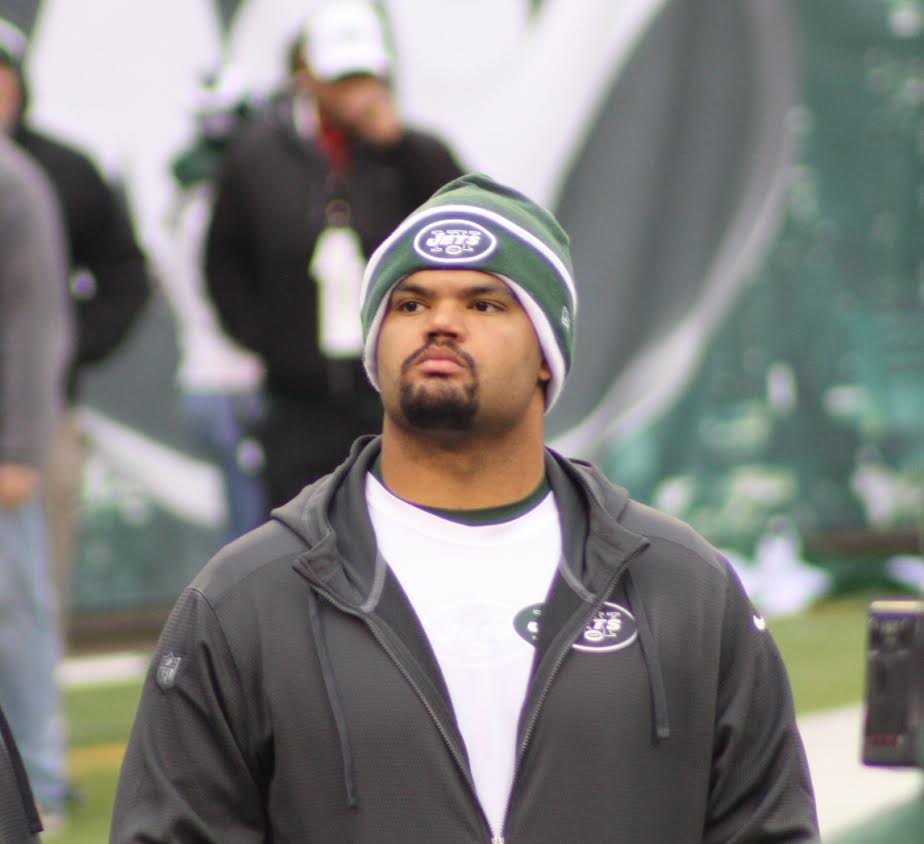 By Glenn Naughton
Furman University is small liberal arts school in Greenville, South Carolina with an enrollment of just under 3,000 students whose football program boasts quite an impressive FCS (Division II) history.
Those who have packed the 16,000 seat Paladin Stadium over the course of the last several decades have been treated to some of the best small-school football in the country.
A home record of 156-46-1, 11 southeast conference championships, and a 1988 FCS national title has helped Furman establish themselves as a small-school powerhouse.
As is the case with many Universities with limited enrollment, despite their rich tradition and record of sustained success, NFL prospects from Furman have been few and far between.
Currently, just two former Paladin's reside on NFL rosters, both of whom are in the AFC East. Buffalo Bills fullback Jerome Felton is one, and the other is Jets offensive lineman Dakota Dozier.
Following a stellar four-year career at Furman where he starred at left tackle, Dozier was viewed as a potential third or fourth round draft pick by many experts and that's exactly when the Jets chose the 6′ 4", 313 pound lineman in the 2014 NFL draft, in round four with the 137th overall selection.
Drawing comparison's to the previous season's seventh overall selection, guard Jonathan Cooper, Dozier clearly flashed some big-time ability during his time at Furman that had him on the radar of several NFL teams.
After working primarily at guard during his rookie season, Dozier is now getting a look at center as a possible back-up to All-Pro Nick Mangold but could still be in the mix for the vacant right guard spot.
With so little known about Dozier to this point, JetNation.com reached out to his former offensive line coach at Furman University, Scott Smouse, who worked with Dozier for three years in Greenboro.
Having been part of the offensive coaching staff with LSU during their 2003 National Championship season that they followed up with a victory in the 2004 Capitol One Bowl, Smouse is no stranger to big-time talent.
GLENN NAUGHTON: Scott, first of all I'd just like to thank you for taking the time to speak with JetNation.com about your time working with Dakota.
SCOTT SMOUSE: No problem Glenn, happy to do it.
GN: Scott, what was your initial impression of Dakota when you arrived at Furman?
SS: During my time at LSU, we had four or five guys who went to the NFL and I also spent a year at Duke and five years at Appalachian State with some linemen who had a chance to play in the NFL.  Then I had a guy at Jacksonville State who was in an NFL camp. Compared to those guys, the thing that jumped out at me about Dakota was his total body strength and great body control. He could do the things that he wanted to do.
For example, we played LSU two years ago and he was really having his way with certain guys and he's just a strong guy.  Now he's not gonna' blow you away with any numbers in the weight room, but he's got great football strength and that was the first thing that caught my eye.
He's got decent footwork and agility and he is very athletic for his size to go along with that strength.
GN: How would you describe his preparation and his ability to absorb a playbook?
SS: The thing with coaching at Furman is that it's similar to a place like Wake Forest or Duke University in terms of having high academic standards.  Because of that, we're able to have an extensive playbook at the college level so I feel that during his three years we were very multiple on offense.
We weren't exclusively a spread team, we ran a lot of plays and had a lot of protections and a lot of that come from my time at LSU working with Jimbo Fisher and Mike Bobo at Georgia and we really ran a pro-style offense.
While Dakota was there, he took it all in with ease, he learned the playbook and took that extra step.  He knew what we were doing and why we were doing it.  Whether we were trying to combo a play or check from a run to a pass and none of it gave him any trouble and he handled it better and better every year.  I can see where that mindset can help him at the NFL level.
GN: In the limited interviews we've seen from Dakota, he comes across as  a soft-spoken, humble guy.  Would that be an accurate description?
SS: He absolutely is.  During the pre-draft process I had a lot of NFL line coaches come to me and say "Coach, what's the deal with this guy?  He seems too perfect, he doesn't have any issues"
I told those coaches, I said "That's him".  Me personally, I went to Appalachian State and I know they recruited him heavily and that was a team we struggled to beat.  So I asked him, "why'd you come here instead of there"? because I know their offensive line coach and I knew they really, really wanted him.  Dakota told me "coach, that place just wasn't for me".  I'd be wiling to bet that they took him out for a night on the town during his visit and that's not who he is.
He's actually getting married here pretty soon and it doesn't surprise me at all that he's marrying the only girl he dated during the three years he spent here at Furman.  He's a strong person with high morals and great character and I really can't say enough about the person he is.
GN: What kind of pro player do you think Dakota could be?
SS: You know, I had a lot of pro scouts and line coaches ask me, "would you jump on the table and say 'we gotta take this guy'?  And I tell them, I don't have any idea how many of these young men are going to make it.  Based on who Dakota is, I think he's got a great chance.  It's the same with me for recruiting.  I can't say "I know this kid is going to make it because nobody know if a player will make it or not".
All I could tell them is that this is a guy who's going to give you everything he's got.  He's been in Greenville this off-season and every time I see him he's training and he knows what to put in his body.  He knows exactly what weight and body fat he needs to be at and he's eating all the right things and he knows what to do.
I spoke to him and it sounds like this staff is gonna' work him out at center behind Nick (Mangold) and he says that's been a great learning experience.
I was a little bit surprised because he's a left-handed kid and I've never had a left-handed center but apparently (offensive line coach) Steve Marshall told him "I don't care, you snap with the hand you're most comfortable with" and the other coaches seem fine with it.  I've heard of some NFL guys say "If you're left-handed, I want you to snap under center with your right hand and only use your left for the shotgun".
GN: Based on what you saw out of Dakota in college, what part of his game do you think will need the most work as he transitions not only to the NFL but as he gets more reps at center?
SS: Really, my first year with Dakota, he got bigger.  Not that his weight changed, but his body got bigger and stronger.  They'd probably like him to be longer than he is in the NFL but he's very athletic.`
When he was with us, he played every game at left tackle until has last game when we moved him inside to left guard and there was a reason for that.  Our starter was injured and we were getting ready to play a team that had some physically imposing interior linemen and I didn't think our back-up guard could handle them as well as he could pass block on the edge if we put in a game plan that had us get rid of the ball quickly and not put that kid in a position to get us beat.
The way he played in that game was so impressive because he was injured that week so he hardly practiced.  Come game time, he wasn't perfect, but he played great for a guy who hadn't gotten any practice at the position.  He'd also played there the week before as an in-game adjustment when we were in a similar situation and he just said "coach, I know this is the best thing for the team" and he did it really well.
The big thing in the NFL is that he's gonna' face a lot of odd fronts and 50 fronts, he'll have to go against a big nose takcle, but like I said, his strength is really impressive.  He can bend with great flexibility so hopefully that'll help his transition there.
I know there's  a new staff in place this year, but he told me throughout last season, they had him play all three offensive line positions at one time or another.  They told him "you might be able to play some tackle in pinch if I needed you to do it".  He doesn't have the length that some coaches might like, but he's gonna' battle.  He's going to work extremely hard.
GN: For those of us who haven't had the opportunity to see much of Dakota on the field, is there any one game that stands out to you as a signature performance in which he played at the top of his game and showcased all of his skills?
SS: Two games stand out big time.  Against Florida during his Sophmore year because nobody expected us to compete with them so we took our right tackle and moved him to left guard next to Dakota and said "hey, even if they load up that side, we're gonna' take our chances and run to that side".  When I graded that film it was unbelievable.  I think he graded out at over 90% with a bunch of knock-downs and a bunch of pancakes.
As a matter of fact, he didn't finish the game on the field.   Florida had a really good defensive end who I think went on to the NFL but I can't remember his name, but he got so mad at Dakota, in the fourth quarter they're winning and they're gonna' win so it's just  a matter of running the clock out.
At one point, Dakota bends him over a pile and he just jumps up and pops Dakota's helmet off and punches him.  Dakota's got a gash over his eye  and they tell him he's gotta' come out.  They don't flag the defender or anything and Dakota knew the guy was tired of getting manhandled all day.  So I knew he'd played well, but when I graded that film I was blown away, I couldn't believe it.
The other game would be his senior year against LSU.  He was unreal and a lot of guys said that was the game that got him drafted in the fourth round because he was so good that day.
I told him at one point the he plays like a different person against the big schools and he just said "I know coach, but I don't know why" and I honestly believe that Dakota, even though he always worked hard in practice, he never felt truly challenged.  Playing for us, nobody challenged him on the other side of the ball on a daily basis and nobody challenged him for playing time.  It wasn't until he had to play against those bigger schools that he knew it was going to be a challenge.
When we played against those bigger schools like he did in the North Carolina/South Carolina shrine game, he just really came alive.  He was a different person in that game and against bigger schools.  A lot of offensive line coaches told me that it was that LSU game that got elevated his draft status.
GN: Dakota played in the east/west shrine game where a lot of scouts and executives are present. What kind of feedback did you get on his performance in practice and the game that week?
SS: The coaches we spoke to were very pleased with him.  Some folks told us he was dominant in pass protection going against some bigger guys at guard.  He did well enough that he was supposed to go to the senior bowl as a fill in and the Jacksonville Jaguars were the team the wanted him there because they really wanted him and they thought a lot of him but Dakota didn't play because his agent advised him to sit after he got dinged up in the east/west game.
GN: You mentioned the Jaguars showing interest in Dakota, do you recall the level of interest the Jets had and who spoke to you about him?
SS: To be honest with you, I didn't speak much with the Jets.  When they selected him I thought it was interesting because I spoke at great length with the Patriots, Jaguars, Eagles and Panthers as well as one or two other teams.  I wouldn't have been surprised at all if any of those teams had taken him but the Jets took him in the end.  That just goes to show you that you never know who these guys are going to pick and the games that go on with flying guys in who they have no intention of taking.
GN: Well, thanks again Scott for all of your time and insight on Dakota and the type of player and person the Jets got when they took him in the draft last season.
SS: My pleasure Glenn, and I can assure you that what the Jets have in Dakota and the type of person he is, it's not surprising that he went to New York City but he's gonna' be getting married to the only girl he dated in college and he's a down to earth humble person who's going to work his tail off.
He's gonna' do whatever the Jets tell him to do.  If they tell him to work out every day he's going to do that.  Some guys take a few weeks or a few months off but he's not one of those guys.  He majored in health science and he went to school so he knows exactly what to eat and exactly what to do.  It's great thinking on his part to plan that far ahead to study something that could help him last a few extra seasons in the NFL.
Once again, JetNation.com would like to thank Scott for taking the time to sit down and offer some insight on Jets offensive lineman Dakota Dozier.
Videos
Aaron Rodgers Injury Fallout & Jets/Bills Recap