Featured Editorials Home Slider
Geno's Jaw may not be all That Needs Healing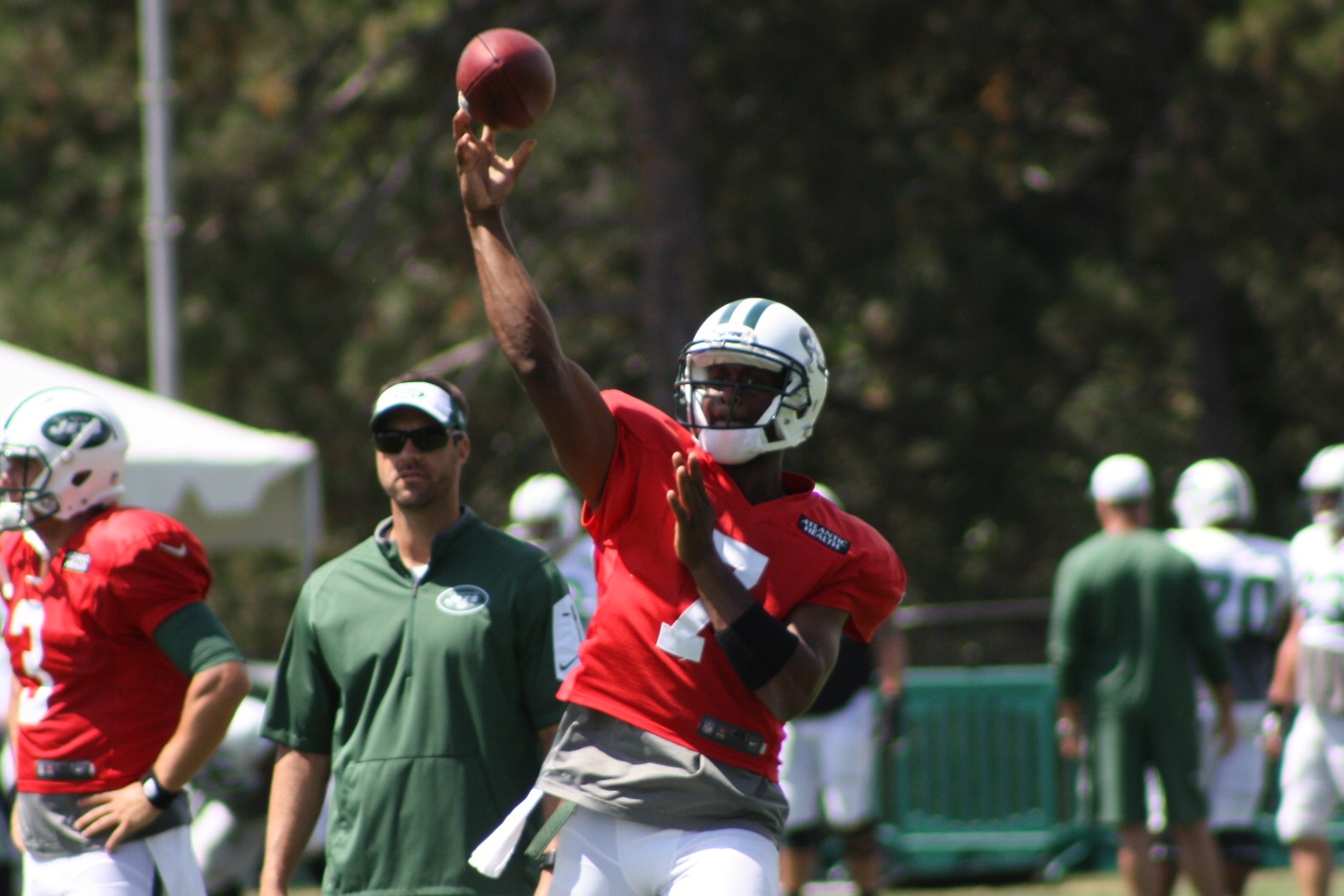 By Glenn Naughton
It's starting to look like the punch that was delivered squarely on the jaw of Jets quarterback Geno Smith could wind paling in comparison to the hit his reputation is taking in the media as player comments and media reports begin painting Smith in a negative light, calling in to question his credibility within his own locker room.
Smith's former teammate, IK Enemkpali, was let go by the Jets after learning he and Smith were involved in a locker room scuffle over what turned out to be a $600 debt that, according to Enemkpali, Smith refused to pay.
It didn't take long however, before multiple versions of how things played out in the locker room began to emerge, as some Jets players, and head coach Todd Bowles weren't placing all of the blame on Enemkpali.
In every day life, this kind of situation is a non-issue.  People argue, people fight, and those close to either party may take one side or the other, and perhaps sometimes both, but this is not every day life.
This is the NFL, where the quarterback is untouchable.  The quarterback is supposed to be the unquestioned leader of that locker room and everybody knows it.  There can be no doubt.  If that is in fact the case, then why is that Smith's own head coach publicly voiced displeasure with the quarterback's actions along with Enemkpali?
"I didn't say [Smith] was innocent. It was tit for tat, he said/she said, high school stuff that they could have handled better than they handled it."
It wasn't only Bowles who questioned the signal caller.  Not only the team's best player, but arguably the best one this team has ever drafted, Darrelle Revis, when asked about who was at fault responded, ""I hold both of them responsible".
Then there's veteran linebacker Calvin Pace, who rarely speaks to the media praising Enemkpali's work ethic, and saying "this isn't anything I would expect him to do."
Guard Willie Colon had this to offer, "Since I've known IK (Enemkpali), all he's done is come to work and try to become a guy for this organization. He's always played his tail off. So details at this point are here and there"
While none of the comments are scathing or overly critical, the fact that the head coach and locker room leaders are placing any level of blame on the quarterback, who is still in the room with them, while offering kind words regarding the since-released former teammate comes as a surprise.  This is a league in which player egos are protected, at least publicly, on a regular basis.  Where praise is offered for even the most under-performing players to avoid any perceived criticism.
This time around however, players were critical of their quarterback and his conduct almost equal to that of the man who busted his jaw.
The players' comments raised questions as to what exactly happened at Florham Park, but that came in to focus after Enemkpali re-joined Rex Ryan up in Buffalo, signing with the Bills.  It's being reported that a Jets player was in fact contacted by a member of the Bills staff before signing the linebacker and the answer they got was that Smith was the antagonist.
"Smith was mouthing off about the debt in the locker room, and Enemkpali told Smith to come over and say it to his face. Smith did, and put his finger in Enemkpali's face, at which point Enemkpali slugged him."
While most agree Enemkpali's actions were out of line,  this is a bad look for Smith, who has shown a lack of maturity on multiple occasions but was supposed to be a different player this season, a more mature player, but you can now add Smith's confrontation with Enemkpali to an ever-growing list of off-field incidents that call in to question his maturity and leadership ability.
Now this latest incident.  One that could have been handled months ago.  One in which it appears Smith chose to allow an issue that should have been handled outside the locker room, to escalate inside the locker room while provoking a teammate.
If we're going to agree that a quarterback should be afforded special treatment within that locker room, the expectation for conduct reflective of a leader should go hand in hand.
Enemkpali was undoubtedly out of line to do what he did and has acknowledged as much on multiple occasions already.  Smith has had his surgery and it would appear he may be able to return sooner than what was first reported, but when he does, will he be able to regain any respect that he may have lost in the locker room as a result of this weeks events, and how much respect did he have to begin with?
Over time we'll know which of Smith's hits healed first, the one to his jaw, or the one to his reputation.
Want to join the discussions about Geno?  Log on to our forums and share your opinions.
Videos
Aaron Rodgers Injury Fallout & Jets/Bills Recap