Deducing the Jets Draft Board, Part 2: RB Corey Clement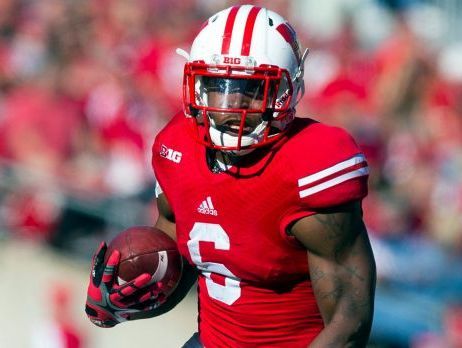 By Glenn Naughton
With the NFL combine under way in Indianapolis and the draft just around the corner, mock drafts will be flooding all of your favorite sports sites at an even more ridiculous rate than they have over the past few weeks.
While it's always fun to sit back and play armchair GM, trying to predict each of your team's picks, doing so accurately is impossible.
However, that doesn't mean you can't do a little bit of digging to give yourself a better idea as to not only who they're watching right now, but who they've had under the microscope for several months.  Luckily for Jets fans, we've done the digging on Gang Green, and over the course of the next few weeks will be sharing some names of players the Jets have shown a significant interest it.
This won't be based on rumors or speculation, but on certain criteria that must be met:
Did the Jets dispatch members of their scouting department to at least one of the player's games during the 2016 season?
Did the Jets dispatch members of their scouting department to at least one of the player's practices during the 2016 season?
Did the Jets conduct at least one interview with the player?
Did the player participate in the Senior Bowl?  (Mike Maccagnan has drafted several senior bowl participants in his first two seasons)
Does the player fill a need for the Jets?
If all of those questions have a "yes" answer, it's safe to say the interest shown by the Jets is legitimate, or at least noteworthy.
Previously featured:
Houston Linebacker Tyus Bowser
Today, we focus on Wisconsin Badgers running back Corey Clement, a native of Glassboro, New Jersey.
In looking at Clement's inability to stay on the field and some of the trouble he has been while off of it, it's a wonder the Jets, a team trying to re-mold a tumultuous locker room, would even consider Clement.  Then you look at how well he has played when healthy, and it makes perfect sense.
With Matt Forte and Bilal Powell taking up the first two spots on the Jets depth chart at running back, the number three spot is up for grabs, and taking mid to late round shot on Clement may be worth it.
A stocky, powerful back who checks in at 5′ 10" 220 pounds, Clement lacks elite burst, but he runs with enough power and elusiveness that he is able to exploit any holes created by his o-line.  In four seasons at Wisconsin, Clement played in 39 games, carrying the ball 576 times for 3,093 yards, a 5.4 yards per carry average and 36 scores.
It was his senior season however, that put him on the map.  In 2016, Clement ran for 1,375 yards (4.4 YPC) and 15 touchdowns but was was never a 3-down back, which will hurt his stock.  In face, Clement managed to haul in just 29 receptions in four seasons.
As previously mentioned, Clement will have some red flags as a result of an incident that caused him to miss significant time in 2015.  An altercation in an elevator in which Clement punched another person and then (initially) lied to coaches about it will undoubtedly come up during his interview process.  According to CBS Sports, Clement and coach Paul Cryst focused heavily on changing the running back's mindset during his senior season;
Clement also has a different outlook looking ahead to his senior season as he puts the drama of 2015 behind him. "Me and Coach (Paul) Chryst are really talking about … changing my mindset and attitude toward how I approach practice each day,"
The results suggest the attempt to mentor and grow the young man may have worked.  Whether it did or not, it was enough for the Jets to scout and interview a player who could fill a role as a goal line back early on, with the ability to become a big time contributor down the line if his focus remains on football.
To see Clement in action, click here to watch some of his best work.
Videos
NY Jets Phase 3 OTAs, Expectations and a Minor Calf Tweak with Greg Renoff