Home Slider Jets Preview NY Jets Training Camp
2012 Training Camp Preview: Offense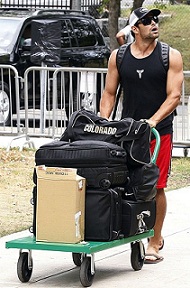 By Dennis Agapito and Ron Pickett – (Link Defense) (Link Special Teams)
Teams are allowed to carry 90 players into training camp but only 53 make the final roster. They will fill the eight member practice squad with developmental or emergency call-up players. Any candidate for the practice squad will have to clear waivers first becoming a free agent, meaning other teams will have an opportunity to obtain them, before they can be signed to the squad.
So you have many interesting roster battles among the various positions. Since teams only carry X amount of players at certain positions some are on "the bubble" fighting for a spot. Contributing to special teams can help players make the roster as the more they can do the more value to the team.
Most of the starters are set as well as many backups thus a limited number of spots for a large number of players. The Jets will likely look at other team's camp cuts to add to the competition at certain weak positions. The following is a three part training camp preview (1.Offense, 2.Defense, 3.Special Teams) which will analyze position battles and where the Jets may look to pickup players released from other teams.
Note: All statistics/transactions are via the Jets 2011 "end-of-season-stats-and-roster" guide or NFL.com unless otherwise cited.
Offense
Teams usually carry three quarterbacks on their roster. QBs Mark Sanchez/Tim Tebow are starter and backup/wildcat QB while Greg McElroy showed potential as a 2011 third stringer until a preseason injury ended his year. The Jets brought in QB Kevin O'Connell, who had been with the team before, to fill the number three QB spot in 2011. McElroy will battle Matt Simms, son of former Giants QB Phil Simms, for the third QB role. It would be surprising if McElroy doesn't win the spot but Simms could end-up on the practice squad as insurance if a QB goes down.
The offensive line was an issue last season especially when inexperienced backups were forced to play when a starter got hurt. The Jets gave up 30/28 sacks in 2009/10 but 40 in 2011.  Hopefully new line coach David Deguglielmo and offensive coordinator, former o-line coach Tony Sparano, will be able to improve the overall line play.
The Jets recently acquired OT Jeff Otah from the Carolina Panthers via a trade.  Otah is seen as competition to starting RT Wayne Hunter but he failed his physical and was placed on the active physically-unable-to-perform (PUP) list.  He has seven days to pass a physical otherwise the trade is nullified.  Since we're not sure if Otah remains the rest of this article assumes he will not but if he does linemen Vladimir Ducasse or Caleb Schlauderaff's roster spot is certainly in danger as both Otah and Hunter will be on the roster if healthy.
The team carried eight linemen last season and the same five will start (LT-D'Brickashaw Ferguson, LG-Matt Slauson, C-Nick Mangold, RG-Brandon Moore, RT-Wayne Hunter) but who will be the three backups?
The Jets currently have seven reserve offensive linemen heading into camp. OL Stephon Heyer has the most experience having started 35 games in his five year career. He played both tackle and guard for the Oakland Raiders last year and is likely the first o-linemen off the bench this season. Heyer could even challenge right tackle Wayne Hunter if he struggles like last season (8.5 sacks, 11 penalties, 32 QB knockdowns allowed).
If the Jets are looking for another linemen, former Dolphin Vernon Carey, has been a rumored potential veteran pickup.  He has knowledge of coach Tony Sparano's offensive system, can play tackle/guard in case someone got hurt and might beat out Hunter as the week one starter.  However if they acquired Carey a current reserve would likely lose their roster spot.
The rest of the possible reserve lineman do not have the experience of Heyer but third year OT/OG Vladimir Ducasse filled in for starter Slauson, due to injury, during mini-camp. He will retain his roster spot playing as a reserve and an extra blocker (tight-end) much as he did last season. OL Caleb Schlauderaff, tackle Austin Howard and OL Matt Kroul will fight for the last spot.
It would seem Schlauderaff has the edge since he started one game, at tight end, and participated in five others. He has been practicing playing center as well. Howard was signed by the Jets on November 23, 2011 but was inactive for the six remaining games. Kroul originally an undrafted defensive tackle converted to OL last season while on the practice squad is fighting to be the backup center this year.
Losing starting center Nick Mangold for several games due to a high ankle sprain last season was almost impossible to overcome given the lack of viable replacements. This year the Jets would have some options as they could move guard Matt Slauson to center and have Heyer play guard or have Schlauderaff/Kroul play center if Mangold went down.  Seems like Howard/Kroul are on the outside looking in and Schlauderaff will make the team but it will be interesting to see if the Jets carry nine linemen, doubtful, or release two of the three.
Rookies, round six draft pick guard Robert T. Griffin (Baylor) and undrafted free agent guard Fred Koloto (San Jose State) may have a chance at the practice squad since both starting guards (Slauson/Moore) are free agents after the season. Sometime on the practice squad may allow these players to develop as making this year's roster is a long shot.
The Jets are looking to run the ball more this season and carried four halfbacks last year. They have five halfbacks on the roster currently. Shonn Greene (253 carries, 1,054 YDS) will start with Joe McKnight (43 carries, 134 YDS, 13 REC, 139 YDS) the first backup taking over the retired LaDainian Tomlinson (42 REC, 449 YDS) role from last season.
Second year RB Bilal Powell saw action in two games last year (13 carries, 21 yards, 1.6 YDS per-carry). Sixth round draft pick rookie RB Terrance Ganaway (Baylor, 6'1", 240 LB) and RB John Griffin (U-Mass, 5'10", 208 LB, 2010 season 843 yards rushing, 5.0 YDS per-carry) who signed a reserve/future contract on January 3, 2012 will be looking to make the roster. So there are two spots for three players.
Ganaway, 1,547 yards rushing, 6.2 YDS per-carry with the Bears last season, seems to have the edge in landing that third RB spot because of his size and ability to catch the ball out of the backfield. He only had 12 receptions in his collegiate career but has looked good catching the ball in voluntary workouts and mini-camp.  Ganaway could potentially be used as a lead blocker or in the passing game from the fullback position as starter John "Terminator" Connor only had two receptions for nine yards in 2011.
Last season's fourth RB Powell was on the 53-man roster but left inactive for all but four games. Griffin was in the Cincinnati Bengals training camp as a rookie last year but released during final cuts. It will be interesting to see who will claim the third and fourth halfback spots and if the other will end-up on the practice squad or just simple released.
There has not exactly been ringing endorsements from the Jets organization about starting fullback John Connor:
John Conner's spot on the Opening Week roster remains in doubt as well. (Jets) General manager Mike Tannenbaum on Conner: "We still think John will be here… He's on the team for now, obviously," Tannenbaum said. "In terms of who will make it and the competition, we'll see how that sorts itself out."
Source: Manish Mehta/NY Daily News
He will probably make the team by default since H-back (FB/TE) Josh Baker is limited at the position, Fui Vakapuna hasn't played an NFL game in three years in the league and Ganaway hasn't proven he can play FB yet.
The Jets were extremely successful rushing with former FB Tony Richardson because he always knew where he should be, who he should block and could catch.  Sometimes when watching game film, you wonder if Connor blocks the right guys.  Here is where the Jets may look to find a camp cut to compete with Connor as his spot is not totally secure but would be surprised if he wasn't on the team this season.
If the Jets want to run the ball they will need to get some good blocking from the tight end position. Dustin Keller is more of a receiver playing tight end (65 REC, 815 YDS) and from observations at mini-camp he'll be moved around often, not always tight to the line since he is a poor blocker.
Third year player Jeff Cumberland looks like the second tight end, for now, but missed 13 games last year due to an Achilles tear. Josh Baker can play the H-back role, be on the line or in the backfield, only caught three passes last season but he and Tim Tebow are the only players who fill the H-back position.
The Jets carried three tight ends last season (Dustin Keller, Jeff Cumberland, Mathew Mulligan) then added Baker after Cumberland went on injured-reserve. Are TEs Dedrick Epps, Tarren Lloyd or Hayden Smith making the roster? Probably not and even the practice squad is a long shot since there are only eight spots.
The Jets might want to find a little depth with a blocking TE, like Mulligan was, from camp cut-downs. If the Jets bring in some true competition at TE Cumberland or Baker's roster spot could be in jeopardy. A TE who can fill the Mulligan role, minus the penalties, plus play special teams as he did might leave Cumberland or Baker expandable.
Last season the Jets carried five wide receivers most of the year but there were as many as six before the trade of WR Derrick Mason. It looks like four WRs have a spot (Santonio Holmes, Stephen Hill, Jeremy Kerley, Chaz Schilens). While these four WRs seem to be making the roster it will be interesting to see where they all fall on the depth chart.
Santonio Holmes is set at the number one receiver but will be looking to improve upon his 51 receptions for 654 yards in 2011. The number two receiver spot is not set as rookie Stephen Hill (6'4", 215 LB) has tremendous 4.36 forty yard speed but played in a triple option offense at Georgia Tech and only had 49 collegiate receptions but a huge 29.3 yards-per catch average during the 2011 season. Hill is tall/fast can stretch the field and is known for his blocking skills which will be important to the running game.
WR coach Sanjay Lal will have to work on Hill's route running before he can become a true number two but Lal seems to have brought a complement to Hill from his days with the Oakland Raiders. Former Raider's WR Chaz Schilens (6'4", 225 LB) has great size/speed like Hill but only 72 receptions for 902 yards in four seasons as injuries have plagued his career. It might be second WR by committee since both Hill and Schilens can play on the line as Coach Rex Ryan has already praised Hill's ability to break press cornerback coverage.  This should allow Holmes (5'11", 192 LB) to play off the line more leading to a freer release.
Last season's number two WR Plaxico Burress had 8 touchdowns but only 45 receptions as the aged Burress (34) lacked the speed to get separation and stretch the field. QB Mark Sanchez only completed two passes over 40 yards last season as the absence of a deep threat allowed defenses to play "downhill" negatively affecting the running game. Sanchez will also need to improve upon his 56.7 completion percentage from last season.
Hopefully big targets Hill/Schilens ability to get quick separation as well as speed to go deep will increase the number of completions, increase the number of 40 yard receptions (Sanchez threw ten in 2010) and open things up underneath stretching the field allowing other receivers (Holmes) more receptions and yards. Number three WR Jeremy Kerley (29 REC, 314 YDS) will look to complement the others as the Jets have the flexibility to run two, three or four receiver formations.
Possible number five wide-out Patrick Turner (8 REC, 96 YDS) might be in danger of not making the team but he did have nine special team tackles last year and is a viable backup receiver. It depends upon if the Jets have four, five or six WRs on the roster but playing special teams and being capable of position contributions will help Turner keep his spot.
There are seven other WRs on the roster besides the five mentioned. Rookie WR Royce Pollard (Hawai'i, 71 REC, 1011 YRDS, 2011) has seen some time in mini-camp due to injuries and can return kickoffs, something he did in college. Seventh round draft pick Jordan White (Western Michigan) will be limited in camp with an injured foot but he led Division 1-A college football in receptions (140) and yards (1,911). White also had 49 punt returns during his career at Western Michigan.
Both Pollard and White have a shot at making the roster given their receiving and special teams abilities. The foot injury White suffered may make it difficult to participate fully in training camp limiting his chances but each of these players will be prime practice squad candidates if they do not make the final cut.
What to look for in camp:
Don't get caught up in the numbers that beat writers and bloggers post via twitter or blog sites. Sanchez going 2-9 in a 7-on-7 drill is irrelevant to his overall performance on the day:
Focus on the guys that aren't starters, especially anything you hear about the offensive line, tight ends (behind Keller) and running backs.
Pay attention for guys who are getting reps with the first string team as camp goes on, and who is on the sideline doing drills. Doing sideline drills usually means that player has fallen out of the graces of the coaches or they are injured.
Any talk about Sparano and his philosophy. We know it's going to be a ground and pound philosophy but who is he choosing to run certain plays.
Is Tebow lining up as a fullback in short yardage? Is Terrance Ganaway taking important reps on 2nd and long during 11-on-11 while Bilal Powell is doing blocking drills?
These are just a few things you should look for during training camp at Cortland. If you cannot get there, a good way to find out is social media. Social media can be tricky though. Again, don't focus on stats and numbers, rather focus on who's getting important reps during practice. Don't fall for the traps that some bloggers or beat writers try to get you falling into by routing for a guy who realistically will not make the team. We as fans of a New York team are always supportive of the "underdog" player, but we have to be realistic about the 53 players that will be on the roster during the season opener.
Videos
New York Jets OTA Presser Takeaways, Aaron Rodgers' Impact and Summer Delusion