Home Slider Jets Preview NY Jets Training Camp
2012 Training Camp Preview: Defense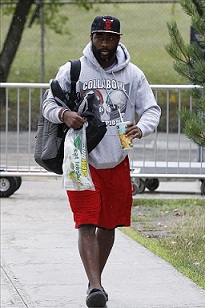 By Dennis Agapito and Ron Pickett – (Link Offense) (Link Special Teams)

Last year the Jets carried between 24-27 players on defense and they had 6-7 members on the defensive line. Defensive ends rookie Quinton Coples (North Carolina), Mike DeVito, Muhammad Wilkerson along with tackles Marcus Dixon, Kenrick Ellis, and Sione Pouha have all but secured a roster spot.
The Jets will look to improve on their 111 yards allowed per game (13th) rushing and 35 total sacks (17th) from last season. The team feels the addition of first round draft pick Quinton Coples (7.5 sacks, 15 tackles-for-lose 2011) along with increased production from second year DT Ellis (7 tackles) and DE Wilkerson (49 tackles, 3 sacks) will help stopping the run and getting to the quarterback.
Depending upon the number of d-linemen the team chooses to carry there might be one more spot available. DT Martin Tevaseu has been with the Jets since 2010 but saw his first action in 2011 recording three tackles in five games. With the Jets and new defensive line coach Karl Dunbar looking to use more four man fronts Tevaseu might have added value and could be the final d-linemen on the roster.
Veteran DE Jay Richardson (117 TCKL, 7 sacks, in four seasons) is also making a push for a roster spot. Originally drafted by the Oakland Raiders in 2007 he played with them until the beginning of 2010 where he was place on injured reserve but was able to become a free agent after agreeing to an injury settlement.
He then signed with the Seattle Seahawks seeing limited action for the rest of the 2010 season and was out of football in 2011. Richardson signed with the Jets on April 16, 2012 as a free agent, hoping to revitalize his career, but he'll have to impress to make the final cut.
The linebacking core has many established players: David Harris, Calvin Pace, rookie Demario Davis (Arkansas State), Josh Mauga and Aaron Maybin seem to be locks for a roster spot. ILB Bart Scott is coming off a down season (66 TCKL, 4.5 sacks) and will be 32 in August while OLB Bryan Thomas (33) is recovering from an Achilles tear during last season and recent shoulder surgery. Both probably remain with the team but need to leave open the possibility that one might be cut.
The Jets have been raving about outside linebacker Ricky Sapp for some time now. Drafted in 2010 by the Philadelphia Eagles Sapp was considered a top prospect but injuries cause him to drop to round five (#134). He missed the 2010 season with a knee injury and was released the following year after leaving the Eagles for undisclosed reasons.
The Jets signed Sapp to their practice squad on October 31, 2011, released him November 21st and re-signed him November 28th. He was promoted to the Jets roster for their final 2011 game but was left inactive. It is difficult to gauge if Sapp is over his injuries and ready to contribute, but the Jets seem to think so. Depending upon if Scott and Thomas stay Sapp maybe the odd man out if he can not contribute on special teams as last season the Jets usually carried eight LBs on the roster.
LBs Nick Bellore and Garrett McIntyre mostly contributed on special teams and had 31/18 special teams tackles respectively but only 12 tackles total on defense. Here is where tough decisions have to be made because the Jets will need to replace one or both of these players roles if cut.
The team will likely carry four safeties this season veterans Yeremiah Bell, LaRon Landry and Eric Smith along with rookie Josh Bush (Wake Forest, 59 TCKL, 6 INT 2011) who will see action in passing situations. Unless the Jets decide to carry five safeties, they only had four at most last year, there will be some players left out.
Tracy Wilson saw limited action in the final five games last season when promoted from the practice squad, after DB Emanuel Cook was released. Wilson contributed mostly on special teams only recording four tackles on defense.
Round seven selection Antonio Allen (South Carolina, 88 TCKL, 3 INT 2011) will have a difficult time beating out the veterans as his strength is a run stopping "in the box" safety. With Bell/Landry on one year contracts and Smith's future after this season unclear Allen could find himself a prime practice squad candidate to prepare for a roster spot. If Landry, who's extremely injury prone and still rehabbing an Achilles injury, gets seriously hurt they can sign Allen off the practice squad to fill in.
If either Wilson or Allen makes the roster it will be due to their ability to play special teams but carrying five safeties, one who strictly plays specials, limits other positions.
The top three cornerbacks are already set: Darrelle Revis, Antonio Cromartie and Kyle Wilson are the starting and nickel corners but after those three is gets very murky. This is an area of concern for Jets fan. Lack of depth at the cornerback position can be catastrophic. What if Kyle Wilson gets hurt as the 3rd corner? Who will fill that role?
Last season the Jets never had less the seven CBs on the roster. Dime-back Donald Strickland and reserve/special teams CB Marquice Cole are both no longer with the team. Ellis Lankster is considered the replacement for Strickland going into camp.
Originally a seventh round (#220) pick of the Buffalo Bills in 2009 but released in 2010 opting to play in the Canadian Football League. He signed a reserve/future contract with the Jets on January 5, 2011 but was cut on September 3, 2011. He re-signed October 11, 2011 seeing action in seven games on special teams mostly. Lankster has 11 tackles and 1 pass defense in his NFL career.
CB Isaiah Trufant contributed on special teams (12 tackles) and returned a blocked punt for a touchdown against the Dallas Cowboys but has zero pass defenses or interceptions in his two year NFL career.
DB Royce Adams, played both receiver and DB at Purdue (2006-09) but will stick with DB in training camp. Adams also has some experience as a kick returner in college and played last year with the AFL's Pittsburgh Power. CB Julian Posey (Ohio University) went undrafted in 2011 and spent most of the season with the Jets practice squad last year.
Rookies Donnie Fletcher (Boston College, 35 TCKL, 2 INT 2011), Ryan Steed (Furman, 24 pass defenses, 16 interceptions during his collegiate career) and D'Anton Lynn, son of Jets running backs coach Anthony Lynn, (Penn State, 49 TCKL, 1 INT 2011) will be competing for a spot.
The Jets have lots of questions about the depth at the CB position with all the spread offenses they see a fourth cover CB is important as well as backups in case of injury.  Also Cole and Strickland played special teams any replacement will have to fill that void. It seems that Trufant/Lankster will make the team just because they can play the specials but the Jets might want to look at camp cut downs to try and sure up the position as there is vast inexperience after Kyle Wilson.
The Jets seem to like Adams as he was used in various roles at mini-camp and could have a special teams impact. Rookies Fletcher, Lynn, Steed along with second year Posey will need an impressive camp to make the team as some will be released or have to settle for time on the practice squad since there are seven players but only four spots.
What to look for at camp:
Battle for the last defensive line spots as the Jets carried 6-7 defensive linemen last year. When reading about practice, look for the guys who are deflecting passes and constantly in the offensive backfield making plays. Look for who's stopping the run and beating blocks, as well for the interior linemen.
Who is getting important reps in the linebacking core? Bart Scott has said that he is in the best shape of his life. He better be with Demario Davis breathing down his neck for the starting position. Look for promising signs like Bryan Thomas having a sack or makes a tackle for no gain against the run. That will show you he's back healthy from injury.
What linebackers are doing drills with the special teams? Just like most other positions,that could be their way of making the team.
We all know Revis, Cromartie and Wilson will be the top three corners. Look for names like Steed, Lynn, Adams, Trufant, Lankster, Fletcher and Posey instead. Are the writers saying that these guys are creating pass deflections, making interceptions, blanketing receivers downfield or are they doing tackling and backpedal drills on another field. The 4th cornerback spot will help when teams like the Patriots go with four wide receivers against the Jets this season, so it is a pivotal battle to watch.
Second string safeties, it should be interesting to see or hear about guys like Antonio Allen and Eric Smith as far as covering tight ends and being "in the box" players.
Observe the intensity that Rex Ryan and Mike Pettine are showing towards the defense. Read the blogs and articles looking for information on their involvement during drills and scrimmages. With a high intensity offensive coordinator, the Jets defensive coaches have to be able to match or surpass it. Remember the Jets are still a defensive minded team.
Videos
JetNation
4.6K
Subscribe
Broken Brains; Critics of Jets Quarterback Aaron Rodgers Begin Stirring up Conspiracy Theories