Featured Editorials Home Slider
What NY Jets Owner Johnson Can Learn From Jaguars Owner Khan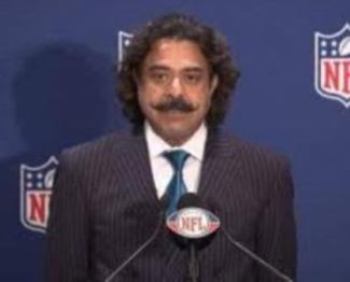 It's now been two weeks since the New York Jets parted ways with general manager Mike Tannenbaum but the team remains an organization without direction.
According to Fox Sports reporter Jay Glazer the Jets "can't give the (GM) position away," which might explain why so many GM prospects have taken jobs with other organizations or flat out refused to interview.
Of the seven teams who let their GMs go only the Cleveland Browns have yet to fill their vacancy besides the Jets.  The Browns are pursuing two GM candidates which have been linked to the Jets, 49ers director of player personnel Tom Gamble, once considered a lock for the position, and Seahawks vice president of football administration John Idzik.  It will be interesting to see if either of them goes to the Browns over the Jets. 
Opportunities at such a high level position as GM often come from organizations in need of guidance and who have some problems, as the Jets do, but tight finances or roster deficiencies would not normally drive candidates away.  In fact if the team is in some distress the new GM knows they'll likely be given a chance to put them back on course without being held responsible if results are not immediate.
So why are so many turning away from the Jets?  Maybe looking at what transpired with Atlanta Falcons director of player personnel Dave Caldwell might give some insight into why the Jets remain without a GM.  Caldwell had a second interview for the Jets GM job but ended up taking the same position with the Jacksonville Jaguars.
Soon after his hiring Caldwell fired then head coach Mike Mularkey and stunned many saying the Jaguars would not in any way be obtaining current Jets quarterback Tim Tebow, even though Jaguars owner Shahid Khan had shown interest in Tebow.
It was widely believed that Jacksonville would pursue Tebow either via trade or if released but Caldwell's statements basically crushed that notion.  It was reported that Caldwell would not have taken the Jaguars GM position if Khan insisted on pursuing Tebow.
Maybe NY Jets owner Woody Johnson can learn something from Khan as he allowed football decisions to be made by his new general manager, not himself.  Khan has even stated he will let Caldwell choose the new head coach.
Just wonder if the reason why so many are scared off from the Jets GM job has anything to do with cap/roster issues or having to inherit head coach Rex Ryan and an owner who likes to make his own football decisions?
One thing Jerry Jones, Daniel Snyder and the late Al Davis has taught all football fans, owners do not make very good football personnel decisions.  Hopefully Woody Johnson will take one out of Khan's book and allow a new GM the autonomy to build a winner, otherwise what are you hiring them for?
Videos
New York Jets OTA Presser Takeaways, Aaron Rodgers' Impact and Summer Delusion