Home Slider Jet News Transactions
Jets Sign Veteran Quarterback David Garrard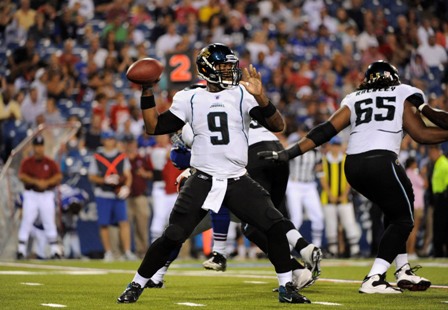 The New York Jets have made the signing of quarterback David Garrard official:
#RL The New York Jets have announced this afternoon they have signed 9-year veteran QB David Garrard.

— New York Jets (@nyjets) March 11, 2013
Garrard was a fourth round draft pick of the Jacksonville Jaguars in 2002 and played there through 2010.  During his nine year career with the Jaguars Garrard started 76 games threw for 16,003 yards, 89 touchdowns, 54 interceptions and had a quarterback rating of 85.8.
Released by Jacksonville in September of 2011 Garrard was gaining interest from other NFL teams but back surgery forced him to miss the entire 2011 season.
He was the front runner to be the starting quarterback for the Miami Dolphins last season before suffering a knee injury and was ultimately released.
The Jets worked him out not so long ago and the feeling was that Garrard would end up agreeing to terms becoming a Jet.  He will currently be competing with Mark Sanchez, Tim Tebow, Greg McElroy and Matt Simms for the Jets starting quarterbacks job in new offensive coordinator Marty Mornhinweg's pass heavy west coast offense.
Videos
JetNation
4.6K
Subscribe
Broken Brains; Critics of Jets Quarterback Aaron Rodgers Begin Stirring up Conspiracy Theories