Darrelle Revis Traded To Bucs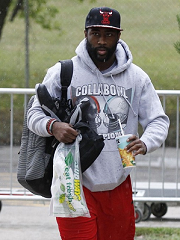 After months of speculation, the Darrelle Revis to Tampa Bay trade is official.  Earlier today Revis received a physical from the Bucs.  The NY Jets announced the move via their Twitter account.
Jets have traded CB Darrelle Revis to Tampa Bay, will receive two draft choices from Buccaneers: …

— New York Jets (@nyjets) April 21, 2013
Jets get 2013 1st-rd pick (13th overall) plus 4th-rd pick next year that becomes 3rd-rnder if Revis on roster 3rd day of 2014 league year.

— New York Jets (@nyjets) April 21, 2013
The Jets now own the 9th pick and the 13th pick in the first round of the NFL draft.   If the Jets had lost Revis to free agency after this season they most likely would have received a 3rd round draft pick as compensation in the 2014 NFL draft.  This trade nets the Jets a 1st round pick in this draft.  The contract that Revis signed with the Bucs is something the Jets were not comfortable offering to a cornerback.
It's official. @revis24 has signed. New 6 year contract with Tampa Bay which figures to pay him his $15-$16 mill per yr

— NYPost_Cannizzaro (@MarkCannizzaro) April 21, 2013
Franchise tag for CB is $10.8M. At $16 M per year, #Jets would've been paying Revis 1.5 times the franchise tender for next 6 yrs.

— Rich Cimini (@RichCimini) April 21, 2013
This leaves little doubt that this is a full blown rebuilding of the roster under John Idzik.  It will also leave the Jets with a considerable amount of cap space going into 2014.
Videos
New York Jets OTA Presser Takeaways, Aaron Rodgers' Impact and Summer Delusion