Featured Editorials Home Slider
Is Bowles a Safe Bet to Fix Pryor?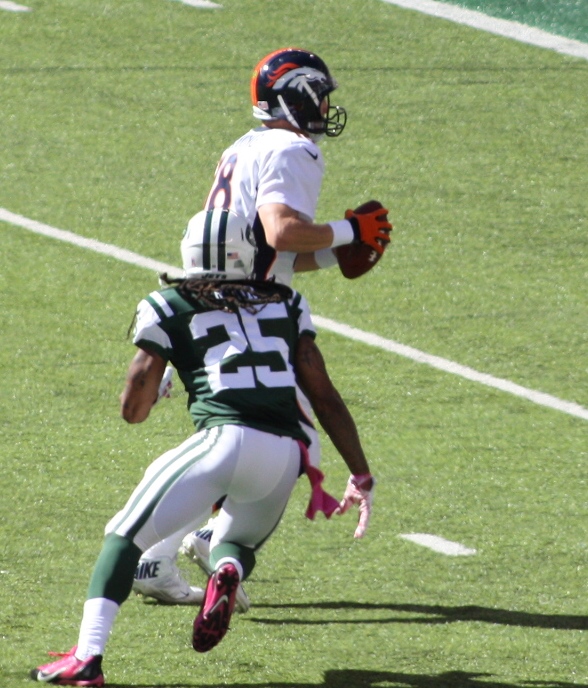 By Glenn Naughton
As Mike Maccagnan and the New York Jets move forward in assembling their roster for the 2015 season, last year's achilles heel on defense could wind up being one of the best in the NFL, but questions about the secondary still linger.
Importing free agent cornerbacks Darrelle Revis, Antonio Cromartie and Buster Skrine will move two of the top cornerbacks from last year's roster, Dee Milliner and Dexter McDougle, down the depth chart and in to the trainers room.  The group Maccagnan has put together removes any sense of urgency to rush either Milliner or McDougle back on to the field after spending last season on injured reserve.
With the corners locked up and ready to go, the biggest question mark in the Jets secondary becomes second year safety Calvin Pryor.  A first round pick out of Louisville last season, the 18th overall selection struggled for much of the year in coverage while also leading the team in missed tackles with fifteen.  While new secondary coach Joe Danna will work with Pryor and the rest of the defensive backs this season, Todd Bowles' background as a player and defensive coordinator has some Jets fans feeling good about the youngster's future, but are those fans jumping the gun?
A safety himself, the undrafted Bowles played 117 career NFL games for the Washington Redskins and San Francisco 49ers after spending his college years at Temple University.  The rookie head coach will have his work cut out for him with Pryor, but working with a struggling young safety won't be anything new for Bowles.  Last season in Arizona he had another first round rookie in Deone Bucannon patrolling his secondary in a myriad of roles and the overall results weren't encouraging.
Selected 27th overall in the first round, nine slots after the Jets took Pryor, Bucannon would see significant playing time for Bowles with the Cardinals.  Flanked by Patrick Peterson and Antonio Cromartie at the cornerback positions would have meant a heavy workload for Bucannon as Pryor teamed with Darrin Walls, Antonio Allen and undrafted rookie cornerback Marcus Williams.
While Bucannon was sometimes used in a non-traditional safety role as Bowles would utilize him as a "dime" linebacker, the strong safety who, like Pryor, came with a reputation as being strong against the run wasn't much better against the ground game than against the pass.
According to NFL statistical website PFF.com, of the six rookie safeties who took part in at least 25% of their teams defensive plays, Bucannon graded out a distant sixth, behind Tre Boston of Carolina (5.6), Pryor (3.3), Bears rookie Brock Vereen (-0.8), Pierre Warren of the Saints (-1.5), Green Bay's HaHa Clinton-Dix (-2.4) and then there was Bucannon (-12.4).  While PFF's numbers are far from scientific, they are reliable enough at this point that several outlets have cited the use of their data by player agents as well as some NFL head coaches and front offices in contract negotiations and player evaluation.  That fact alone lends more credence to PFF data than some fans may be willing to accept.
Perhaps the most concerning aspect of PFF's evaluation of Bucannon is the fact that his overall score placed him not only last among rookies, but 80th out of 85 NFL safeties this season, coupled with the fact that rather than showing progress, the youngster regressed over the season's final six games.  A look at the Cardinals final three regular season games and round one playoff loss show Bucannon earning four of his seven total negative grades on the season with each one being slightly worse than the week before.  Pryor on the other hand was credited an average or above average rating in all but one contest, the Jets' week four matchup against the Detroit Lions.
Neither player was regarded as being particularly strong against the pass and both were exploited throughout the season.  Pryor of course faced fewer opportunities as opposing quarterbacks had little reason to throw away from Jets cornerbacks.  As a result, he had just 19 passes thrown to a receiver in which the primary defender.  The result was a 78.9% completion percentage as quarterbacks connected on fifteen of those attempts.  Bucannon on the other hand was targeted 51 times, 43 of which resulted in a completion.  The 84.3% completion percentage would rank Bucannon dead last in the NFL among safeties who played at least 450 snaps.
Against the run, each player's supposed strong suit, Pryor earned an overall positive grade of 2.6, while Bucannon finished up at -6.4, again placing him 80th among NFL safeties, and last among rookies.
So while both players are still in the infancy of their NFL careers, a side by side comparison of the two struggling rookies and their on-field results may give some Jets fans pause in the assumption that simply having Bowles present will be a quick-fix for Pryor.  However, the overall success of Bowles' secondary despite Bucannon's struggles should mean no shortage of optimism for a defense that added a pair of shutdown corners that will allow Bowles to make the Jets defense a safe bet to be blitz-happy once again.
Videos
New York Jets OTA Presser Takeaways, Aaron Rodgers' Impact and Summer Delusion