Featured Editorials Home Slider
Fitzpatrick's Familiar Situation Should Have new Feel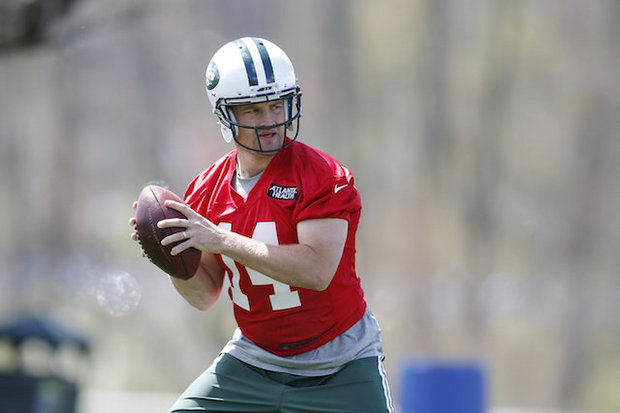 By Glenn Naughton
Ryan Fitzpatrick is a ten-year NFL veteran who has experienced a wide range of individual highs and lows over the course of his decade-long career.  From being  a longshot  7th round draft choice with the St. Louis Rams in 2005, to earning a mega-contract as a starter for the Buffalo Bills where he played from 2009-2012.
Since his four year stint with the Bills, Fitzpatrick has become the very definition of the word journeyman as the Jets will be his fourth NFL team in as many seasons.  For Fitzpatrick, it's yet another situation in which the signal caller will be battling for a starting job, this time against incumbent Geno Smith.
It should all have a familiar feel for Fitzpatrick but there's one factor that makes his opportunity with the Jets much different than those that precede it.  Should Fitzpatrick earn the starting nod from day one, he'll have the opportunity to play on a team whose defense should be able to make it count when Fitzpatrick's offense puts points on the board, or simply allow him to play with a lead more frequently that he as up to this point in his career.
Having never played a full season on a team whose defense ranked any higher then 16th in the NFL in points allowed, Fitzpatrick has had plenty of instances in which his offense played well, but his defense wasn't able to keep their oppnents out of the end zone.
Using 21 points as a barometer as it's slightly below the median points per game average, but should be enough to make a playoff push if paired with an top-ten defense, we look at how Fitzpatrick has fared when he managed to put three or more touchdowns on the board and where those teams ranked against the rest of the league in points allowed.
YEAR   TEAM   21+ points     Record        Def PPG (NFL Rank)

2008     Cin              1                    1-0                       22.8 (19th)

2009     Buf              2                    2-0                       20.4 (16th)

2010     Buf              4                    1-3                       26.6 (28th)

2011     Buf              10                  6-4                       27.1 (30th)

2012     Buf              8                    4-4                       27.2 (26th)

2013     Ten             5                    1-4                        23.8 (16th)

2014     Hou            8                    5-3                        19.2 (7th)
Collectively, Fitzpatrick has seen his teams compile an overall record of just 20-18, a .526 winning percentage, when he has been under center for the majority of his team's snaps since getting his first legitimate shot as a starter.  The 47 games in which his team has surrendered 21 points or more represents more than half  of those (53%).
By comparison, the Jets, in that same time frame (including playoffs), despite some of the worst quarterback play in the NFL  have gone 46-12 when scoring 21 points or more (.793), propelled largely by their 2009 and 2010 campaigns in which they went a combined 20-3.
Given GM Mike Maccagnan's offseason additions of Darrelle Revis, Antonio Cromartie, Buster Skrine, Marcus Gilchrist and Leonard Williams for defensive mastermind Todd Bowles and his coordinator Kacy Rodgers to work with, the Jets have every reason to expect to be closer to the team they were defensively in 2009 and 2010, than the units that regressed between 2011 and 2014.
Perhaps the most frustrating aspect of the poor defenses Fitzpatrick has played with was their tendency to put the quarterback in a big hole early on by allowing multiple quick scores in the early going of so many contests, another issue that shouldn't be a factor for the Jets in 2015.
Fitzpatrick played in a total of 38 games over the course of his career in which he faced a double-digit deficit before his team headed for the tunnel at halftime.  Between 2010-2012 with Buffalo, the Bills found themselves down by ten or more in the first half sixteen different times which left Buffalo's offense in far too many obvious passing situations.
According to pro-footballreference.com, Fitzpatrick has thrown 51 career touchdowns to just 22 interceptions when playing with the lead or in a tie game.  Giving us an idea just how often Fitzpatrick has played from behind, he has had significantly more pass attempts (11,491 to 7,755) while his team is trailing, which has resulted in 72 touchdowns and 78 interceptions.
Season number 11 is on the horizon for Fitzpatrick, and one has to wonder if he's licking his chops at the opportunity to finally get on the field for a team that will give him a chance to compete on most Sundays instead of spending them furiously trying to dig himself and his team out of a hole that was dug before he buckled his chin strap.
Videos
NY Jets Phase 3 OTAs, Expectations and a Minor Calf Tweak with Greg Renoff