Featured Editorials Home Slider
Fitzpatrick Continues to Frustrate Opponents, Doubters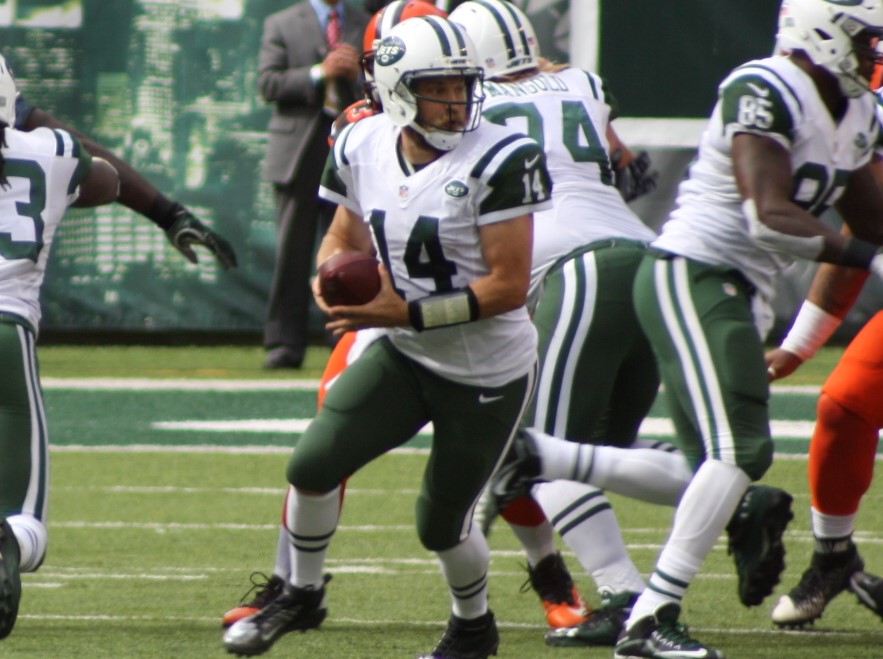 By Glenn Naughton
Ryan Fitzpatrick is having quite the season through the first half of 2015 as a member of the 5-3 New York Jets, much to the chagrin of opposing defenses and even a few fans who still long for the days of Geno Smith.
When the Jets acquired Fitzpatrick this offseason, it was met with a collective groan from some fans who looked only at the quarterbacks career win-loss record at the time (33-55-1) while dismissing the circumstances surrounding the horrendous mark.
A closer look at how the defenses on Fitzpatrick's teams performed showed that he was perhaps a better player than his winning percentage indicated, and getting a chance to start for the Jets would give him the perfect opportunity to show once and for all if he was to blame for his team's past failures, or if he was simply fighting an uphill battle on a week to week basis on a outmanned roster.
Thus far, Fitzpatrick has frustrated not only the fans who made doomsday predictions for the Jets offense, but opposing defenses as well.
With their own defense being re-built during the offseason, the Jets had clearly hoped to keep opposing offenses off the field and off the scoreboard while pounding the ball with running backs Chris Ivory and Stevan Ridley once he was healthy.  That would leave Fitzpatrick being asked to simply be a "game manager".  As it turns out, the defense and running game have faltered after a fast start, leaving it up to Fitzpatrick and his receivers to carry the load, something some fans felt Fitzpatrick was simply not able to do.
Thus far, Fitzpatrick, while far from perfect, has been about as good as Jets fans could have hoped for, and yesterday may have been his best performance to date.
Missing All-Pro center Nick Mangold and starting right guard Willie Colon, the Jets run game was invisible as Chris Ivory carried the ball 23 times for 26 yards, an average of 1.1 yard per carry.
Fitzpatrick's top receiver, Brandon Marshall, played with a bum knee, and a struggling secondary made sure the Jacksonville Jaguars were never out of it as the Jets surrendered over 300 yards through the air for the third consecutive game.
Even still, with no running game to speak of, Fitzpatrick completed 21-34 passes (61%) for 272 yards and two touchdowns with no interceptions, all while taking part in his first game action since tearing ligaments in his left (non-throwing) thumb in the first quarter of last week's loss to the Oakland Raiders.
Against the Raiders, Fitzpatrick would only throw three passes, but in his previous outing, on the road against the undefeated New England Patriots, Fitzpatrick was also asked to perform in a one-dimensional offense as Bill Belichick and company shut down Chris Ivory, holding him to 41 yards on 17 carries.  A meager 2.4 yards per attempt.
After an early fumble that led to a Patriots field goal, Fitzpatrick would go 22-39 (59%) with two touchdowns and no interceptions while tight end Jeff Cumberland and Brandon Marshall each dropped a would-be score.  If not for the drops, it may have been Fitzpatrick's finest moment as a pro.  Hypotheticals aside, Fitz and the Jets came up short against the defending champs, but Jets fans saw that the offense could function when the running game wasn't firing on all cylinders.
Yesterday's performance included, Fitzpatrick owns a stretch of 91 pass attempts without an interception, his last one coming against the Miami Dolphins when Dolphins cornerback Zachary Bowman shoved Fitzpatrick's intended receiver, Devin Smith, to the ground and avoided a pass interference call to secure the turnover.
Including his 16 yard touchdown run against the Washington Redskins, Fitzpatrick has produced 14 touchdowns to 7 interceptions and 1 lost fumble.  Not the type of stats that'll get a quarterback into Canton, but far better than what Jets fans have become accustomed to with the likes of Geno Smith and Mark Sanchez over much of the past decade.
With plenty of football left to play, if the Jets maintain their current spot as the 11th highest scoring offense in the NFL, it would be the first time the team has ranked that high without a hall of fame quarterback or head coach since 1991 when Head Coach Bruce Coslet and quarterback Ken O' Brien held that same spot.
The only other top-11 finishes in points scored during that time came when Bill Parcells' Jets finished 4th in 1998, and Brett Favre led the team to an 9th overall finish in 2008.
Neither Fitzpatrick or head coach Todd Bowles are in the same class as Favre or Parcells, but none of that matters right now.
The only thing that matters is that Ryan Fitzpatrick is protecting the football and putting enough points on the board to keep the Jets in playoff contention.  In fact, Fitzpatrick has had only one game this season in which he threw more interceptions than touchdowns, and that came in a week three loss to the Philadelphia Eagles when his three interceptions outnumbered his two touchdowns.
Even then, one of the three came on a pass deep in Eagles territory that hit receiver Brandon Marshall squarely in the hands, only to fall to a waiting Eagles defender.  Another was a batted ball at the line of scrimmage, again falling to a waiting Eagles player.
If Fitzpatrick can keep up the pace, it's up to Todd Bowles and defensive coordinator Kacy Rodgers try to come up with a way to slow down opposing offenses while the Jets hope to make a push for the post-season in his first year at the helm.
And as Jets fans saw back in 1998 with Favre, the wheels can fall off at any second and a promising season can go down the tubes, but most are hoping to see Fitzpatrick continue spoiling Sunday afternoons for opposing defenses and the non-believers who insist that what they're seeing, isn't happening.
Videos
JetNation
4.6K
Subscribe
Broken Brains; Critics of Jets Quarterback Aaron Rodgers Begin Stirring up Conspiracy Theories