Breaking News Featured Editorials Home Slider
Forte Comes With Questions, but Also Plenty of Answers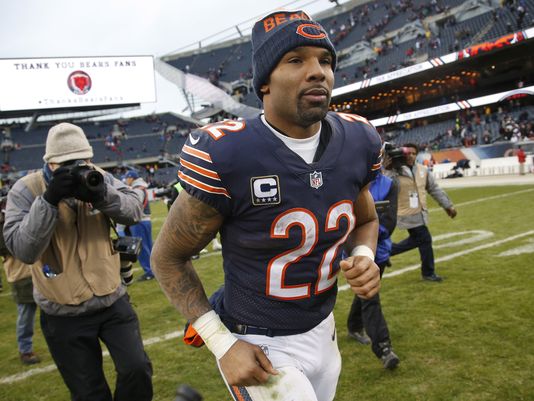 By Glenn Naughton
With news of the Jets signing free agent running back Matt Forte, there are sure to be plenty of analysts breaking down the surprising move, questioning both the good and the bad.
First and foremost, the issue that will likely be discussed at great length is Forte's age as he hit the magic, er…tragic number for running backs this past December when he turned 30.  It's a number that often sends premier running backs off to the glue factory as their production slips dramatically after hitting the big 3-0.
Even still, parameters of the deal are still unknown, and it's entirely possible that the Jets negotiated a team-friendly deal that won't tie the Jets to Forte beyond 2-3 seasons when Forte is likely to be running on fumes.
Age aside, it'll be hard for most Jets fans not to get excited about a move that marks an immediate upgrade over the recently departed Chris Ivory, who bolted for the Jacksonville Jaguars.
While most fans had come to love Ivory's punishing running style, there's no arguing that it was a key contributor to him often missing game action or playing at less than 100-percent more frequently that you'd like.  Forte is clearly an upgrade, and the most important aspect of Forte's game for the Jets could be his ability to catch the ball out of the backfield in Chan Gailey's offense.
In Ivory, the Jets had a willing pass catcher, but it was never an area which he was going to excel the way Forte has for so many years with the Bears.
Through the course of his career, Forte has collected 487 receptions (including a RB record 102 two seasons ago) for 4,117 yards and 19 touchdowns.  A stark contrast to Ivory's line of 53/383/2 in six pro seasons.  Forte immediately becomes the best dual-threat running back the Jets have had since Ladainian Tomlinson in 2010/2011, allowing Gailey and company to be less predictable based on their personnel packages.
Most recently, during his time in Buffalo as head coach with the Bills, the league got a peek at just how Gailey was able to incorporate a true pass-catching back in CJ Spiller into his offense, and the results were outstanding.
Gailey's final season in Buffalo was Spiller's finest, as he posted 1,683 yards from scrimmage (1,244 rushing, 459 receiving) to go along with six touchdowns on the ground and two more through the air.  A different player than Spiller who relied more on elusiveness than power, the 6′ 1′ 220 lb Forte offers a bit of both as he can run over a defender just as well as he can make one miss.
Forte is also highly regarded for his ability to pick up oncoming blitzers.  In essence, the Jets, facing the possible loss of Ivory and Bilal Powell, went out and got a player who could match each of their strengths.
As a new resident in the AFC East, a look at Forte's performance against the New England Patriots, Miami Dolphins and Buffalo Bills is also encouraging as he averaged just over 4.3 yards per carry while hauling in just over 4 receptions, averaging over 9 YPC.  That includes a best of 4.96 yards per carry  against the New England Patriots against whom he has also averaged 11.25 yards per reception, his best against AFCE opponents.
Full details of the contract are unknown as of now, but there's every reason to expect Forte to have enough left in the tank to give Gang Green a couple of seasons worth of top-notch production out of the running back position as the Jets aim to crack the top-10 in scoring after finishing 11th last season, and make the post-season for the first time since 2010.
Now if they could just sort out their pesky quarterback situation….
Videos
Aaron Rodgers Injury Fallout & Jets/Bills Recap