Breaking News Featured Editorials Home Slider
End of the Road for Jets' Ferguson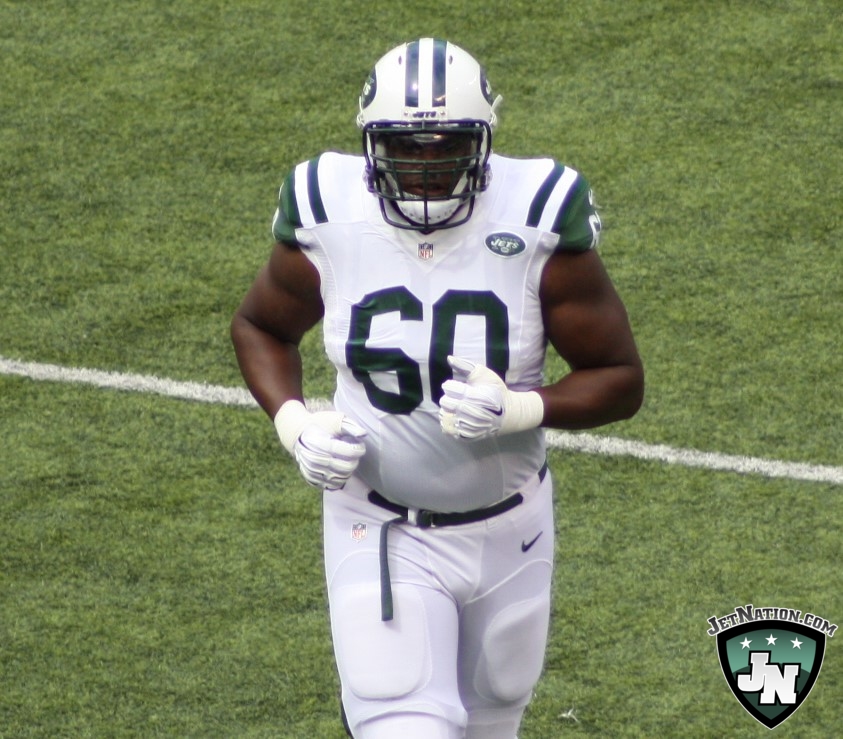 By Glenn Naughton
There may not have ever been a more fitting name for such a stellar performer for the New York Jets, or any other team for that matter, than left tackle D'Brickashaw Ferguson.
Many fans and teammates referred to the ten-year veteran simply as "Brick", and for a full decade, he was just that.  A key piece of the offensive foundation, and invaluable member of some of the best teams the franchise has ever fielded.  Ten seasons, yes, a full decade, without missing a single offensive snap due to injury.  A testament to his desire, dedication and durability.
Ferguson was chosen by former Jets GM Mike Tannenbaum with the 4th overall selection in the 2006 draft out of the University of Virginia.  As is the case with many first round draft choices, Ferguson was viewed as a player who would bring stability to his position for the next decade.  Unlike many of those picks however, Ferguson lived up to the billing.
A soft-spoken giant of a man at 6′ 5" and 300 (give or take a few) pounds, Ferguson was a starter for Gang Green from the moment he stepped in the league, and he never looked back.
In 1996, the New York City native would get an early taste of success in the NFL, playing a pivotal role in protecting quarterback Chad Pennington's blind side en route to a 10-6 season before a  37-16 blowout loss to the New England Patriots in the first round of the playoffs.
It was the one and only time Ferguson would see the post-season under Head Coach Eric Mangini as the team never saw double-digit wins again during his time at the helm, and a pair of lost seasons resulted in a 13-19 record, and Mangini's eventual ouster.
Then came the 2009 and 2010 seasons, two seasons in which Ferguson would enjoy some of the highest highs the Jets and their fans have experienced since the days of Joe Namath.
Two deep playoff runs in consecutive seasons in which the team's offensive line was probably never more important than it was at that time.  With struggling rookie Mark Sanchez under center, the Jets were forced to go in to almost every contest with their opponent fully aware of the fact that Gang Green was going to run the ball every time they had the opportunity.  They had to.  There was no other choice.
With Sanchez at quarterback, the Jets offense accumulated fewer than 175 yards passing in 12 different contests, and came in at fewer than 100 yards through the air five of those times (including playoffs).  Even in treating Sanchez with kid gloves, and doing all they could to protect him from himself, the rookie still managed to throw 20 interceptions to go along with a paltry 12 touchdowns.
Ferguson and his linemates had to pave the way for running back Thomas Jones on a regular basis, and they came through more often than not.
Teamed with left guard Alan Faneca, center and fellow-roookie Nick Mangold, right guard Brandon Moore and right tackle Damien Woody, Ferguson and company helped the Jets pound their way to 2,756 yards on the ground to go along with 21 touchdowns.  It was Ferguson and the rest of the offensive line that prevented poor quarterback play from sabotaging what was one of the top defenses in the NFL.
Sadly. for Ferguson and the Jets, the AFC Championship game was as far as they would be able to carry Sanchez, as he and the offense stood and watched helplessly while Peyton Manning and the Colts picked apart a Jets secondary ravaged by injuries, and the absence of a quarterback to stand any chance of winning a shootout with Peyton Manning and the Colts.  Final score, Colts 30 Jets 17.
The following season brought more of the same for Ferguson and company as a second consecutive season of finding ways to overcome shortcomings at the quarterback position led to yet another AFC championship game appearance.  This time, it was a slow start from both the offense and defense that doomed the Jets' fate against the Steelers in Pittsburgh.
A defense that had been so dominant leading up to that contest came out slow and this time they were the ones who needed to be bailed out early on.  Unfortunately, the proverbial nail in the coffin came on yet another Mark Sanchez turnover, this time when Ferguson was beaten badly off the snap, leading to a strip-sack and scoop for a defensive touchdown in the closing minutes of the first half.  The Jets would battle back but the score put up by the defense on Ferguson's whiff and Sanchez's fumble made all the difference as the Steelers would hold on for a 24-19 victory.
As it turns out, we know now that that playoff game would be Ferguson's last trip to the playoffs.  Five consecutive seasons with no post-season football would follow.  Four under former Head Coach Rex Ryan, and then a fifth, last season under Todd Bowles.  Despite a ten-win campaign, Ferguson and the Jets were eliminated in a week 17 loss to the Buffalo Bills.
By that point, Ferguson's skills were declining and everybody knew it.  He was set to carry a price tag of over $14 million this season, but nobody believed he would ever see that payday, and a re-worked deal was on everybody's mind.
A re-negotiation was seemingly put off by the organization until just this week when it was reported that the Jets had approached the aging Ferguson about a significant pay cut.
Then, today, Rich Cimini broke the story of Ferguson's retirement.  He'll leave the game at the young age of 32 with his health mostly in tact.  Clearly a priority for Ferguson who had voiced some concerns about his future health last season after watching the movie "concussion".  A movie aimed at exposing the NFL's desire to keep players and fans in the dark regarding the reality of the long-term impact of playing such a violent sport, taking repeated high-impact blows to the head.
At the time, you got the sense that Ferguson was sincere in his concerns and that he truly was weighing the value of carrying on to play in the NFL, or to walk away while he still could.
Today, we found out just how sincere he was, and what he was willing to give up to lead what will likely be a healthier, longer life from today onward.
Thanks, Brick.
Videos
JetNation
4.6K
Subscribe
Broken Brains; Critics of Jets Quarterback Aaron Rodgers Begin Stirring up Conspiracy Theories