2005 NY JETS: Just End The Suffering
by Tyson Rauch
JetNation Columnist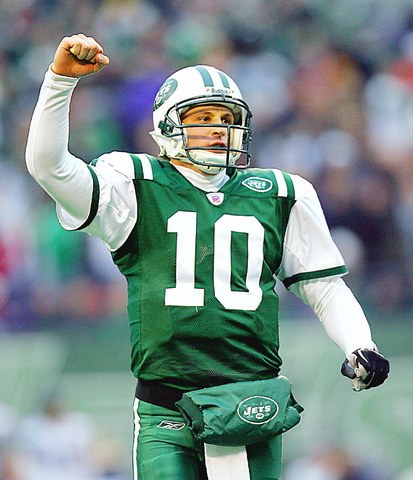 Football season is fast approaching and the excitement amongst NFL fans is quickly rising, except in the household of Tom Shane and other such "diehard� Jets fans. Phrases like "Same Old Jets,� "Herm sucks and will never win a big game,� and "How is Chad going to win the Big Game when he can't play 16 games?� can be heard echoing through these households. Well, I am going to tell you how the 2005 NY Jets will buck the trend.
Before I get started, I will let you know that I am not a 'rah rah–life is great', kind of fan. I can be pessimistic, negative and downright nasty when it comes to the Jets and their failures. I have sat through all of the infamous losses, debacles, meltdowns and breakdowns over the last 20 years and was in attendance for a good percentage of them. But people, the times they are a changin'.
It is very easy to dwell on the negative, find the glaring holes and reasons why the Jets cannot win it all. Why not try the opposite..the reasons why they can win?
In 2005 every team in the NFL has their positives and negatives and every team has a chance to make a run at it all. I am sure people in Cincinatti have high hopes, as well as in Baltimore, Detroit…so on and so forth. But here are six reasons why the Jets can, and will, win it all this season.
#1 Repeat after me–Chad will be healthy this season. It is the law of averages that this guy will be healthy all year and play at a very high level. This new offense will be perfect for Chad and show Jets fans the true high caliber player that he really is.
#2 Coaching!! Yes, coaching! I think the Jets have finally assembled a coaching staff that will be able to control the tempo of games as well as frustrate opposing staffs. Herm gets these guys to play hard, and I think Donnie and Dinger will keep the team aggressive and hungry. Westhoff is one of the best in the business and I think Sideline Santana leaving could be a blessing in disguise. The time management problems are a thing of the past! (If not, I promise my next article will be written under a drunken stupor and will rip every member of the staff).
#3 The O Line can handle the pressure. I understand the O Line has lost McKenzie, but I think the veteran tutelage of Kendall, Fabini and Mawae will mend that fence, as well as the coaching staff. If things do not pan out I am sure Herm and Terry will address the need before camp breaks.
#4 Young, fast, aggressive – The Jets defense! These guys play hard, they play fast and they play to win. I am confident in the leadership of Ellis and Vilma. They have the winning attitude and work ethic that rubs off on people.
#5 LC is back. I think the chemistry Chad has with Coles is hard to find and will be make this offense 300% stronger. I believe the addition of Coles will open the field for the rest of the team and make them very difficult to defend. In addition to that, I think many discount the ability of Justin McCareins. This man can very easily go for over 1,000 yards and 9 touchdowns.
#6 Why the hell not? Why can't this be the year? Why can't this be the year the Jets get the bounce they need, the call they need?
Enough with the negative nonsense and let's get it on with 2005. This 2005 NY Jets team has as good a chance as any to make a run at it all. If you do not believe, do not watch or go to the games. As a matter of fact, just go out and buy yourself a nice pretty blue and red Giants hat and be on your way! Go Jets!
Videos
NY Jets Phase 3 OTAs, Expectations and a Minor Calf Tweak with Greg Renoff