Jetnation Top 10 – Week Thirteen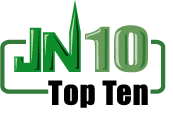 By Nick Ferraro
1.  New England Patriots
Another close one, but the Pats remain unbeaten.  You have to admit that somewhere deep down you knew it was coming even as the Ravens had the lead late in the fourth quarter.
2.  Dallas Cowboys
The road to the Super Bowl in the NFC is going through Dallas.  People can point at Favre's injury all they want, but the truth is that the Cowboys had the game in their control before he left and never let go.
3.  Indianapolis Colts
The Colts ensured that the Jags will remain second bananas…again.  Jacksonville is not the measuring stick for Indy though.  They'll get measured in Foxboro in January…again.
4.  Green Bay Packers
The Packers were served notice that there is still work to be done.  It was easy to see the separation between Dallas and Green Bay on the field even before Favre went out. 
5.  Pittsburgh Steelers
Their last few games make you think the Steelers may have peaked early in the season.  I think they get embarrassed on Sunday at New England.
6.  Jacksonville Jaguars
It was another admirable effort by the Jags.  It will be another wild card year.
7.  Tampa Bay Buccaneers
Tampa put the division away on the road with a backup at quarterback.  The Saints are not what they were last year, but you can't take anything away from Tampa.
8.  Seattle Seahawks
Four wins in a row and a resurgence of the running game have the Seahawks in position to nail down the division again.  They are a dangerous team if they continue to run the ball well.
9.  San Diego Chargers
Tomlinson running away from the defense was a welcome sight for Bolt fans.  That was Kansas City's defense though.  It will be much more impressive if the Chargers can treat the Titan's defense the same way on Sunday.
10. Cleveland Browns
It was a matter of for this young team to make the mistakes you'd expect from a young team.  It will say a lot for the Brownies if they can bounce back quickly and dominate the Jets.
Bottom Five
28. St. Louis Rams
The Rams have now won three of four and are in danger of escaping the bottom five. 
29. New York Jets
The Jets did a nice job of avoiding the tag of Dolphin's first victim. Clemens is showing some signs and giving fans hope.
30. San Francisco 49ers
The Panthers hung 31 on the Niners.  Carolina only had 37 in their previous three games.
31. Atlanta Falcons
The dirty birds got beaten by another bottom fiver Sunday.  The Dolphins are the only thing keeping them from the dishonor of 32nd place.
32. Miami Dolphins
When you're winless and hosting a 2-9 team, you just have to do better than 40-13. 
Videos
Aaron Rodgers Injury Fallout & Jets/Bills Recap