Jetnation Top 10 – Week Thirteen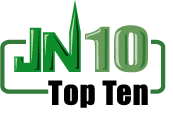 By Nick Ferraro
1.  New England Patriots*
If we begin preparing ourselves now, it will be easier to deal with all the "best team ever" talk that's soon to begin.
2.  Dallas Cowboys
Tony Romo's legend is growing. The Cowboys are good enough to win when they're not at their best.
3.  Indianapolis Colts
The Colts ended the game in Baltimore about ten minutes after it started. They seem to be back to their early-season form. Getting healthy will do that.
4.  Green Bay Packers
The Packers job over the next three games is to stay healthy. They have little to play for until the postseason.
5.  Jacksonville Jaguars
The Jags get yet another chance to prove they will be a factor. Winning in Pittsburgh would be a statement to the rest of the league that they are finally for real.
6.  Pittsburgh Steelers
Early on it seemed like they had a good game plan for the Pats, but they don't appear to have the horses it will take to beat the elite teams in the AFC.
7. Seattle Seahawks
Seattle is on a nice run. They haven't beaten anyone of note though, and few people will take them seriously until that happens.
8.  San Diego Chargers
The Chargers were dead in the water for three quarters on Sunday. The Titans let them off the mat and may haven given them the win they needed to propel them into something big in January.
9.  Cleveland Browns
The Browns have their eyes on the division title. They did what they needed to do in a sloppy game on Sunday. Winning games like that on the road is a huge step for a young developing team.
10. New York Giants
This may be the worst 9-4 team in NFL history. The Giants will be a welcomed visitor for any playoff team.
Bottom Five
28. Kansas City Chiefs
Denver finally found a team they can stop from running the ball. The OL the Chiefs put on the field Sunday was not even worthy of a sandlot game.
29. New York Jets
I think holding the Pats to fewer than 60 is a win this Sunday.
30. San Francisco 49ers
The Niners can boast some of the best offenses in league history. This year's edition may be one of the worst.
31. Atlanta Falcons
Do you think Petrino enjoyed his short stay in the NFL?
32. Miami Dolphins
This is like a train wreck now. You just have to get a look at it to see just how bad it is.
Videos
Aaron Rodgers Injury Fallout & Jets/Bills Recap