Jetnation Top 10 – Week Sixteen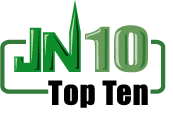 By Nick Ferraro
1.  New England Patriots
Support groups are forming now to deal with the "Perfect Patriots".  The Giant's run game and pass rush gives us all some hope.  That's assuming the Giants care to play the game.
2.  Indianapolis Colts
The Colts continue to motor along.  They know these wins are meaningless unless they total up to a win in New England next month.
3.  Dallas Cowboys
Home field should mean a ticket to the big game for Dallas.  Can they possibly deal with the distraction machine that will crank up once Romo and TO hit town?
4.  Jacksonville Jaguars
The Jags seem to have the right mixture of power and finesse to match up with either Indy or New England.  Neither wants a visit from this team next month.
5.  San Diego Chargers
They've finally put it together in San Diego.  It just doesn't appear they have enough to win a road playoff game in Indy or New England.
6.  Green Bay Packers
The Rams exposed the run defense, and the Bears exposed it a lot.  Green Bay has to tighten things up in the front seven.  Favre has never won in Dallas.  He will need to now if he wants another shot at the Lombardi.
7.  Pittsburgh Steelers
The Steelers and Chargers have to be wishing they were NFC teams.  Neither have the horses for an upset in Indy or New England.
8.  Seattle Seahawks
The Seahawks are a nice team from a very weak division; nothing more.
9.  New York Giants
I couldn't figure out how this team won ten games; then I looked at the schedule.  The Gnats haven't beaten anybody.  This farce has just a couple more weeks of run time.  There are no losing teams in the playoffs, even in the NFC.
10. Tampa Bay Buccaneers
The banged-up Bucs needed the rest more than a win Sunday.  They can make someone miserable in January if Garcia is healthy.
Bottom Five
28. Baltimore Ravens
Troy Smith wasn't terrible Sunday.  He should get a real shot at the job next season for the Ravens.
29. Oakland Raiders
The penalty-filled minutes leading to Warren Sapp's disqualification were as ugly as any I've seen in football.  Can we just give this team off next week to get ready for the draft?
30. New York Jets
Pennington has a way of compiling a gaudy completion rate while not producing anything to help the team win.  Has anyone in the history of this league completed more passes for negative yards than Chad?  He needs to be a former Jet next season, so people can forget and move on.
31. Atlanta Falcons
The Falcons made an effort Sunday, which is something they haven't done in a few weeks.  Does anybody want to coach this team next year?
32. Miami Dolphins
I think Parcells should take notice of how this team continues to play hard despite the miserable season they are having.  That should tell him something about Cam Cameron.
Videos
New York Jets OTA Presser Takeaways, Aaron Rodgers' Impact and Summer Delusion