Jetnation Top 10 – Week Three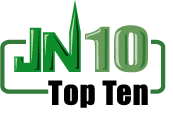 By Nick Ferraro
1.  Dallas Cowboys
There's no change at the top as Dallas handled one of their most powerful challengers in their own building.
2.  New York Giants
The Giants sleepwalked their way to a close win over the fading Bengals.  It was less than impressive except for the fact that they are capable of winning without playing their best game.
3.  Philadelphia Eagles
The NFC East is back!  The Eagles spent Sunday in Pittsburgh's backfield in an impressive win.  McNabb has to stay on the field for them to keep pace with Dallas and NY.
4.  Green Bay Packers
I'm not dropping Green Bay that much off the Dallas loss.  The Cowboys handle just about anyone in the league right now.  Green Bay is a more complete team than any of the current AFC division leaders.
5.  Tennessee Titans
Running the ball and stopping the run will take you a long way.
6.  Denver Broncos
The Broncos have a fourteen-win offense and a five-win defense.  It will probably add up to a 10-win season and a loss to a more balanced team in the playoffs.
7.  San Diego Chargers
The Jets got to experience the Chargers frustration from weeks one and two.  Tomlinson looked healthier and the defense looked like a different bunch than the one that traveled to Denver.
8.  Pittsburgh Steelers
The Steelers offensive line played back to last-year's form on Sunday.  It was a tough road matchup, so the loss wasn't unexpected, but the lack of production and protection is an issue.
9.  Buffalo Bills
I'm just not a believer yet.  The Raiders close call solidifies my belief that these guys are paper tigers on their way to a fall.  The schedule stays soft, so they'll be here a while more, but I don't this as a long-term engagement.
10. New England Patriots
These aren't your dad's Patriots, or maybe they are.  Brady's absence doesn't explain the defense's collapse on Sunday.  Father time has caught up with the Pats.
Bottom Five

28.  Oakland Raiders
It was a heartbreaker for Al Davis's boys Sunday.  They have talent in some spots, but there are too many holes.  The Kiffin drama continues.  Does anyone actually want this job?
29. Cincinnati Bengals
The Bungles gave a solid effort on the road against the Giants.  They could tank further off the disappointing loss, or build on it.  A home game Sunday against the Browns will let us know for sure.
30. Kansas City Chiefs
This team would be 32nd in a normal year.  It's just hard to compete with the Rams and Lions.
31.    Detroit Lions
Nice knwoing you Matt Millen.
32. St. Louis Rams
There is nothing good about the Rams play through three weeks.  Trent Green gets the start Sunday.  It doesn't matter they way the offensive line is playing.
Videos
Aaron Rodgers Injury Fallout & Jets/Bills Recap