Jetnation Top 10 – Week Four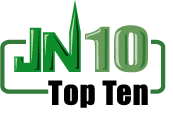 By Nick Ferraro
1.  New York Giants
The Giants move into the top spot while resting comfortably on their bye week.  The drama with Plaxico Burress makes things a bit less comfortable than they should be.  They are a different team if he's not in the lineup.
2.  Tennessee Titans
The Titans are solid in all phases.  They could use some more explosiveness on offense, but it hasn't been an issue thus far.  Kerry Collins is the starter for the rest of the year unless injured.

3.  Dallas Cowboys
The Cowboys were derailed at home and exposed a bit in the secondary.  The running game is the key.  Washington stoned Marion Barber, and that made it the upset possible.  The Cowboys need to figure out how to run against good defenses.

4.  San Diego Chargers
Tomlinson looked like his old self Sunday.  The Chargers can beat anyone if he is healthy.
5.  Washington Redskins
The Redskins haven't posted a victory as impressive as Sunday's in a long time.  Sunday's game changes everything in the NFC East.
6.  Buffalo Bills
It's 4-0 and nothing to apologize about for the Bills.  I'm waiting to see them against a quality team before jumping on board the bandwagon.

7.  Pittsburgh Steelers
Protection and run blocking will be the difference for Pittsburgh.  They will only go as far as their offensive line will take them.
8.  Carolina Panthers
Jake Delhomme appears to be all the way back for Carolina.  That makes them a true contender in the NFC.
9.  Tampa Bay Buccaneers
The Bucs are a tough date for anyone.  They can run the ball and the defense still has ability.  They will be in it until the end in the NFC South.

10. Philadelphia Eagles
The Eagles are just a different team when Brian Westbrook is not playing.  This is a top-five team with him in the lineup.  The defense was disappointing on Sunday night.  Kyle Orton should not put up numbers like he did on this defense.
Bottom Five
28.  Houston Texans
The Texans were supposed to be a team on the rise.  It hasn't happened.  If they continue giving up thirty-three points per game, it will mean a long stay in the bottom five.
29.  Oakland Raiders
The Raiders compete, but it rarely results in wins.  They have made progress, but they still lack the talent to translate effort into victories.

30. Cincinnati Bengals
The Bengals lost the winless battle of Ohio Sunday.  It's hard to spot any winnable games for this team on the schedule.  If Carson Palmer spends any significant time out of the lineup, this team will have issues posting double-digit scores each week.

31.    Detroit Lions
Millen's departure is just the first of many changes the Lions needed to make.
32. St. Louis Rams
No offense. No defense.  The Rams are on the clock.
Videos
Aaron Rodgers Injury Fallout & Jets/Bills Recap