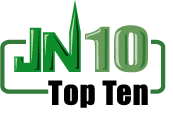 By Nick Ferraro
1. New York Giants
The Giants have yet to be tested.  Seattle was hardly a speed bump on their way to 5-0.  The second half of their schedule will not be as easy.  We'll see if they are as good as they have looked so far.
2. Tennessee Titans
A road win against a strong division opponent – the Titans have faced down every challenge.  They still lack respect around the league and with fans, but that should change soon.
3. Washington Redskins
The Skins get a big bump off two very impressive road wins.  They are playing the best football of anyone in the league right now.
4. Dallas Cowboys
The Cowboys struggled to a win on Sunday against an inferior opponent.  It was a second poor performance in a row for Dallas.  Romo hasn't been very good lately, and the secondary is still an issue.
5. Pittsburgh Steelers
The Steelers got by the Jaguars on Sunday.  It was a big win on the road and gives them a lift into the bye week.  They get the Bengals following the bye with the Giants and Redskins to follow.
6. Carolina Panthers
The Panthers beat up on Kansas City the way a good team should against one of the league's worst.  They need to keep the balance on offense to win against division rival Tampa on Sunday.
7. Buffalo Bills
The Bills took their lumps literally as well as figuratively Sunday in Arizona.  They have the bye week to get ready for the Chargers, Dolphins, and Jets.  It's been a while since they held first place at this point is the season.
8. Denver Broncos
If Denver can play defense every week like they did on Sunday, they'd be a top-three team.  I need to see them do it against a dangerous offense before I believe they can do it.
9. Chicago Bears
The Bears are getting positive play from their QB position.  The defense is stout, and they have a running game.  They are again the favorites in the NFC North.
10. New England Patriots
The Patriots found a way to get Randy Moss loose deep down field on Sunday.  They need at least the threat of the long ball to open their offense and keep defenses from teeing off on Cassel.
Bottom Five
28. Kansas City Chiefs
The Chiefs amassed 127 total yards on Sunday.  I hope people in Kansas City have DirecTV and the Sunday Ticket.
29. Oakland Raiders
Now that Kiffin is gone, we can expect a playoff run if you listen to Al Davis.  The truth is this team will not win anything until Davis steps aside.
30. Houston Texans
The Texans invented a new way to lose on Sunday.  They've yet to invent any for winning.
31. Detroit Lions
This team has character issues that overshadow their performance and talent problems.
32. St. Louis Rams
The Rams come out of the bye week with a trip to play the red-hot Redskins, and then home for Dallas, and at New England.  I don't see a win on the radar for a while.