Jetnation Top 10 – Week Eight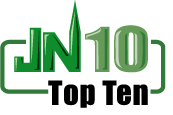 By Nick Ferraro
1.  Tennessee Titans
Funny how when a team that lacks star power is winning, the run to the championship is considered "wide open".  Nobody said things were "wide open" when Dallas was playing well.  The Titans are head and shoulders above everyone else in the league.
2.  New York Giants
Winning in Pittsburgh is something few teams have been able to do.  The Giants no longer have to apologize for not having any wins against quality opponents.
3.  Washington Redskins
If the Redskins can win Monday against the Steelers, it will be hard to argue with a top-five ranking.
4.  Pittsburgh Steelers
The offensive line play will keep this otherwise championship caliber team from very big things.

5.  Carolina Panthers
The Panthers are the NFC's version of the Titans.  They are not quite as good, but the formula is the same.
6.  Tampa Bay Buccaneers
If Joey Galloway can return to form, the offense may find the big-play ability they sorely need.
7.  Arizona Cardinals
The Cards had the Panthers down, but they couldn't finish.  That said, a road game like that against a quality team on the East coast was a blowout loss in years past.  This team is moving in the right direction.
8.  Green Bay Packers
The Packers got a bye week to get ready for undefeated Tennessee.
9. Philadelphia Eagles
The Eagles are an elite team when healthy.  They can lose to anyone when McNabb or Westbrook are out of the lineup.

10. New England Patriots
The Pats are learning how to play without an elite quarterback.  That's very bad news for the AFC.
Bottom Five
28. Oakland Raiders
The Ravens just shouldn't score that much on anyone.
29. San Francisco 49ers
The attitude adjustment is starting.  The winning isn't going to start for a while.

30. Kansas City Chiefs
They were more than competitive against the Jets, but things ended as they usually do.
31.  Cincinnati Bengals
Can you imagine being a Bengals fan?
32. Detroit Lions
It's getting better, but it's still very bad.
Videos
Aaron Rodgers Injury Fallout & Jets/Bills Recap