Jetnation Top 10 – Week Eleven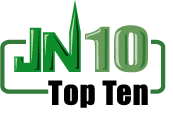 By Nick Ferraro

1. Tennessee Titans
The Titans are still lacking respect despite their perfect record.  They are a legit threat to the '72 Dolphins.  If they win this week in Jacksonville, Shula and company should take notice.
2. New York Giants
The Giants are winning road games against top teams.  They are clearly out in front of the NFC, which doesn't appear as strong as it did a few weeks ago.
3. Washington Redskins
The Skins will likely get to show their worth against an angry Cowboy team with its starting quarterback back under center.  If they win, they will help bury Dallas while also boosting their own playoff hopes.
4. Carolina Panthers
The Panthers are a dark horse in the NFC.  They are flying under the radar, but they will fall of it if Delhomme keeps playing catch with the defense.
5. Pittsburgh Steelers
Sunday was a huge disappointment.  That is a game the Steelers don't usually lose at home.  What happened to the running game?
6. Tampa Bay Buccaneers
Tampa and Minnesota will play a brutally physical game this Sunday.  Tampa needs a win to stay in the race in the difficult NFC South.
7. Arizona Cardinals
Winning at home against the 49ers shouldn't have been so hard, but a win is a win.  The Cardinals could play themselves into multiple home playoff games if they can focus against their weak division rivals.
8. New England Patriots
The Bills crash landed in New England.  Somehow the Patriots continue to contend in the AFC East.
9. New York Jets
The running game will be tested on Thursday night.  It has to continue to produce if Gang Green is going to win the AFC East.
10. Indianapolis Colts
Just when you think they are done, the Colts win a road game against a top conference team.  This team is tough to gauge, but if they can stop the run like they did in Pittsburgh, they will again be a major factor in the AFC.
Bottom Five

28. Kansas City Chiefs
Tyler Thigpen gives this team more upside than any other bottom-five team.  Tony Gonzalez deserves a great deal of respect for his efforts on a one-win team at this point in his career.  Why the two-point try?  They were playing as well or better than the Chargers were.  Take your chances in overtime.
29. Cincinnati Bengals
The Bengals hit the police blotter again this week.  They hit the opponent a lot less frequently.
30.  St. Louis Rams
The Rams seemed to be moving in the right direction after Haslett took over. Sunday's game was over by the midway point of the second quarter.
31.  Oakland Raiders
That coaching change should start paying dividends any day now.
32. Detroit Lions
Is anyone admitting to being a Lions season-ticket holder anymore?  This team is pulling dudes off the street to start on Sundays.  Ryan Leaf had a shot at a comeback if he didn't get arrested.
Videos
JetNation
4.6K
Subscribe
Rodgers 21-day Practice Window Opens and Should QB be an Option With top 10 Pick?