Jetnation Top 10 – Week Twelve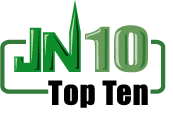 By Nick Ferraro
1. Tennessee Titans
Kerry Collins made some big plays Sunday. A viable passing game makes this team near unbeatable.
2. New York Giants
The Ravens just don't get pushed around the way the G-men pushed them around. It's just the latest impressive win for Big Blue.
3. Carolina Panthers
This team is destined for also-ran status if Delhomme plays like he did against the Lions. I'll give the Panthers the benefit of the doubt assuming they let down a bit with the league's worst team in town.
4. Pittsburgh Steelers
The more we move through the season, the clearer it becomes that the Steelers are a very good team with too many holes to get back to the Super Bowl.
5. Tampa Bay Buccaneers
The Bucs are very unexciting and very consistent. They will be a tough out in January.
6. Arizona Cardinals
The division is in-hand for the Cardinals. They could make more people believers by beating the Giants on Sunday.
7. New York Jets
The Jets get to see where they stand on Sunday in Tennessee. Gang Green is playing their best football of the year. It should be very interesting.
8. New England Patriots
The Pats have a chance to avenge an ugly loss to Miami on Sunday.
9. Washington Redskins
The Redskins blew a golden opportunity on Monday night in their own building. That was the kind of loss that starts a spiral for many teams.
10. Indianapolis Colts
Houston always gives the Colts fits. The Colt's defense will give Colt's fans fits.
Bottom Five
28. Kansas City Chiefs
The Chiefs can't turn decent play into wins. What they decide to do with Larry Johnson will be interesting even if nothing else is about this team.
29. Cincinnati Bengals
A tie doesn't lift this squad out of the bottom of the league. Maybe trading Chad Johnson isn't such a bad idea if they can get some promising young players in the deal.
30. St. Louis Rams
The 49ers really shouldn't hang 28 on you in a single quarter.
31. Oakland Raiders
Do I really have to come up with something to say about the Raiders?
32. Detroit Lions
How do you lose when you get four turnovers from the opponent? The country has to watch this team on Thanksgiving Day. Pitiful.
Videos
New York Jets OTA Presser Takeaways, Aaron Rodgers' Impact and Summer Delusion