Jetnation Top 10 – Week Thirteen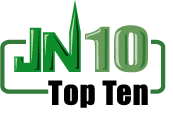 By Nick Ferraro

1. New York Giants
The Giants take over the top spot after handling another playoff-bound opponent on the road.

2. Tennessee Titans
The Titans were beaten easily in their own backyard.  It was just their first loss, so panic shouldn't set in, but there are adjustments to be made.

3.    Pittsburgh Steelers
The Steelers may have more ugly wins than anyone else.  The problem with ugly-win teams is that if you let them get away with it too much, they usually figure out how to win in style.

4. New York Jets
The Jets are flying high after taking down the undefeated Titans.  The revamped offensive line has to get the bulk of the credit.  They handled a very good front seven in Tennessee.

5. Tampa Bay Buccaneers
There isn't a lot to like about the offense, but the wins keep coming in Tampa.
6. Arizona Cardinals
The Cardinals got a good close look at how much further is still left to climb.  If they get another shot at the Giants it will be in the playoffs and it will be in New Jersey.
7. New England Patriots
The Pats avenged their worst loss of the year.  Matt Cassel is looking very comfortable.
8. Indianapolis Colts
The Colts have won four in a row.  Hmmmm….
9. Washington Redskins
Sunday's game against the Giants might not be a must-win for the Skin's playoff hopes, but it is for me to keep taking them seriously.
10. Dallas Cowboys
Okay, so Romo makes the passing game better.  What is holding back the running game?
Bottom Five

28. Seattle Seahawks
Hard to believe a Super Bowl run was underway in Seattle just a few years ago.
29. Kansas City Chiefs
You knew Thigpen couldn't be Joe Montana forever.  It was just when the implosion would come that we didn't know.
30.  Cincinnati Bengals
Why even consider bringing back Carson Palmer this season?
31.  St. Louis Rams
I don't sense these guys are even trying anymore.
32. Detroit Lions
Just awful.
Videos
New York Jets OTA Presser Takeaways, Aaron Rodgers' Impact and Summer Delusion