Jetnation Top 10 – Week Fourteen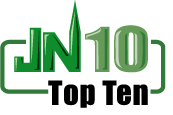 By Nick Ferraro
1. New York Giants
How did the Browns beat this team?
2. Tennessee Titans
Thanksgiving was an easy ride for the Titans.  It also gave them extra time off before the last four games of the year.
3. Pittsburgh Steelers
The Steelers embarrassed the Patriots.  They were winning games ugly, but only the scoreboard was ugly on Sunday.
4. Tampa Bay Buccaneers
Speaking of winning ugly, there is no other way for Tampa.  It seems to have them in position to win the division.  They need some offense this week in their showdown with  the Panthers.
5. Indianapolis Colts
The Colts continue to climb.  They are making a case to be the team nobody wants to play in the AFC playoffs.
6. New York Jets
Sunday's thrashing at home against Denver is unexplainable.  The Jets have to handle the Niners on the road this week to regain their confidence.
7. Dallas Cowboys
The Cowboys are up against it this week in Pittsburgh.  If their running game doesn't regain its form, they will lose badly.
8. Carolina Panthers
I can't say I truly believe in this team yet, but their record is strong, and they get a chance to prove something this week against the Bucs.
9. Baltimore Ravens
Speaking of teams I don't believe in…
10. Atlanta Falcons
Matt Ryan is on his way to winning Rookie of the Year honors.  A big-time running game makes Atlanta a threat each week.
Bottom Five

28. Oakland Raiders
The Black and Silver lost the bottom-feeder bowl in the AFC West.
29. Seattle Seahawks
This might be the most disappointing team of the season.
30.  Cincinnati Bengals
The Giants are trying to take over Cincy's reign as police blotter champions.
31.  St. Louis Rams
There is still no pulse from the Rams.  Haslett has lost his charm and maybe the job for 2009.
32. Detroit Lions
Tradition was not enough to make me watch this team against the Titans.
Videos
Aaron Rodgers Injury Fallout & Jets/Bills Recap