Jetnation Top 10 – Week Fifteen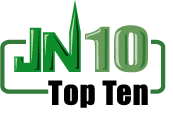 By Nick Ferraro
1. Tennessee Titans
The Titans regain the top spot after the Giants got upended by the Eagles.  There is little to play for now in Nashville, so the only interest is in how much the starters will play in the last three games and how to enter January on a roll.

2. New York Giants
The Eagles certainly needed it more, but you have to wonder about the Giants ability to focus given the media storm around them.  Brandon Jacobs's health and entering the playoffs on a high are the only game-related concerns for the Giants from here out.

3. Pittsburgh Steelers
This offense has to find a way to put more points on the board.  The escape against the Cowboys was nice, but the defense can't be expected to hold everyone under 14 points every Sunday.

4. Indianapolis Colts
The Colts are back in form.  They can't improve their playoff position much, but this is the team everyone is hoping to avoid in the postseason.

5. Carolina Panthers
The Panthers were very impressive in moving the stout Tampa defense off the ball on Monday night.  They have a solid hold on the number two seed and should be formidable if they continue to block the way they are capable.

6. Baltimore Ravens
The Ravens get the division leading Steelers at home with a chance to pull even in the standings.  Their pass rush should find its way into the opponent's backfield consistently, but will they be able to get some points on the board against the league's best defense.

7. Tampa Bay Buccaneers
The run defense was mauled on Monday night.  The Bucs face another big running attack on Sunday against Atlanta.  I expect better results.

8. Philadelphia Eagles
The win against the Giants makes you scratch your head even more in light of some of the losses this team has endured.  Brian Westbrook is the most complete tailback in the league.

9. Dallas Cowboys
The Cowboys haven't shown anything in the running game of late.  The impact is being felt in their passing game.  Is Romo going to lay another egg in the late season?

10. Atlanta Falcons
The Falcons need the win Sunday.  This is the first real pressure game for rookie quarterback, Matt Ryan.  It will be interesting to see how he fares.
Bottom Five


28.  Oakland Raiders
Randy Moss returns Sunday to the site where he barely played.  I'm sure the Raider fans will be forgiving.

29. Seattle Seahawks
They were game against the Patriots, but the results remain the same.

30.  Cincinnati Bengals
Who would have thought that one win would be too many to get the top pick in the draft?

31.  St. Louis Rams
There is nothing positive happening for the Rams.

32. Detroit Lions
It appears the Lions have a date with history.
Videos
Aaron Rodgers Injury Fallout & Jets/Bills Recap