New Jersey Jets License Plates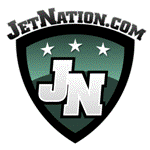 New Jersey Jets fans might be able to show their dedication to the team by purchasing personalized Jets license plates. According to NJ.com
New Jersey sports fans could show their pride — and pump a few bucks into the state budget — under a plan for customized team license plates that cleared the Legislature today.

New Jersey hopes to cash in on the roster of teams in and around the state, offering a buffet of vanity plates to raise about $1 million to help balance its budget.

"We want the sports fans to show their pride and on the other hand we're going to generate money for the state budget," said Assemblyman Robert Schroeder (R-Bergen), who sponsored the bill that would allow the Motor Vehicle Commission to contract with pro-sports teams. "I'll choose a Giant plate over the Assembly plate."

The plates would be made-to-order and available for any team in the country, he said. Though the price would be set by the Motor Vehicles commissioner, Schroeder said he thought the plates would cost $60 a pop, with an extra $100 charge for further personalization.
There was no word on when these plates could be available. This Jets fan is hoping they are ready in time for the New York Jets upcoming Super Bowl run in 2010.
It's unclear when the plates might be available. The state needs to reach royalty agreements with teams, figure out how to make and sell the plates, and determine price. The earliest would be this fall, said Mike Horan, a spokesman for the Motor Vehicles Commission. He said the MVC was already in negotiations with sports franchises.
Tell us what plate you would reserve in our NY Jets fan forum.
Videos
NY Jets Phase 3 OTAs, Expectations and a Minor Calf Tweak with Greg Renoff