NY Jets Ring Of Honor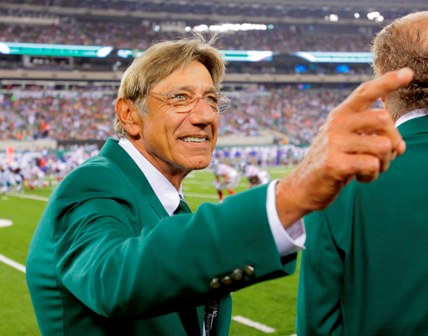 The New York Jets announced that they have unveiled their 2010 Ring of Honor Class.  The ring of honor is basically the Jets internal "Hall of Fame" and inductees will be enshrined in the end zones.  The first class consists of:
Weeb Ewbank
Winston Hill
Joe Klecko
Curtis Martin
Don Maynard
Joe Namath
In addition to the Ring of Honor ceremony on Aug. 16, this game will feature the National Anthem performed by the Tony Award-winning cast of "Jersey Boys" and a T-38 flyover by the 12th Flying Training Wing.
The Ring of Honor inductees were selected by an internal committee led by Johnson. Each season, inductees will be nominated and added to the Ring, but there will be no minimum or maximum each year. A replica of the Ring of Honor will also hang in the field house of the team's practice facility and headquarters, the Atlantic Health Jets Training Center.
There were no real big surprises with the first class.  In future years it will be nice to see players like Joe Klecko get some individual praise from the New York Jets.  Several Jets fans are discussing which Jets should be inducted in the future, stop by our NY Jets forum.
EDIT:  We should read what we write.  Joe Klecko is in the first class.  Well deserved.  Our apologies for the incorrect information.
Videos
Aaron Rodgers Injury Fallout & Jets/Bills Recap