JetNation.com Forum Downtime: Wed 7/28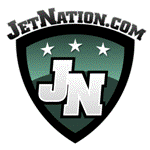 The JetNation.com forums will be offline while a conversion is run on Wednesday 07/28/10.  This downtime will begin at 8am Eastern and is expected to last the entire day.  We apologize for any inconvenience this may cause.  In order to expand the functionality of the site the forum software is being changed which requires that all 1.6 million posts be converted.
We will have a complete list of the new site features on Thursday but some highlights include:
Mobile skin
iPhone App
User Blogs
Twitter Connect
Facebook Connect
JetNation Lottery
Also as we get ready for the upcoming season, JetNation has you covered.  Training camp starts next week and we will have New York Jets Camp Reports and featured interviews.
Thank you for your patience during this conversion.   Be sure to check us out on Twitter and Facebook.
Videos
New York Jets OTA Presser Takeaways, Aaron Rodgers' Impact and Summer Delusion