The "Sanchize:" An In-Depth Look at Mark's 2011 Season
Let us remember that Mark Sanchez only started 16 games at the University of Southern California.  He had two years of up and down moments, however, led the New York Jets to AFC Championship games in his first two seasons.  I don't think it comes as any surprise when I say that Sanchez had a year of regression in 2011-2012.  With poor offensive line blocking and complicating schemes, Sanchez was constantly looking down to see how his protection is holding up.  I don't care if you're Peyton Manning, Tom Brady, or Drew Brees, when you're being rushed on every play, it is extremely difficult to focus on finding an open receiver.  I believe that Sanchez never truly trusted this offensive line this season and it was a major reason for his decline.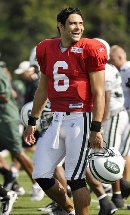 However, most of the problems I see with Sanchez are physical and a few are mental…some can be fixed, some a quarterback either has or doesn't have.  One example would be Sanchez backpedaling when the rush is coming, rather than stepping up into the pocket or using his legs to roll out and make something happen.  He often stepped back into sacks of 7 yards or more.  Any successful team is consistently at 3rd down and 4 or less, but it seemed that the Jets were always in 3rd down and 8 this season.  In an era where a quarterback's ability to extend a play is vital to the team's success, Sanchez found himself on his back more times than passes completed on the roll out this season.  The problems with his throwing motion are small matters that he can fix.  He needs to keep the ball high and tight to his body when he drops back (this will decrease the amount of strip sacks he takes). His release should be over the top and often times, in times of a rush, he slings the ball sidearm and doesn't follow through with his arm or his body.  Many times this season I believe Sanchez threw blindly into crowded areas.  He was fortunate that he didn't have more interceptions than he did (18).  The major flaw with his game is his inability to scan the field.  Any fan can see that when a play is designed to go to Dustin Keller, or Plaxico Burress or Santonio Holmes he immediately looks at that receiver.  If that receiver's covered he looks to check down right away to a running back.  This is why he completed 308 passes for 3,474 yards.  A lot of check downs.  308 completions should lead to well over 4,000 yards passing.  This may not be an area that can be fixed.
Tony Sparano, new offensive coordinator is going to have to develop an offense that fits Mark's strengths and minimizes his weaknesses.  He needs to roll out, he needs more options to throw to, and he needs plays that require him to make the easy decision.  Once they have confidence in his ability to do these things, they can expand the playbook.  I believe he still has a tremendous amount of potential.  After all, check out Eli Manning's third year in the league (301-522 for 3,244 yards, 24 TDs, 18 INTs).  It looks awfully similar to Sanchez's third year line (308-543 for 3,474 yards, 28 TDs 18 INTs).  He is still young, he has a new offensive coordinator, and regardless of the cowardly reports by anonymous players, he has a tremendous work ethic and wants to be great.  With a few minor adjustments and simplified playbook that caters to his strengths, Mark can have an excellent bounce back season in 2012-2013.
Videos
Aaron Rodgers Injury Fallout & Jets/Bills Recap