Curtis To Canton
For the second year in a row, running back Curtis Martin is again on the list of finalists to be inducted into the Pro-Football Hall of Fame. If you like the Jets on Facebook or follow them on Twitter, you might have noticed their "Curtis to Canton" campaign? That's what it is.
Martin had a spectacular career (mostly for the Jets).  He entered the NFL in 1995 as a third round draft pick of the New England Patriots. In his first year, he ran for 1,487 yards, and was named the Offensive Rookie of the Year, and selected to the Pro-Bowl.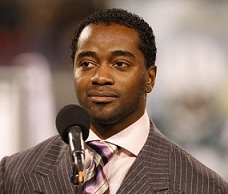 Curtis Martin came to the Jets for the 1998 season as an unrestricted free agent, reuniting with Bill Parcells. Martin was an incredibly healthy player for the Jets, missing only one game in his first seven seasons, but he was forced to retire in 2007 due to complications from a knee injury. He had played only sporadically through 2005 and 2006.
Martin finished his career with 14,101 total rushing yards and 90 rushing touchdowns, as well 3,329 receiving yards and 10 receiving touchdowns. He rushed for 1,000 yards are more in each of his first ten seasons, but fell short in becoming the first rusher to run for 1,000 yards are more in his first 11 seasons.
Winning the NFL rushing title in 2004 with 1,697 yards, Martin became the oldest player to do it at the age of 31. He's fourth on the NFL's all time leading rush list, behind Walter Payton, Emmitt Smith, and Barry Sanders. Martin is the Jets all time leading rusher with 10,302 yards, fourth on the Patriots (bleh) leading rush list with 3,799 yards, and he's one of 16 players to have scored 100 career touchdowns.
Players are voted into the Hall of Fame by a Board of Selectors, a 44 person committee that is made up mostly of sports writers, usually from major papers in NFL cities. There are also other delegates, members whose cities have lost NFL representation (such as Los Angeles).
In order to be eligible for enshrinement, a player (or coach) must be retired at least five years. Fans are able to nominate players for the hall by writing letters or emails to the Pro-Football Hall of Fame. The selection committee is polled by mail to select 25 semi-finalists, once in March, September, and October. In November, the committee selects 15 finalists, also by mail.
Nine members of the Selection Committee, a sub-committee known as the Seniors Committee, pick two players whose careers ended more than 25+ years ago. This brings the total list to 17 finalists.
The day before the Super Bowl – so February 4th this year –the committee gets together to elect a new class. To be elected into the hall, players must get at least 80% support from the voters. Here's the catch: no less than four and no more than seven players are elected every year. If four players don't get 80% support, then the top four vote-getters are elected. If more than seven players get 80% or more support, then only the top seven vote getters are elected in.
The induction ceremony usually takes place the first full weekend of August, with the community of Canton, Ohio (where the Pro-Football Hall of Fame is located) holding a weeklong festival to celebrate. Unlike the Baseball Hall of Fame, inductees aren't enshrined as members of a specific team. All their accomplishments for each team are listed equally and no specific team is highlighted. In addition to the busts that stay on display in the hall, the inductees are given gold jackets.
As I mentioned, this is Curtis Martin's second year in a row that he's been nominated. Last year, his first year eligible for selection, he missed out on induction. Richard Dent (defensive end), Marshall Faulk (running back), Deion Sanders (cornerback), and Shannon Sharpe (tight end) were all elected in to the hall last year as players from the modern era. Chris Hanburger (linebacker) and Les Richter (linebacker) were also elected in, but didn't play during the modern era, and Ed Sabol, who was behind the idea of NFL Films, was also selected.
One of the greatest players of all time and the guy's a Jet. Here's to hoping 2012 is his year to get in at Canton.
You can comment on Curtis Martin's Hall of Fame chances in the Jet Nation forums.
Videos
New York Jets OTA Presser Takeaways, Aaron Rodgers' Impact and Summer Delusion