Potential Jets Draft Pick – Dontari Poe
"With the 16th pick in the 2012 NFL draft, the New York Jets select Dontari Poe Defensive Tackle Memphis".  The boos ring out from Radio City Music Hall from the many Jets fans in attendance and the cringing faces of those reading this now on JetNation.  Poe is an interesting player in this year's draft.  His measurements, 6′-5″ 350 pounds, will certainly attract many NFL teams, especially the ones who need a big run stuffer that can play a zero technique.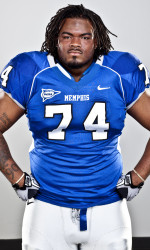 Stopping the run is sometimes an overlooked aspect of NFL defenses.  It's a passing league, correct, but analysis of Jets statistics turn up some very interesting findings.  Under Rex Ryan the Jets are 21-5 when holding opponents to 100 yards or less rushing, while 11-17 when the opponent rushes for more than 100.
Remember when Kris Jenkins was blowing up plays in the middle how the defense thrived, well Poe has the same potential.  Sione Pouha is a 33 year old free agent and maybe Poe would be the best choice for a back-up / replacement.  This pick would certainly not be the most popular but if the Jets have Poe at the top of their board when picking, he should be the one they choose.
Videos
NY Jets Phase 3 OTAs, Expectations and a Minor Calf Tweak with Greg Renoff