Keeping Cavanaugh a Mistake
When the Jets announced their 2012 coaching staff, they announced that they had retained quarterbacks coach Matt Cavanaugh, who previously was "being evaluated." This is one of those non-moves that should have Jets fans shaking their heads.
Brian Schottenheimer leaving the organization and Tony Sparano coming in should have meant a quarterbacks coaching change. Usually, new coaches like to bring in their own guys, and the fact that Sparano didn't is surprising.
Let's assume, for argument's sake, that the Jets are not pursuing Peyton Manning. The current evidence says they're not: Sparano is a run oriented coach and retaining Cavanaugh, Mark Sanchez's coach, would suggest Manning isn't in the picture. So let's figure they're not bringing in Manning. Obviously, it wouldn't matter who the quarterbacks coach was if Manning became a Jet.
Currently, though, it looks like Sanchez is staying. Sanchez himself is obviously the biggest argument against keeping Cavanaugh. Sanchez was not brilliant in his first two seasons with the Jets, but he was at least serviceable as a game manager. With a defense-oriented, ground-and-pound team, that's all you really ask of the QB. Get a lead and don't blow it. The defense will take care of the rest.
This year, when Sanchez was asked to throw the ball more, he completely fell apart. His numbers say he's better, but he just looks worse. It's not a numbers thing with Sanchez right now, it's the fact he just looks terrible, and anyone who has been watching football for any extended period of time can see that.
It is possible Sanchez was injured for the final stretch of the season. After getting hit by Von Miller in Denver, Sanchez's numbers plummeted when it came to throwing the ball down the field, even for Sanchez. The assumed pinched nerve in his neck will heal, but Sanchez wasn't doing as well as everyone had hoped before the Denver game.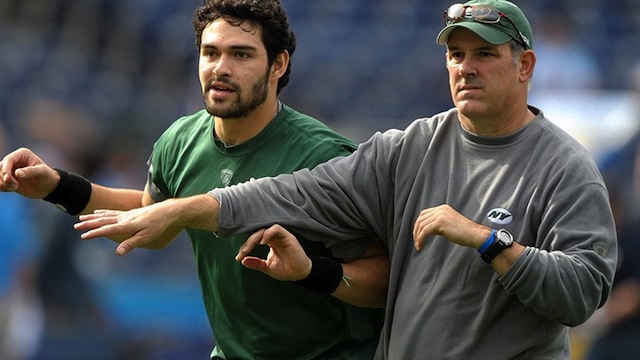 There are indications from former quarterbacks who are now in media, including Rich Gannon, Steve Young, and Trent Dilfer, that a lot of Sanchez's mistakes are things that can be improved with better coaching. Between Gannon working with Sanchez in 2010, Gannon's comments from the booth about how Sanchez eyes can be better trained and his footwork improved, and the LA Times article about Gannon saying young quarterbacks are not being developed properly, you got the feeling he was talking specifically about Sanchez in that article.
A month or two ago, Dilfer, talking to Michael Kay on ESPN radio in New York, mentioned that it looked like Sanchez's mechanics had altered. He and, if I recall correctly, Young, figured this out by watching some film.
If these things are the case, what was Cavanaugh doing during the week besides coaching Mark Sanchez? Mark Brunell and Kevin O'Connell were never going to play, so Cavanaugh was focusing on what, exactly? Were Schottenheimer's game plans so complex that Sanchez had to spend every waking moment learning them?
Schottenheimer was asked to leave because the offense (Sanchez) went backwards last season, but he can't be the only one held responsible for Sanchez's lack of development. He had an entire offense to run. Either he was ignoring what Cavanaugh was telling him about Sanchez and not adjusting his game plans, which is doubtful, or Cavanaugh wasn't doing his job and Schotty wasn't demanding accountability from him. In this case, both of them should have been shown the door.
One argument for keeping Cavanaugh is that you don't want too much upheaval around Sanchez all at once. This is a dumb argument. Sparano is already a new guy, and Sanchez has seemed fragile at times, but the bottom line is if he's that fragile, he shouldn't be a professional football player. He can handle a new coach. He's a grown man, and he should be able work with someone new without totally losing it.
So it's down to one or two things. 1) The Jets didn't want to eat the last year of Cavanaugh's contract and/or 2) they didn't have anyone better to replace him.With Todd Haley hired to be the offensive coordinator for the Steelers and Brian Daboll (a Sparano guy from Miami) hired to be the offensive coordinator for the Chiefs, it's safe to say that the Jets decided they didn't have anyone better to replace him. They probably didn't want to eat the contract or create too much commotion around Sanchez as well, but they probably just didn't have anyone better.
And it's probably going to come back to bite them. We can only take the Jets at their word, which means that Sanchez is their franchise guy and they aren't looking to replace him. If that's the case, how can they not find someone better to coach him, so that he improves, so that he doesn't fail so miserably again?
They should have given Rich Gannon a call and thrown money at him until he came in to work with Sanchez. At least Gannon seems to know what he's doing.
Videos
NY Jets OTA Recap; Robert Saleh Cancels Minicamp